'SMEs got infected by Covid.'
Sachin P Mampatta reports.
Small and medium enterprises struggled to raise money from the stock market this year as larger ones gained from an influx of liquidity.
The SME segment raised Rs 159.1 crore in 2020, shows data from primary market tracker Prime Database.
This translates into a 0.63 per cent share of the total money raised through initial public offers, according to data till November.
This is the first time that that the SME's share of IPO funds has dropped below one per cent since a separate segment for such companies began in 2012.
The previous low was in the year of inception, when it was 1.48 per cent.
The total number of SME issues has dropped from 51 in 2019 to 27 this year.
The amount raised fell 74.5 per cent to Rs 159.1 crore for the segment.
The money raised by their larger peers more than doubled to Rs 24,962.1 crore.
The total number of issues also fell less than for the SME segment, from 16 to 12.
"SMEs got infected by Covid," said Mahavir Lunawat, founder of Pantomath Capital Advisors, an investment banking firm which helps SMEs with the stock market.
Many companies are emerging stronger from the pandemic, and investor interest is slowly picking up, he said.
The outlook for the sector had been worse when the country was coming out of the lockdown in June.
Micro, small and medium enterprises faced a steeper cut in revenues than larger companies, according to a June 15 note by rating agency Crisil.
Corporate India was expected to see a 15 per cent fall in revenue.
It was expected to be 17-21 per cent for MSMEs.
Small businesses were expected to see their margin at the earnings before interest, taxes, depreciation and amortisation (ebitda) level, a key measure of profitability, fall to five per cent or lower.
'A sharp decline at the operating level will also impact creditworthiness, aggravating the liquidity stretch these units have been grappling with, particularly on the working capital front, the Crisil note had said.
'In the process, average interest service coverage ratio could slide to 1-1.5 times from 2.4 times seen between fiscals 2017 and 2020, even after factoring in the benefit of moratorium on interest payments announced by the Reserve Bank of India,' the Crisil note added.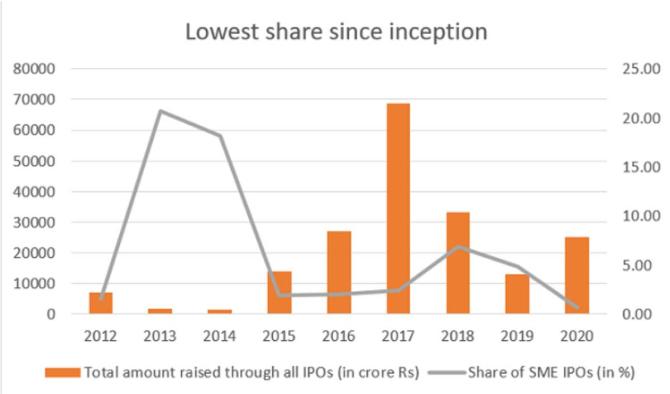 "(The) SMEs have borne the brunt of the pandemic," said Pranav Haldea, managing director, Prime Database.
Larger companies, he added, were less affected by the pandemic.
It may take some time before things truly return to normal, he said.
A December 2 Edelweiss Securities Economy report suggested some challenges ahead.
'…(The) government credit guarantee scheme has helped, but these businesses face balance sheet….(constraints)…as well as demand weakness. We do not see banks having much risk appetite to lend to MSMEs once the credit guarantee is over,' said the report from authors Kapil Gupta, Prateek Parekh and Padmavati Udecha.
While debt remains a challenge, equity markets have been booming.
Foreign portfolio investors have invested Rs 1.65 trillion in the Indian stock market in 2020.
This has helped take the S&P BSE Sensex to an all-time high in excess of 47,000.
The S&P BSE SME IPO index is still 33.3 per cent below its all-time high.
Feature Presentation: Ashish Narsale/Rediff.com
Source: Read Full Article