The onus today is on China, but it also requires a little diplomatic finesse from India, backed by a modernised armed force, argues BJP MP Subramanian Swamy in this excerpt from his new book, Himalayan Challenge: India, China And The Quest For Peace.
It is equally important to understand reactions of China's India watchers. At one end are those who believe that the current conflict is an 'inevitable development' of the covert strategy of India for an infrastructure race at the LAC. Hence, the upset PLA wants 'to teach India a lesson', as in 1962. Of course, subsequent events ended up with China learning a lesson instead.
The Indian government, ruled since 2014 by the BJP, is made of sterner stuff. At this juncture in time, India, burdened with the COVID-19 pandemic, has yet not been able to reverse what the PLA had taken by nibbling away since 2002 and encroaching on the mutually agreed 1993 LAC.
On the other side of the debate there are those influential political scientists, who in their analysis of the Galwan Valley incident, have been concerned about China's policies towards India, which they say remain mostly tactical, of a 'reactive nature', and are characteriSed by a 'tit-for-tat' approach, but devoid of any clear strategic intent.
This, according to them, stokes aggressive nationalism in India, which not only harms China's interests, but might eventually draw China into an untimely global military conflict.
China, they argue, has failed to fathom that India, as a rising power, is very important to enable China-India relations to evolve for global positioning as the most important pair of relations after China-US.
If China-India ties are damaged beyond repair, they warn, India alone or in association with other countries will cause 'endless trouble for China'. For instance, an openly hostile India will use every possible means to prevent China from reaching the Indian Ocean.
Moreover, the ending of China-India relations will strengthen the encirclement of China by the US, India, Japan, Australia, Vietnam, Indonesia and other nations, who will actively take the initiative of reshaping global industrial chains and the Indo-Pacific Strategy to checkmate China's military and economic power, and to expand international organisations such as the G7 to reduce China's influence in international affairs.
Strategically too, the alternate view is that it is 'unwise' for China to get into a military conflict with India, which is a large country with commensurate and thus comparable military strength at this point in time.
A few Chinese military analysts even hold that if China has an advantage in terms of psychological preparation, equipment and careful logistics mobilization, India too has strategic and tactical advantage on other dimensions, such as ease of deployment, shorter supply lines, modern war experience since World War I, less challenging topography and battle-compliant climate.
China's biggest hurdle is its long supply lines, which pass through the difficult terrain of Tibet and Xinjiang. Therefore, only if the military conflict ends in a short period of time, will it benefit China.
However, if it is prolonged, China will be at a disadvantage. And there lies imbedded the military zero-sum game. That is, India must not agree to a unilateral declaration of ceasefire by China
If a war starts, India should make all efforts to prolong it as far as possible, a prospect that worries Chinese military strategists.
And if the US and Israel decide to help India to attain this objective, especially with air-to-surface missiles fitted with F-18s and laser-based explosives, then China's defeat seems probable.
Even if war between the two sides ends in a stalemate, India will be counted as the victor, and the national morale of Indians will rise sharply.
On the contrary, in China, the morale will decline if it cannot beat India as decisively as it did in 1962. Therefore, in their internal discussions, Chinese experts are worried that in its effort to 'teach India a lesson', China may land in a Catch-22 fix.
They fear that whatever the outcome, China would in any case lose more than it would gain.
Meanwhile, China will simultaneously carry out its strategy of weakening India internally by leveraging its social and political differences, completing its strategic encirclement, improving troop deployment in the Tibet region to secure the China-Pakistan Economic Corridor, pushing India out of Chabahar port in Iran, prodding Nepal to make outrageous demands on India and stationing Chinese troops in the Gwadar port (Arabian Sea) and in Doklam, so as to destabilise the Indian people's support to the Modi government and also secure China's Indian Ocean sea routes, among other interests.
China has to try to obtain a comprehensive presence in geopolitics vis-a-vis India–which, I feel, China knows that it cannot alter by a full-scale war with India.
Thus, despite all the propaganda through its official media, China is clearly in a serious dilemma today over its outdated India policy. We should, therefore, pay attention to the ongoing Chinese debate on India, and factor in its inadequacies and vulnerabilities vis-a-vis India.
As a matching military power, India has arrived, and its policymakers have leveraged this matrix of advantages and disadvantages to assert themselves as a global power, in the same league as the US and China. World peace will depend on this developed triumvirate.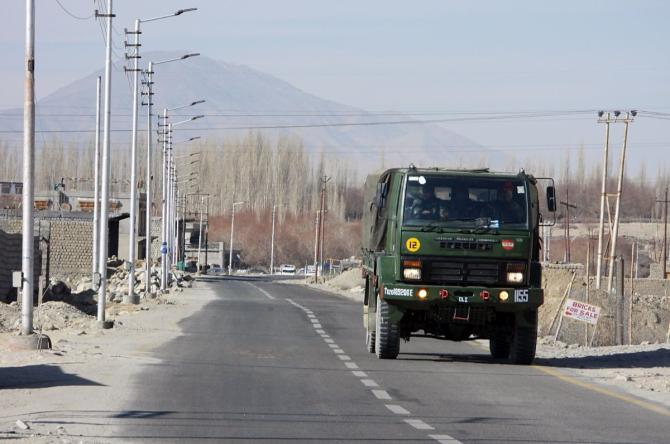 However, the events of April-October 2020 show that the Indian political class is still obsessed with the 1962 War, when Indian leadership moved from bravado and spin to abject fear of China. India, thus, needs a mental renaissance in the perception of the Chinese threat, which is bound to come with educated political class in future.
Given the strategic realignment of forces in Asia, India should reconfigure and recast its relationship with China. An induced Sino-Indian proper understanding would dramatically change the strategic and economic map of Asia.
India, thus, has to define its perspective on China with clarity and transparency: does India want a compact with China in the twenty-first century (Option A), or does India want to participate in the growing prospect to contain China with the US or Russia (Option B)?
The choice can be made once we Indians demonstrate on the ground that we can defend and impose heavy costs against China on our own strengths and military preparedness.
My conclusion, thus, is that from cultural, historical and strategic perspectives, the maximum and stable strategic gains to India in the twenty-first century obtain in Option A.
However, clearly a trade-off between China's relations with Pakistan and India's transparency in Tibet are the cornerstones of that structuring of policy.
What Indian security needs today is moderated, normal (but not intimate) Sino-Pakistan relations, for which India has to offer a transparent commitment to respect China's interest in its own autonomous province of Tibet as a trade-off.
Rather than paint it as a clear and present danger, or a newfound ally, India needs to take the middle path in its interaction with China. This new policy should be grounded in pragmatism, not out of fear or overreaction.
It should be derived from Indian and not Western assessments of China's strategic calculus, priorities and propensities, and India's position in that calculation.
Accordingly, once India's national interests are defined vis-a-vis China, the tasks for the foreign policy establishment become clear. They can contribute both to formulating the Indian response as well as to implementing the resultant strategy.
However, for such a compact to come within the realm of possibilities requires a change in the mindset of the Chinese and Indian leadership, and a washing off of the 1962 hangover.
In particular, the new mindset would make future Indian leaders recognise that Pakistan, despite its nuclear capability, is not in India's league, and for China to recognise that India is very much in China's league and that it is no more possible for China to 'teach any lesson' to India, without itself coming to grief.
It must be stressed that just as India wishes to be liberated from ignominious comparisons with Pakistan, it needs to better calibrate its relations with China, freeing it from odious and sterile comparisons of arithmetic parity. Only then will India be able to play a larger role in Asian affairs, in a compact with China.
Such a compact would thus have multidimensional possibilities, including a joint supervision of the Malacca Straits, which would control nearly 75 per cent of the world's commercial sea traffic. However, it is not easy to affect it. Although, it is not impossible either.
It depends on the astuteness of leadership on both sides of the Himalayan mountain range. However, if China wishes to continue to be obstinate, the same Malacca Straits with an India-Indonesia alliance can strangulate Chinese foreign trade.
The onus today is on China, but it also requires a little diplomatic finesse from India, backed by a modernised armed force.
After having demonstrated to China that 1962 was a mirage for their hardliners, India is ready to demonstrate the same any time again.
Global peace will be greatly facilitated if China and India cease hostilities, since it will end in a stalemate for China. Working together has a more fruitful and productive endgame.
Excerpted from Himalayan Challenge: India, China And The Quest For Peace by Subramanian Swamy, with the kind permission of the publishers, Rupa Publications India Pvt Ltd.
Source: Read Full Article