Darryl D' Monte, the distinguished enviromental journalist, discusses how the media covers floods in Mumbai or Texas, but ignores Assam or Bangladesh.
Bihar floods: A human curse!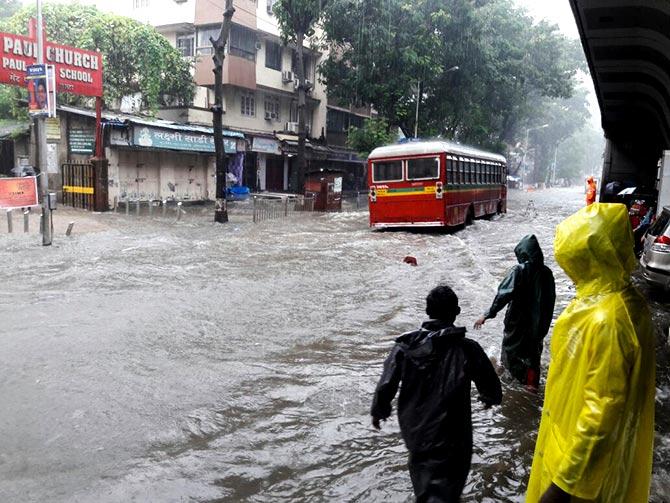 The liberal press in the UK — and presumably their counterparts in Europe — have been castigating the US and foreign media for concentrating on the Texas and Florida floods and ignoring those in eastern India and Bangladesh, which are on a far larger scale.
There is no gainsaying that the US media, like Americans themselves, is insular, which is why cynics say that 'War is God's way of teaching Americans geography.'
American and Western media have reported the floods in Texas and Florida in the minutest human detail — even the plight of pets — and hardly commented on South Asia.
In fairness, however, the latter are a frequent visitation, while US cities face unprecedented situations.
In the progressive weekly New Statesman in London, Sanjana Verghese writes: 'Coverage of the undoubtedly devastating Hurricane Harvey in the United States has dominated news headlines internationally.'
'Yet at the same time, flooding of arguably worse magnitudes has been wreaking havoc in large swathes of South Asia, such as India and Nepal, among communities already disproportionately affected by climate change.'
She cites as Western ideological justification for such inward-looking attitudes Ralph Waldo Emerson's cri du coeur: 'Are they mypoor?' while the 18th century utilitarian philosopher David Hume argued that humanity itself is far less likely to care about distant objects, events or a person…
In the 21st century, this goes for humanity's media coverage as well.
Events that are closer to the target audience of a media organisation are more heavily covered, backed up by modern analytics that readers are probably far more likely to engage with stories that could happen to them, whether it is tomorrow or ten years from now…
Much of the recent Western coverage of Hurricane Harvey has focused on eyewitness accounts from people that are often not so dissimilar than their readers.
A reader wrote to The Guardian: 'While I have the greatest sympathy for those who have lost friends, family, pets or property in the Texas floods, I am disgusted at the relative number of column inches and amounts of airtime devoted to its coverage.'
'During precisely the same period huge areas of Bangladesh, Nepal and India are suffering an even greater catastrophe, with 1,200 plus lives lost and millions made homeless.'
'Let's get some balance here. America is a rich country and will cope, despite inept leadership. Or are we saying that American lives are worth more?'
Another echoed this view: 'The contrast between the coverage of floods in Texas and floods in South Asia is stark. Live updating of trivia as well as important events from Houston; the odd report from India, Nepal, Bangladesh and elsewhere.'
'There are probably many more people of South Asian heritage in this country (the UK) than American. The implicit message is that they, and their relatives, are far less important than a pet in Houston.'
'I don't want Texas coverage reduced, but please take more notice of the rest of the world.'
I circulated these letters on the 600-member Indian environmental journalists' list and got a nuanced reply from Nivedita Khandekar, an independent in Delhi: 'This is exactly how Indian media does to coverage for things from Mumbai/Delhi and rest of India.'
'Especially neglected is the North East when it comes to environmental issues.'
'Television channels and not just newspapers based in Delhi and Mumbai hype up anything and everything happening in Mumbai and Delhi. So with floods.'
On the media critique Web site Hoot, Khandekar referred to Rajdeep Sardesai holding the 'tyranny of distance' being responsible for the media's blackout of the Seven Sisters.
Varghese also argues the converse: 'Networks such as the Indian TV channel NDTV or papers such as the Hindustan Times do have wall-to-wall coverage of those extreme monsoon rains and not as much on Hurricane Harvey.'
The issue of South Asian lives being cheaper than American harks back to the Bhopal gas tragedy when Union Carbide's American lawyers were citing compensation payable.
Since most of the thousands of victims lived in jhuggis around the plant and were casual labourers, the amount was a pittance.
Then prime minister Rajiv Gandhi settled out of court for a niggardly $470 million.
By contrast, the John Manville corporation in the US paid $2.5 billion to 60,000 claimants for asbestos-related injuries, while A H Robins paid $520 million to settle 9,450 injury claims by users of Dalkon Shield contraceptives.
Both in the US and India, the victims of floods are treated differently depending on their class.
In eastern India, they are mostly poor farmers and labourers who are used to perennial inundations.
The iconic image of such areas in the bad old days was an aerial shot of marooned people being surveyed by the prime minister or chief minister at the time.
This 'God's eye view' also emphasises the distance between the rulers and the ruled.
When Mumbai went under in July 2005, I wrote to a fellow office-bearer of the International Federation of Environmental Journalist in New Orleans and he replied that 944 mm wasn't rainfall but a deluge of Biblical proportions.
Little did he realise that he himself would have to move house when Hurricane Katrina hit less than a month later.
Many of those who were swamped were poor, black to boot, and had no idea of how to cope with disasters of this magnitude, unlike their South Asian counterparts.
I served on a Concerned Citizens Commission which surveyed affected areas after the 2005 Mumbai floods and brought out a report (external link).
We were struck by the fact that people who lost virtually all their belongings when their huts were washed away — not to mention some 600 lives — dissolved any communal differences and came to each other's rescue in mosques, temples and schools.
In New Orleans, the victims huddled disconsolately in a makeshift relief centre in a stadium, not knowing what to do.
There was another major difference.
In 2005, as indeed in the sequel on this August 29 in Mumbai, there were no reports of theft in homes or cars abandoned.
On the contrary, residents offered refreshments and even overnight lodging for people stranded on the roads on foot or in their cars.
There was widespread looting of homes in New Orleans.
By contrast, the Washington Post headlined on September 8: 'Fraud inevitably follows disasters, so authorities in Texas, Florida prepare for post-storm scams'
There were fraudulent claims made for compensation after Katrina.
The US justice department established the national centre for disaster fraud, which receives hundreds of calls every month even when a cataclysm such as Hurricane Harvey isn't occurring.
After Harvey, there are already reports doing the rounds of dubious claims with debris removal contractors and claims inspectors and the like.
While Bhopal faced US 'ambulance chasers' for representing victims for a commission on the compensation, post floods in the US there was predictable disaster-related crime, often launched by 'disaster chasers' — people who target disaster relief money or donations intended for charity.
Attorneys describe this as a 'cascade of crime'.
There are fraudulent Web sites purporting to deliver relief by collecting donations from individuals.
There were 5,000 such Web sites after Katrina, with one person writing that he saw people huddled on roofs and that 'I will hear these screams for the rest of my life.'
He was nowhere near Louisiana, but he raised $40,000 in two days.
Darryl D' Monte is chairman emeritus, Forum of Environmental Journalists in India.
IMAGE: A scene from the August 29, 2017 flooding in Mumbai. Photograph: Sahil Salvi
Source: Read Full Article