Conjoined twins Riddhi and Siddhi get a new lease of life.
The Top Videos of the Week, listed by Shailajanand Mishra.

Also see: Why is the Tejas in Kashmir?
Who hugged Modi?
Videos chosen by you through your likes on iShare.
When A River Swallows 400 Cars
Location: Noida
And several houses.
This is what happened when the Hindon river overflowed in the Echotech area.
Love knows no borders
Location: Hazaribag
That why Barbara Polak, 49, a Polish citizen and a mother of a 6-year-old daughter, reached Harazibagh.
The love of her life, 35-year-old Shadab Malik, belongs to Khutra village in Hazaribag, Jharkhand.
The duo's online romance started on Instagram.
Who Poonam Likes Most In Parliament
Location: New Delhi
Look who caught Lok Sabha MP Poonam Mahajan's attention in Parliament.
Poonam could not stop showing her affection and the photographers could not stop clicking.
A New Life For Conjoined Twins Riddhi, Siddhi
Location: New Delhi
They were joined at their stomach. And their chest.
Their parents, who live in Bareilly, Uttar Pradesh, didn't know what life held for their little girls, Riddhi and Siddhi.
But, after a successful separation surgery by the accomplished doctors at AIIMS Delhi, the twins have a new lease of life.
Modi is known for his hugs
Location: New Delhi
But what happens when he is hugged by a cutie in red?
Kashmir's Love For Purple
Location: Pulwama
Not the bright vibrant version but the more subtle lavender.
Hundreds of farmers in South Kashmir's Pulwama district are now cultivating lavender because the crop is more profitable.
Why Is The Tejas In Kashmir?
Location: Jammu and Kashmir
The Indian Air Force has moved its indigenous Light Combat Aircraft, Tejas, to Jammu and Kashmir.
The IAF's goal is to give the indigenous fighter experience in flying in the valleys of the union territory, especially along the Pakistan border.
Feature Presentation: Ashish Narsale/Rediff.com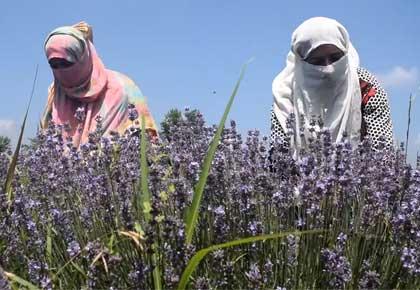 Source: Read Full Article