If Kerala wants to sustain its room for independent thinking and talk back to Delhi when needed, it should put its finances in order.
Or — if one takes the North East example — Kerala's political posturing may end up commensurate with its financial dependence on others, cautions Shyam G Menon.
Soon after the Bharatiya Janata Party's performance in the state elections in the North East, Prime Minister Narendra Modi took a dig at Kerala.
On March 2, in an address to party supporters at the BJP headquarters in Delhi, Modi stated: 'I am confident that in the coming years, as it happened in Nagaland and Meghalaya and Goa over the years, a BJP-led government will come to power in Kerala too.'
Kerala was the only non-BJP ruled state that the prime minister mentioned so in his speech.
Predictably, salvos were fired in return.
On March 4, The Times of India quoted the response from Kerala Chief Minister Pinarayi Vijayan: 'People in this state are fully aware of the ordeals that minorities undergo. The minorities that face severe oppression from Sangh Parivar cannot take a pro-BJP approach. It will be a huge mistake if anybody misreads the adjustments by some people as the common character of minorities.'
Leader of the Opposition in the state, V D Sateeshan of the Congress, also agreed but with a twist.
He accused the CPI-M of providing tacit support to the BJP in a bid to weaken the Congress-led Opposition.
Meanwhile, the BJP's state unit lost no time in promising to work hard to realise Modi's dream.
The BJP hasn't yet scored big in elections from Kerala to the state assembly and Parliament.
It exists a third force, mostly splitting votes that have traditionally accrued to the two coalitions dominating local politics.
The public's curiosity for it varies in proportion to the fatigue felt with regard to the main coalitions.
So far, the most visible signs of Hindutva and BJP in Kerala track patterns seen in the other big states they muscled into.
There has been a profusion of religious iconography in public places, more emphasis than before on festivals and pilgrimages; not to mention, greater visibility for tradition and even superstition.
Over time this increased religiosity has been across religious divides for heightened activity by one religion is reason for competing shrillness by others.
Further, against what Kerala represents by way of reality and potential, the BJP's state leadership appears woefully unable to articulate.
Most of the time, they parrot the views of the BJP national leadership and allowed to speak independently can embarrass big time as happened in February when the state BJP president suggested that the chairperson of the State Youth Commission be beaten with a broom dipped in urine.
From that, to forming a government (as Modi wants) is a tall order, unless the electorate is a blind fan of Modi and BJP.
In Kerala, that isn't the case. It means the party will have to deploy other formulae for success.
For the 2021 assembly elections in Kerala, the BJP tried an image overhaul with a leading technocrat fronting its campaign.
Technocrats used to specialisation and disciplined execution are known to admire the BJP-RSS complex as an ecosystem of doers overlooking the danger to democracy posed by its core agenda.
The tactic made little difference to the BJP's fortunes in the state. It continued as third force.
In the recent North East elections, the BJP reportedly peddled a soft version of Hindutva avoiding Right-Wing habits like interfering with peoples' diets.
Such modifications won't impress all in the Kerala electorate.
In polls so far, the electorate has seen the BJP-RSS complex for what it is.
Religion matters in Kerala. But so does, independent thinking.
Will soft Hindutva make people see the BJP differently?
It is likely that they will see through the mask although the flair for independent thinking in Kerala has shrunk with the Indian ecosystem splitting more and more into insular silos loyal to their leaders.
In Meghalaya, the BJP's claim to victory was through siding with the National People's Party, a state level outfit that won the election by a margin the BJP could not.
On March 5, NDTV reported that the Meghalaya state BJP had asked NPP leader Conrad Sangma (subsequently sworn in as chief minister for a second term) to induct their two MLAs (the only BJP MLAs in the new assembly) into his ministry.
Eventually, one was accommodated.
Shillong based-senior journalist Patricia Mukhim mentioned in a recent interview that many of the North East states are dependent on the Centre for finances.
The dependence means, they can't afford to have an unfriendly government in Delhi.
An extreme and bizarre example has been Nagaland, where the assembly became almost Opposition-free after many elected members decided to support the new government.
Not everyone has bought the argument that it represents commitment to state-building (like nation-building).
Can the BJP find a NPP in Kerala for similar political arrangement?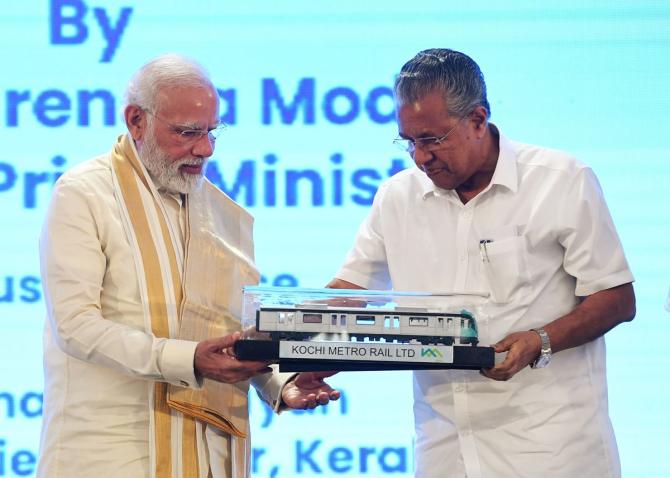 With the Aam Admi Party announcing a tie-up with Kerala's Twenty 20 party in May 2022, political outfits not allied with Kerala's main coalitions and capable of getting seats are few.
The National Democratic Alliance has a Kerala chapter with local allies, none of who are politically influential yet.
This limits scope for the BJP to pull off a North East in Kerala by merely courting unaligned parties.
On March 4, the Deccan Herald newspaper in its report on Kapil Sibal launching a new Web site to fight injustice in BJP-ruled India, quoted the senior lawyer and Rajya Sabha member saying that after 2014, the BJP has toppled eight governments.
When a party is capital-laden and its government is in charge of central agencies, options are several.
But that's the realm of speculation and quickly countered with what about-ism.
Is there anything more realistic as breach to exploit in Kerala?
Thanks to the remittance economy, Kerala is privately wealthy.
On the other hand, state finances have always worried.
It is a Kerala paradox, despite good social indices and so much money deposited in the state's banks, the finances of the ultimate caretaker — the state – hasn't been robust.
It is a social risk given Kerala's well-being owes much to the concept of welfare state.
Since the 2018 Kerala floods and the COVID-19 pandemic, state finances have been on a downward slope.
On February 20, 2023, Kaumudi Online reported that treasury controls had been tightened with bills above Rs 10 lakhs requiring the approval of the finance department to be processed.
In the closing days of the first Pinarayi government, the limit had been as low as five lakh-rupees but it was later revised to Rs 25 lakhs.
In an August 2022 article in The New Indian Express, B A Prakash, former chairman of the Kerala Public Expenditure Committee and state Finance Commission, wrote, 'The crisis has many dimensions: Lack of the state's own resources, persistent use of borrowed funds for meeting the revenue deficit, excessive increase in salary, pension and other items of revenue expenditure, fiscal extravagance in spending, under estimation of debt due to off-budget borrowing, and a cut in annual borrowing limit by central government.'
The state's 2023 budget contained a slew of unpopular steps designed to raise money.
The protests over these measures have served to emphasise the fact that Kerala is positioned precariously as regards state finances.
Jittery in its second term (as most re-elected governments would be), Vijayan's government seemed to be producing ample opportunities for political exploitation by opponents.
Early March wasn't short of tinder — it ranged from a massive fire at a garbage treatment plant that cloaked Kochi in smoke to members of the Students Federation of India, miffed by a news report, barging into the Kochi office of Asianet, the state's leading television channel followed by the police searching the channel's Kozhikode office.
A senior CPI-M leader also made insulting remarks a journalist working with the channel.
Meanwhile a high-profile gold smuggling case with allegations reaching a spectrum of the state's high and mighty, took new twists including a complaint filed in BJP ruled-Karnataka.
In today's political climate, none of these are above exploitation by the political competition.
Endowed with resources to wait it out, the BJP may find the opening it seeks by persisting as third force till the votes split adequately in its favor.
At the same time, the dents in state finances won't heal overnight.
Nursing state finances back to health, including therein meeting the expenses of the state, will be tough for Vijayan's government especially when the CentrE is with a political foe; one that wishes to grow its presence in Kerala to boot.
If Kerala wants to sustain its room for independent thinking and talk back to Delhi when needed (without hurting itself), it should put its finances in order.
Or — if one takes the North East example — Kerala's political posturing may end up commensurate with its financial dependence on others.
Shyam G Menon is a Mumbai-based columnist.
You can read his earlier columns here.
Feature Presentation: Aslam Hunani/Rediff.com
Source: Read Full Article