In football-crazy Northeast India, a group of children kickstart Meghalaya's very own baby football league.
As dusk settles on a typical Shillong Saturday, football fans stream into the town's Polo Grounds parking lot to watch what the world is watching: the FIFA World Cup 2018. An evening of euphoric gesticulations and soul-crushing disappointment beckons. But it is not the only footballing affair that has taken centre-stage in Meghalaya's capital. A few hours earlier, another story unfolded just across the street, on the turf of the Jawaharlal Nehru Sports Complex.
Earlier that morning Meghalaya's debut Baby League, had its fourth match-day — an all-kids' affair with non-stop action. The really young ones waddled after the ball in a swarm, kicking at will. At that level, there are no goalkeepers — just two posts on each end of the playing field. Up the age ladder, the jamboree gets replaced with the game's symmetry: defence lines get distinct, skills come to the forefront, and so does competition.
The Baby League, brainchild of the All India Football Federation (AIFF), is a league format football competition for ages 4 to 13. A pilot league was started in Mumbai and Pune last year. The first Meghalaya edition is being organized by the state's Football Association, in collaboration with technical partners AIFF and main sponsor, Tata Trusts. Later this month, Bengaluru is expected to start their version, and talks are on for an Orissa Baby League as well. In the Northeast, Mizoram, also hosts its own, the Young Legends League in Champai— an independent initiative between the Mizoram Football Association and a private organisation, not related to the AIFF league.
"What was lacking for grassroots football players was a competitive platform. The Baby League provides this platform for kids at a young age," says Arki Nongrum, the 31-year-old CEO of the Meghalaya Football Association (MFA), "If you train each and every day but you do not play anyone competitively, it makes no sense."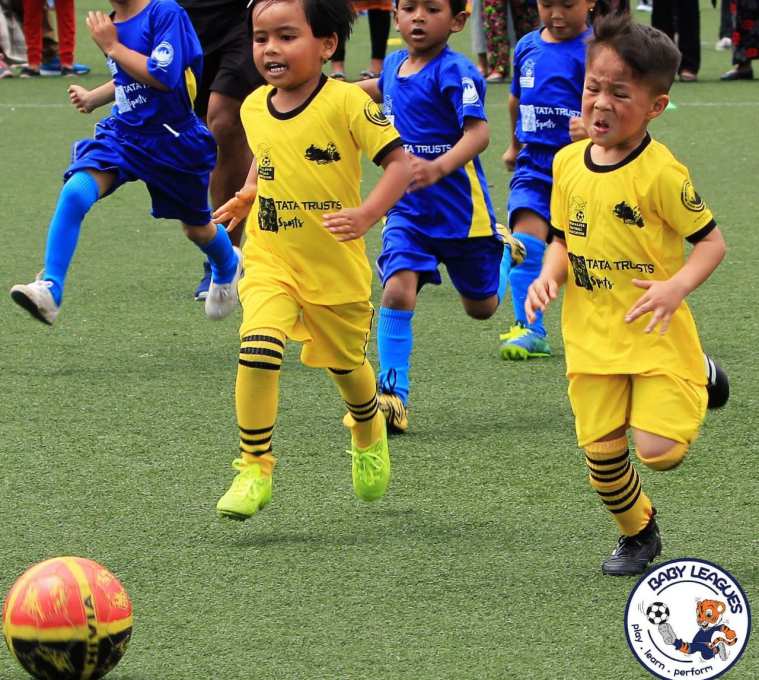 So, on every Saturday and select school holidays, dressed in jersey colours inspired by squads around the world, the "babies" play ball. The Baby League has 12 teams: Wahlakhiat Bulls, Nongthymmai Scorpions, JNS Jaguars, among others. Apart from their assigned animal icons, team names include the school, institution or locations they represent.
On the Saturday we visited, the match day program included 5 match-ups involving 10 of the 12 participating teams. Matches are shorter than the standard duration: 10 minutes per half for the youngest age group while the teenagers slug it out for 25 minutes each half.  On the sidelines, there were excited parents cheering their kids on, many recording the action on their phones, elbowing other spectators in the process, as they tried to get the best footage.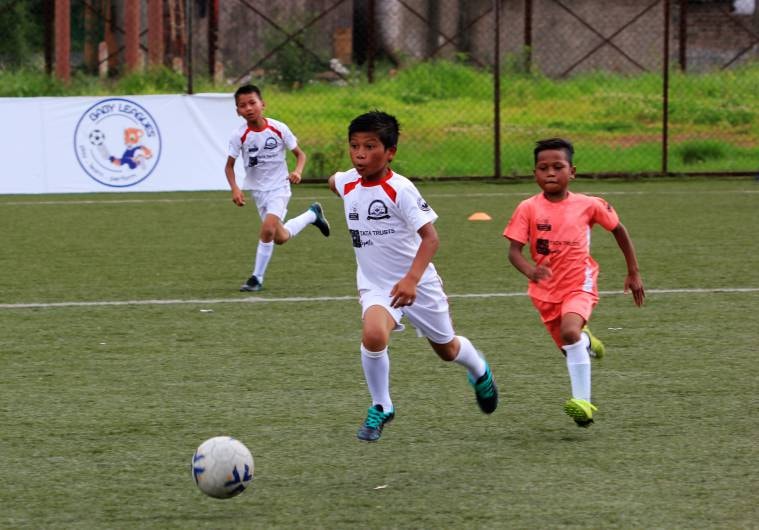 "It is a good beginning," says L.A. Kharmawphlang, whose 12-year-old twin sons play for the Touchline NE Cubs, "They already train but to actually play in a tournament makes a big difference. It makes them team players." Michael Lyngdoh, whose nephews play for the ENE Falcons, adds that the Baby League is "a welcome opportunity for young children to improve their talent, and resist distracting temptations like TV and other gadgets."
An event that will run for six months, the Baby League is longer than the established ISL and I-Leagues, the top two divisions of professional football in the country. Each team plays more than forty games during the course of the league. For most, the Baby League is more than a fun game of football. It is about equal opportunity too — be it in terms of gender, economy or just representation.
"It is mandatory for each team to register at least 10% female players," says Arki, adding that the hope is to establish a dedicated all-girls league in the future. On Saturday's game, the senior team (ages 12-13) for JNS Jaguars was dominated by girls. Marilyn Rapthap, whose 13-year-old daughter was starting for the Jaguars, says, "Such opportunities for young athletes never existed before. I think this league will really help children develop their talent."
Shanbor Manar and Hamarsingh Manar are from Wahlakhiat, a village 60 kms away from Shillong and are part of the coaching staff for the Wahlakhiat Bulls. Shanbor remembers how back home it was impossible to practice in their village ground. "It was too small and on a slope," he says, "The Baby League includes  squads from villages and towns outside Shillong, and they still manage to take to the level turf with aplomb."
The League has as many as 200 registrations for some of the teams, a great sign for the future of the tournament. "Teams of the Baby League rotate players to give everyone a chance," says Working Syiem, who coaches the Nongthymmai Scorpions.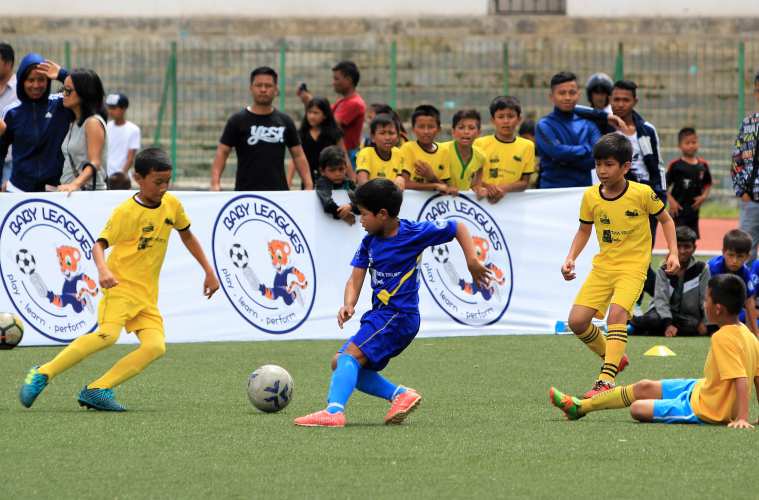 Meghalaya's Baby League is turning out to be much more than a photo op for adorable moments. Arki stresses on the long-term benefits of the initiative: "It ties into a much larger picture. Apart from giving footballers a competitive platform to hone their skills, we hope to lay the foundation for a vibrant sports culture by involving parents and communities," he says.
For Indian football to succeed, a development model that 'catches them young' is the only way forward. And in Shillong's Jawaharlal Nehru Sports Complex, amidst the delightful squeals of children at play, there are some sure signs of genius.
The author is a Shillong-based writer.



Ghana to dissolve football association over bribery allegations




Big five European leagues enjoy record revenues: Deloitte
Source: Read Full Article