Borrowing from NBA and NFL tricks such as screening, stacking, pick and rolls, England score 8 of their 11 goals from set pieces at the 2018 World Cup.
Confidence won't be in short supply for a man who has carried Christina Aguilera on stage with millions watching. But it still would have taken some audacity for Allan Russell to brand himself as the 'Superior Striker'. The Glaswegian played for ten clubs in a 14-year career, never making it out of the lower echelons of Scottish and English football. The nomadic career was complemented by stints moonlighting as a model, one leading to the 2003 MTV Music Swards gig with the aforementioned pop sensation.
But the uppity dream was realised in America, when Russell signed up for second-tier Carolina RailHawks in 2010, and later moved to Orange County Blues FC. In America, Russell noticed the prevalence of position-specific coaches in sports such as NFL and NBA. He also took note of the tutorial videos from self-proclaimed gurus-cum-salesmen littered across the internet, and brought the formula across the pond.
"In my career I felt there was never enough detail on how strikers should be trained and coached," Russell, a UEFA A licence coach, told reporters last month. "When I was in America I looked at the NFL and the detail that goes into getting an extra 1% out of these guys is incredible. I could never understand why, as a striker, they are not given specific training which allows them to work on their movement, awareness, timing of the runs and execution of the finish."
Russell returned as the 'No 1 Striker Coach in the World' and launched 'Superior Striker' — a program comprising highly stylised-yet-comprehensive videos on how to lose markers, clean finishing and perfect first touches. The venture took off, and soon Russell was coaching Premier League stars for £1000 a session.
England coach Gareth Southgate came calling too. And a year later, Russell stands two wins away from bringing it to the neighbours' home, much to the chagrin of his countrymen.
Separate and specific practice in football has traditionally been reserved for goalkeepers. But as a specialist striking coach with England, Russell "does finishing sessions with us, tells us about opposition defenders, goalkeepers, and tells us maybe where we can exploit a weakness," according to captain Harry Kane.
"We are all top players, so he is not running through technique or telling us how to strike a ball. It's just little stuff to maybe give us an edge," Kane said after the group fixture against Panama. "He does our attacking set plays, which are going pretty well so far."
"Pretty well" is putting it kindly.
Before Russia, England's last goal from a corner at a major tournament came at the 2010 World Cup, when Matthew Upson scored from a Steven Gerrard delivery in the 4-1 defeat to Germany; they've already scored five in their run-up to the semifinals. Add the three penalties and eight of their 11 goals have come from set pieces, matching the tally set by Portugal in 1966. It is by no accident that the last three teams to score four or more goals from corners were Germany (2014), Italy (2006) and France (1998).
The turnaround from dead ball situations is down to the think-tank of Southgate, Russell and even assistant manager Steve Holland, who spent six years as a coach with Chelsea, club that regularly ranks in the top five for set-piece goals in the Premier League.
"We'd identified them as key in tournaments, and an element we felt we could improve upon," said Southgate. "No matter how much you control the play at both ends, set plays are really important."
That you can score from set pieces however is no breaking news. Graham Taylor trained his England team till the players fell over. Bobby Robson would often remind his players at Newcastle that "there is always one dope who falls asleep" to take advantage of. But the revelation with Southgate's England is how well the routines work when they are Americanised a bit.
Russell brought with him the ideology of specialist coaches ala NFL's offence, defence, kicker, quarterback specialists, along with the technique of backing into defenders and creating space. But it wasn't until Southgate's Super Bowl trip in February that the England setup woke up to the magic of choreographed plays and tactics.
"One of the reasons some of our guys have travelled is to see how the NFL operate because we don't have to do things the way they've always been done, we can try different things that work," said Southgate, days before the Philadelphia Eagles-New England Patriots clash. "The fascination for me is, yes, the occasion, but also watching the coaches on the side and the defensive strategies and attacking strategies of the teams."
On the night before the Super Bowl however, Southgate went and attended a low-key NBA affair between the New Orleans Pelicans vs. Minnesota Timberwolves, bombarding the officials with queries and stunning Chris Wright, companion and executive of the Major League Soccer team Minnesota United. "Here's this English guy, the England team manager, trying to figure out Basketball 101," Wright said.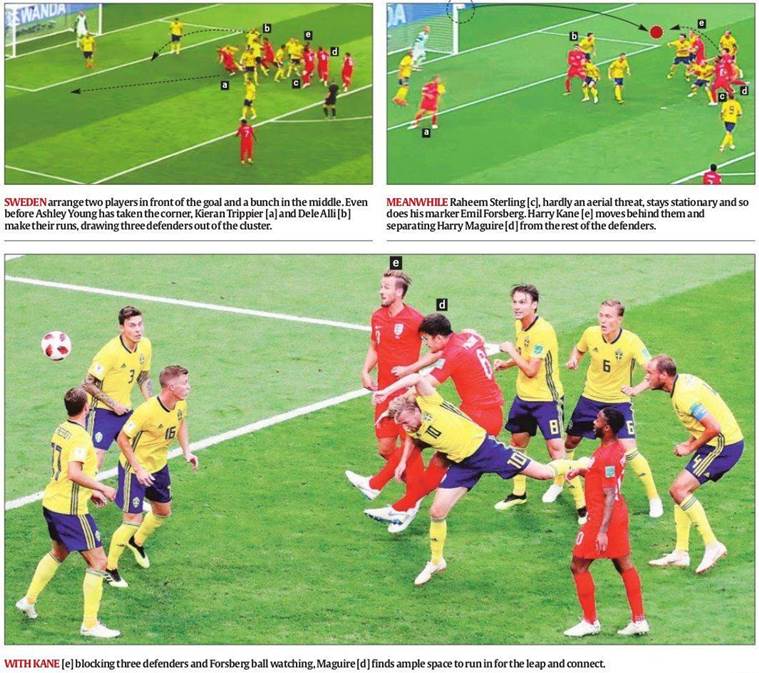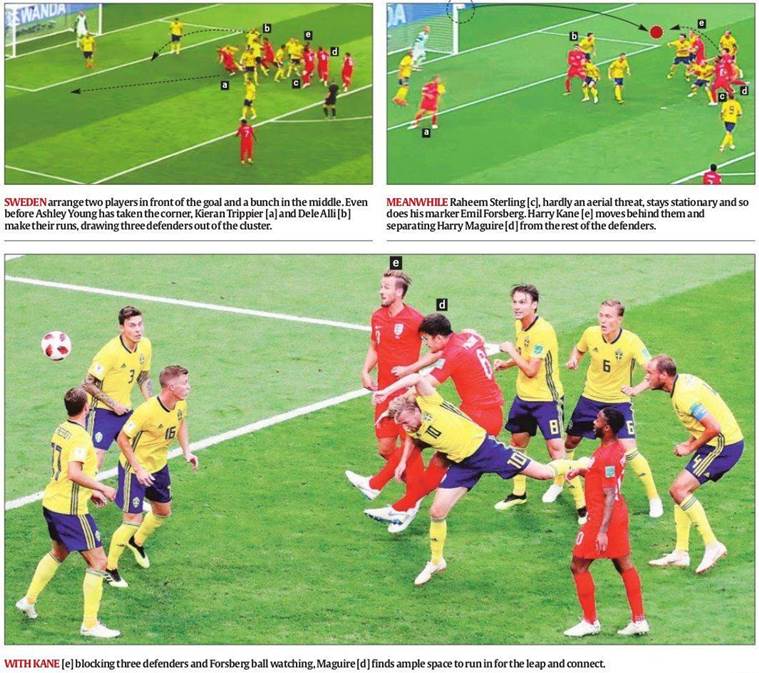 Four months later, the plays from American sports — screening, stacking, pick and rolls — were being put to good use by the England players. In the opening goal in the 6-1 rout of Panama, players acted as screens to block defenders and making decoy runs, making space for defender John Stones to score. Against Colombia, four players lined up in a row and branched off, confusing their markers. Sweden, who had plenty of time to study the bizarre formations and the luxury of tall, formidable defenders, conceded in similar fashion. The opening goal was orchestrated by the two Harrys, as Kane moved and blocked defenders while Maguire created a running lane, leaped and headed the ball in, all while an unassuming Raheem Sterling stood to confuse marker Emil Forsberg.
The hustling runs in the box, the space creation and finishing has been top notch, but it would all be for nothing without a proper ball. Veteran Ashley Young and upstart Kieran Trippier have orchestrated the moves, dropping the ball in with pinpoint accuracy. Both would have struggled to break in under earlier regimes, but Southgate accommodated the wing backs by switching the formation to a 3-5-2.
Leicester City's Maguire was also an inspired inclusion, with the 6'4 defender has won the most aerial battles at the tournament. With such players at his disposal, it's only natural for Southgate and Co.
The focus on set pieces however is also borne out of necessity. At Manchester City, Sterling has Kevin de Bruyne and David Silva pulling the strings. Christian Eriksen does the same for Kane and Co at Tottenham. But no established playmaker to speak of and limited creativity from the strikers, Southgate realised that scoring opportunities needed to come from elsewhere.
After the quarterfinal win, former West Ham manager Slaven Bilic put in his two cents.
"Set pieces are usually a bonus. As a manager, you want goals from open play. You want fantastic combinations, a good strike," said the Croat. "But you need to sit back and realise that England have got something going here."
A team might figure them out and goals from set pieces may dry up. But by taking a young squad to the semifinals, Southgate has already proved a point.



FIFA World Cup 2018: Kylian Mbappe's insane back-heel pass wins over the internet, watch video




France reach 2018 World Cup final, beat Belgium 1-0
Source: Read Full Article