'I am not envious of those who are making millions. It's their era and I had my era.'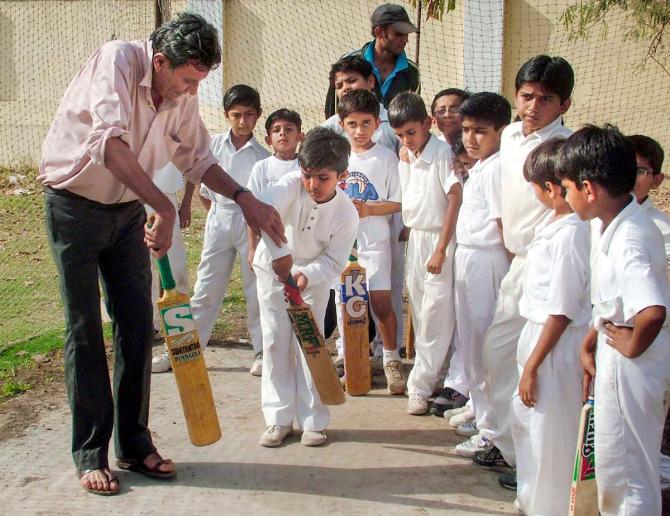 Salim Aziz Durani, 88, who passed away in Jamnagar in Gujarat was the first poster boy of Indian cricket and enjoyed a popularity that the movie superstars of the 1960s like Dilip Kumar, Rajendra Kumar, Raj Kapoor and Dev Anand enjoyed.
He was among the first to promote the willow sport as a glamorous game with his personal charm.
The six-footer towering Pathan of Afghan origin was a master stroke player, best suited for the limited overs cricket to the present-day high-octane T20 format.
It was the misfortune of the Prince of Cricket that he had retired when limited overs cricket rose to prominence.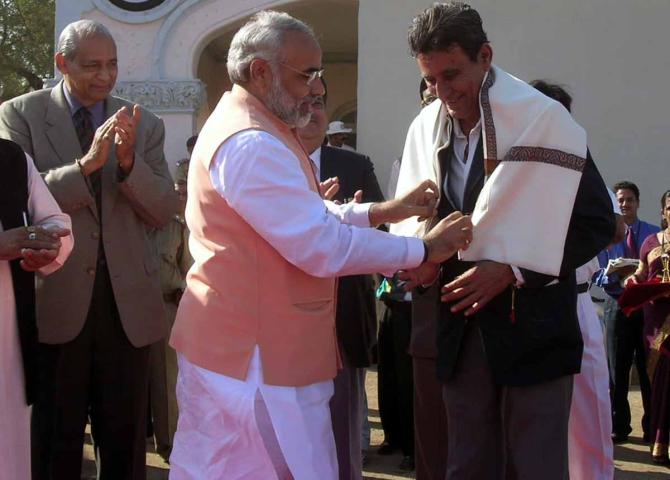 I have been a friend of Salim for 50 years and spent hours and hours talking to him about cricket and life.
The blue-eyed handsome man unfolded the many aspects of his cricketing exploits and his personal life and how he became a ladies' man.
"My fans says I used to hit a six on any ball on demand from the gallery. It all began in a match in Nagpur when I was smashing six after six," he once told me. "Interestingly, the ball would land over the fence in the ladies gallery who were yelling and demanding sixes from me. After that, the media started dubbing me as Mr Six."
"All I can say is that I used to play each ball on its merit. It was sheer chance that there were some loose balls thrown at me and my bat swung into action to punish such balls and invariably it went over the boundary," he added.
"It was against Tony Lewis's English team (1972-1973 series) when batting against Norman Gifford or the left-arm spinner Derek Underwood that I batted with ease and lifted their ball to get some fresh air in the sky. Underwood was rated a better left-arm bowler than Bishan Bedi. But I found that Underwood could be hit and I did it." he remembered.
"One such towering six landed on a very large hoarding of Lipton Tea. After that people started demanding sixes hit several advertising hoardings in Bombay. It was just a coincidence and people started expecting fire play from me every time I entered the ground with a bat."
"No cricketer can boast of hitting every ball over the boundary except Gary Sobers," Salim told me in Jaipur sipping his favourite beer.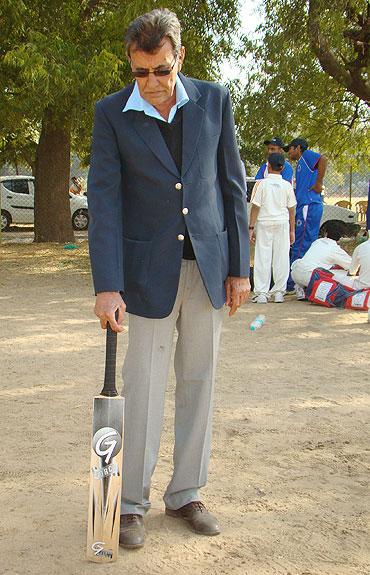 Durani said he would have done wonders in limited overs cricket with his wide array of strokes and would have entertained crowds.
"I played my cricket when it was a religion to many. Now the world of cricket has changed with various formats and tonnes of money. Often my old fans tell me that I was born too early and had I been playing today, I would have been the king of limited overs cricket."
"The flush of funds and the millions that today's cricketers make are all godsend. I am not envious of those who are making millions. It's their era and I had my era," Salim said philosophically.
Salim said he belonged to an Afghan Pathan family. His father Aziz Durani learned his cricket in Karachi where he used to work with his brother in a motor garage.
He said he was born in the Khyber Pass in the Hindu Kush region of Afghanistan when the family was moving from Kabul to Karachi.
"In cricket books, my place of birth is given as Kabul or Karachi, but I was born in some corner of the Khyber Pass under the open sky and at Karachi. I learned my cricket from my father as a toddler. My father was a cricketer and he was hired by Ranjitsinhji of Nawanagar (the legendary cricketer Ranji) to play for his team as a wicket-keeper and given the job of a policeman.
"We moved to Jamnagar. My first love was tennis and my brother Jehangir used to play hockey."
"Salim was an excellent cricketer. We started playing together. Salim first started as a wicket-keeper and opening batsman in my team. His father used to keep wickets and was a member of the Nawanagar team that won the Ranji Trophy," remembered Jamsaheb Shatrushalya Sinhji Jadeja, the great Ranji's grandson, himself a former Ranji Trophy player who was also the last ruler of Jamnagar.
"Salim was a right-hander by nature, but his father insisted on turning him into a left-hander by making him bowl for hours together by making his right hand tied to his back," the Jamsaheb added.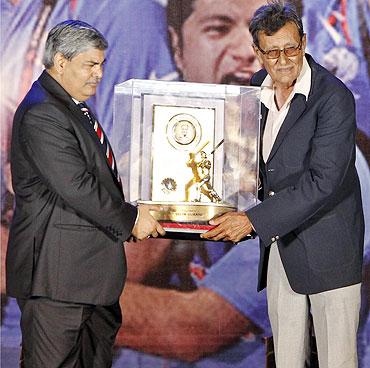 Shatrushalya Sinhji was always impressed with Salim's natural flair as a batsman.
"I remember when the Ted Dexter-led MCC visited India in 1961-1962 the team was practicing at the Brabourne stadium. Dexter, an old friend asked me to bowl to him at the nets to enable him to get his eyes in," the Jamsaheb, an off-spin bowler, said.
"Ted Dexter floundered on a tricky wicket and left the nets saying that if he carried on he would lose his confidence! Salim came in next and he asked me to do the same for him. Salim hammered me in all directions with ease. Dexter had a bad Test match while Salim scored an unforgettable 72. I can never forget the friendship that I enjoyed with Salim Durani," adds Shatrushlaya Sinhji.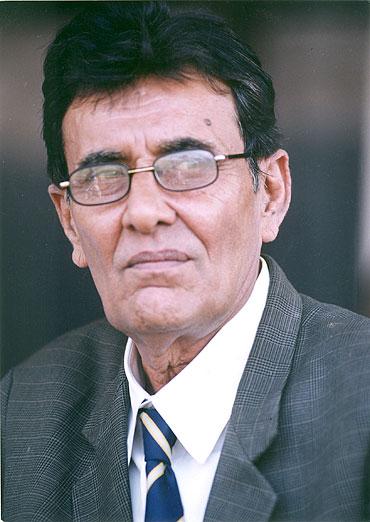 Salim struggled in his early childhood with his mother and three sisters as his father Aziz opted to go to Pakistan after Partition and the family had to fend itself with great difficulty.
Aziz Durani settled in Karachi and later coached Hanif Mohammed, the fine batsman who was originally from Junagadh and had migrated to Pakistan.
"My talent was spotted by Maharana Bhagwat Singh of Mewar and Raj Singh Dungarpur. Both of them asked me to play for Rajasthan and I moved from Jamnagar to Udaipur and started playing for Rajasthan from the 1957 season," Salim recalled.
"I was sent to play club cricket in England by the Maharana and I played for the club for which Gary Sobers also played. "Playing in England taught me a lot and I could hone my skills there."
Maharana Bhagwat Singh wanted Rajasthan to win the Ranji Trophy and would hire professionals like Vinoo Mankad, Vijay Manjrekar, G S Ramchand, Rusi Surti and others.
Rajasthan reached the Ranji Trophy final several times, only to be beaten by Bombay.
The maharana, who played for Rajasthan, vowed that he would go to Haridwar and would take a dip in the Ganga the day Rajasthan won the Ranji Trophy.
The maharana died with his dream unfulfilled.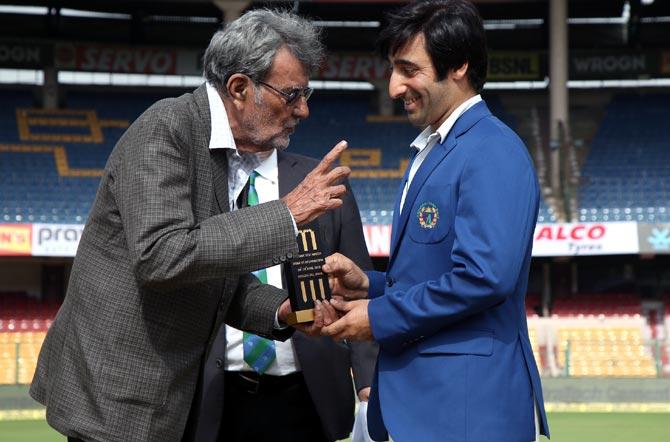 The Maharana was keen that Salim should pass his matriculation so that he could get a good job.
"Myself and Ramesh Shah were educated and we were asked by the Maharana to teach Salim and prepare him for the matriculation examination. We would teach Salim and would say that if he passed the matriculation examination, he would have a secure future," remembered leg spinner Chandu Joshi, 90, who lives in Pune.
"Salim was never interested in studies, but he was very serious with his cricket and practiced regularly. Later, I became a teacher along with Ramesh Shah at Ajmer's Mayo College, After that Salim lost all interest in studies. He left for Bombay where he got a job, but he continued playing for Rajasthan," Joshi adds.
"During Ranji matches I used to be his room-mate in the hotel. Salim would spend money on friends. He was a large-hearted person and when he was selected to play in the Test against Richie Benaud's team we were so happy," remembers Joshi.
Salim shifted to Bombay to play more competitive cricket and secured a job at a pharmaceutical company.
In Bombay, he fell in love with a lady named Rekha who he married and fathered a girl child. But the marriage did not last. Salim also lost his job.
At this juncture, Raj Singh Dungarpur asked him to stay in his flat.
Salim did not succeed in his debut Test, but Raj Singh helped him a lot by building his confidence, and soon he was found excelling in domestic cricket.
Good performances in the Ranji Trophy with bat and ball helped him find a place against Ted Dexter's touring England team.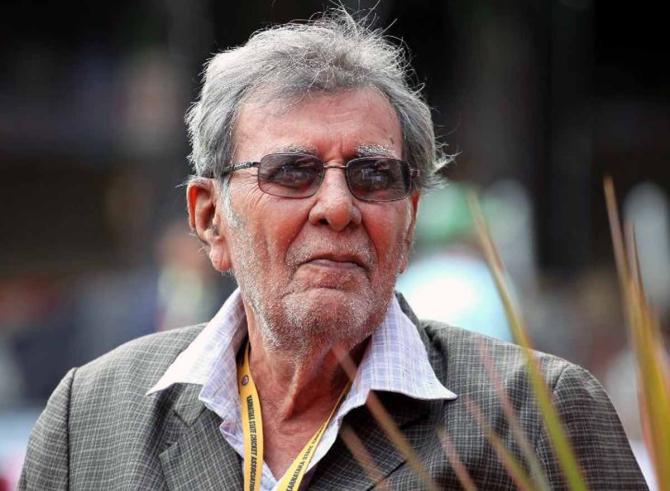 In the Calcutta Test, Salim's eight-wicket match haul helped India beat the MCC.
Then at Chepauk in Madras, his 10-wicket match haul enabled India beat the MCC.
This was enough for Salim to find a place in the Indian team's tour of the West Indies in 1962 under Nari Contractor.
The series was marred by the dangerous injury Contractor suffered when Charlie Griffith's bouncer broke his skull. Nari's life could be saved only after major surgery.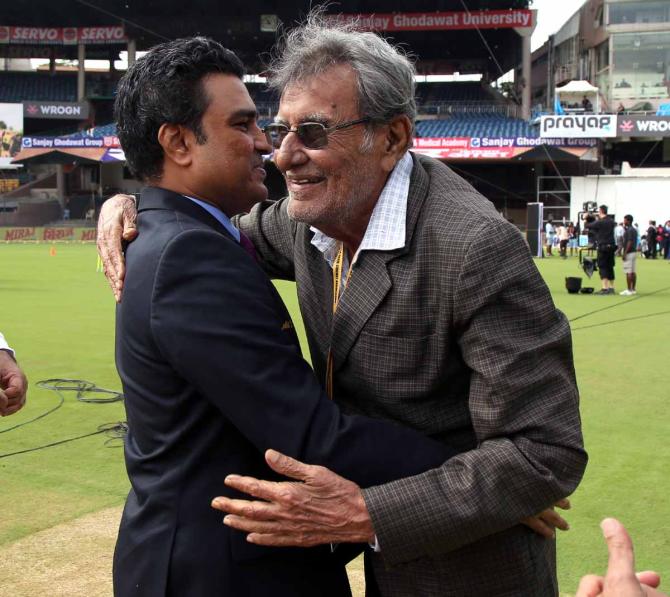 This was the era when the West Indies thrived on the fiery pace of Wes Hall and Griffith but Salim stood like the Rock Of Gibraltar in the Port of Spain Test of 1962 to score 104 runs, his only Test century.
Dr S Radhakrishnan, then the President of India, sent him a silver casket as a present.
He was the first Arjun Awardee for cricket. Later, due to Bishan Singh Bedi'S efforts all the Arjun Awardees were given a free first-class pass on the Indian Railways. Salim used this facility to travel to different cities and stay with friends post-retirement.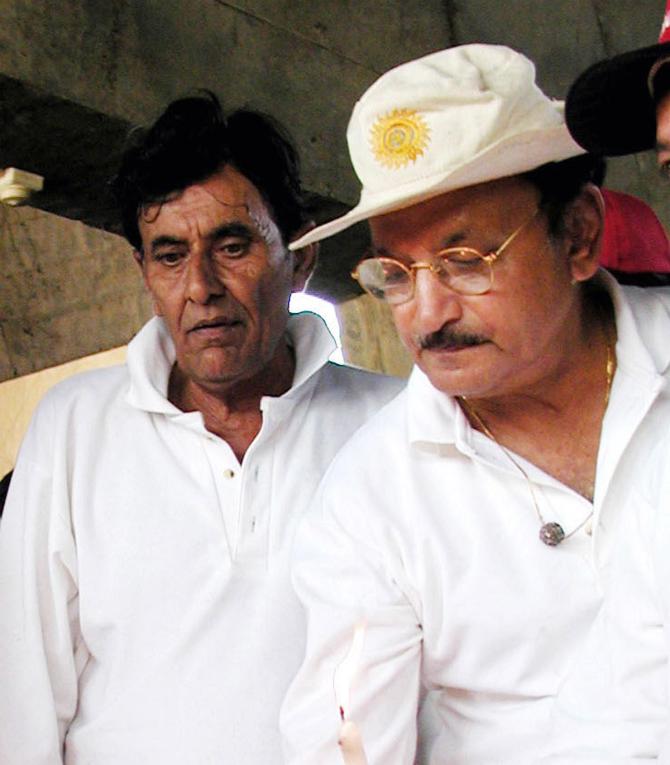 Not many know that Salim wanted to become an actor and when K Asif was planning to make Mughal-e-Azam, he was shortlisted by Asif to play the role eventually played by Dilip Kumar.
"Arre Bhai Salim to paidayshee cricketer raha hai. Woh hamara dost hain aur hum dono toh Pathan bhi hain. Aur Pathan pukki dosti karte hain (Salim is a born cricketer. He is also a friend. We are both Pathans and a Pathan's friendship is always true," Dilp Kumar once told me while on holiday over two decades ago at Duru Miya's Loharu House where he stayed whenever he came to Jaipur.
"Yusufbhai and me are both Pathans and Pathans are always good friends," Salim told me during one of our conversations nin Jaipur.
Salim fulfilled his dream of acting in a film when B R Ishara cast him in the lead opposite Parveen Babi in Charitra.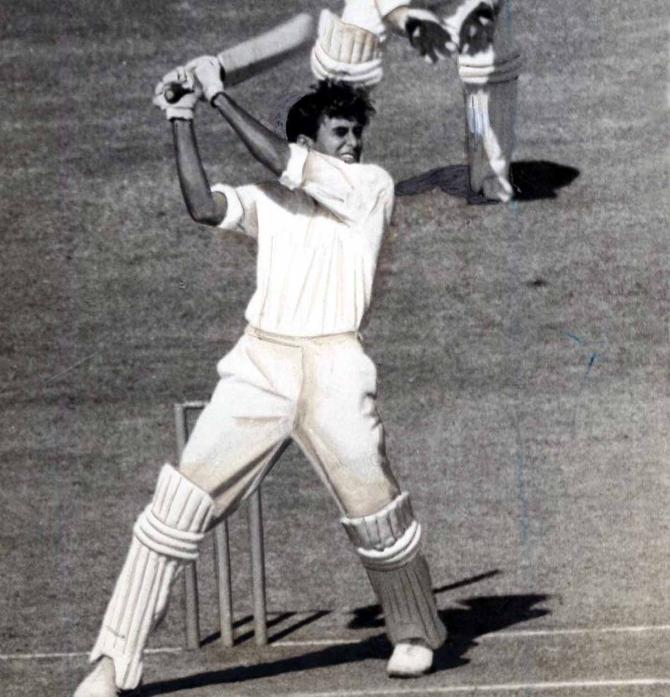 In 1966, Salim played against Gary Sober's West Indies. After a noticeable performance in the Bombay Test, he was chosen for the next Test in Calcutta.
The team was then managed by Colonel Hemu Adhikari, a stickler for discipline and always critical of Salim's fitness.
Salim reached Calcutta the night before the Test as his wife Rekha was unwell. He was dropped from the team on the ground of indiscipline.
"I was not allowed to stay with the team in the hotel and I had to pay for my to and fro air ticket. It shook me and I was very upset when I was not picked up for the tour of England in 1967." Salim said.
"When I was not included in the Indian team to tour Australia in 1967 I was a broken man. It was during this phase Raj Singhji helped me by boosting my morale, helping me overcome my domestic and personal problems, helping me financially. I was doomed, but Rajbhai helped me a lot and even gave me a place to live in his apartment opposite the Brabourne stadium when I was broke and jobless.
It took me four years to regain my place in the national team that was to tour the West Indies in 1971. I had a terrific season and I single-handedly won the Duleep Trophy for Central Zone with Hanumant Singh as skipper. K N Prabhu (the legendary cricket writer for The Times of India) wrote a review of the Duleep Trophy with the headline 'Duleep Trophy or Durrani Trophy'."
"I was selected for the West Indies tour, my second trip to the Caribbean."
In the Port Of Spain Test in 1971, Salim, who could bowl both left-arm pace and spin, got both Gary Sobers and Clive Lloyd out, wickets that turned the course of the match and helped India win the game and its first series in the West India.
Raj Singh would often describe the ball that dislodged Sobers as the 'ball' of the century.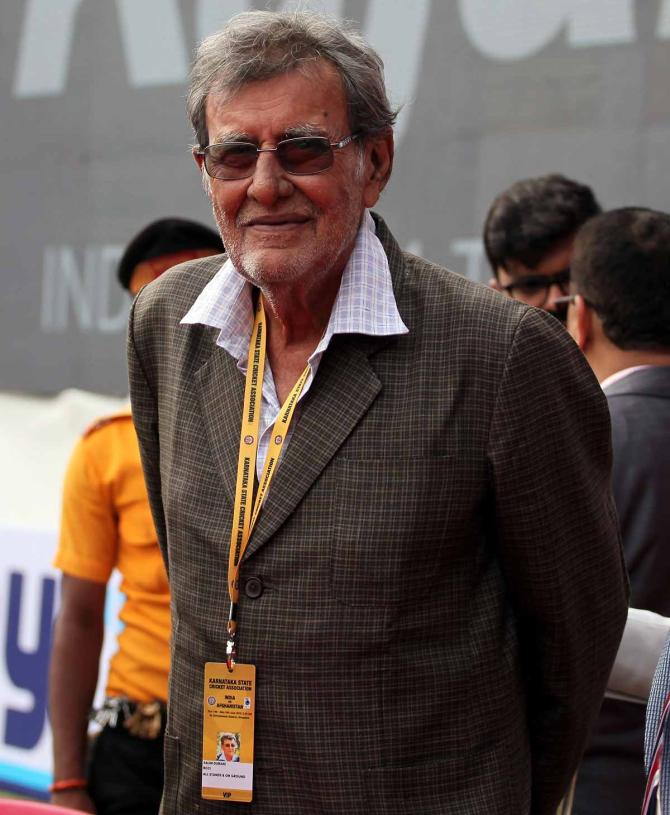 Salim was upset when he was not selected for the tour of England later that year as he was thought not physically fit.
He returned to the national team against England in 1972 after a sterling performance playing for Central Zone against England at Indore.
He was fielded in the Bombay Test after a huge protest with posters proclaiming, 'No Durani, No Test'.
This was the last Test Salim played and batted with a runner, enabling G R Vishwanath to score a century.
Post-retirement, he lived in his ancestral house in Jamnagar. He was given lakhs of rupees as a benefit, but he spent all the money including the Rs 15 lakh Lifetime Achievement award by the BCCI.
He lived with his nephews and niece in a flat after selling the ancestral house.
He would live on the monthly Rs 60,000 pension that he received.
He was happy that the Rajasthan government named A sports school after him.
There will never be another Salim Durani.
Feature Presentation: Rajesh Alva/Rediff.com
Source: Read Full Article