IND vs NZ 1st Test Day 3 Live Score Streaming, India vs New Zealand Live Cricket Score Streaming Online: New Zealand have been dismissed for 348, extending their first innings lead to 183 runs. India will begin their second innings after the Lunch break.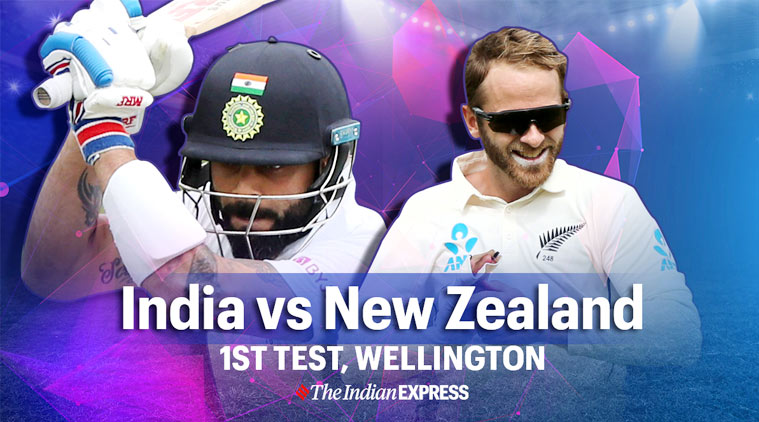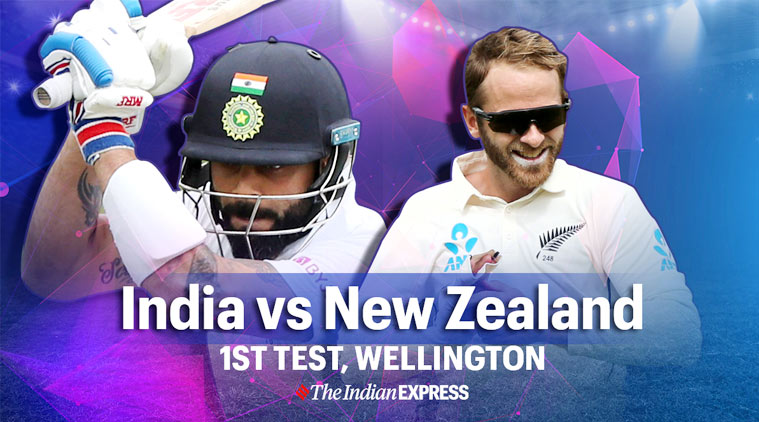 India vs New Zealand (IND vs NZ) 1st Test Day 3 Live Cricket Score Streaming Online Updates: New Zealand have been dismissed for 348 in the first innings on Day 3 in Wellington, extending their first innings lead to 183 runs. India will begin their second innings after the Lunch break.
Earlier on Sunday morning, Jasprit Bumrah took a wicket off the first ball of the day, ending his long wicketless streak. Ishant Sharma also took an early wicket, as India looked to bounced back. Colin de Grandhomme and Kyle Jamieson then put on a brisk partnership to hurt India, before Jamieson's luck ran out, but not before he had claimed the record for the highest score on Test debut by a New Zealand No.9. De Grandhomme frustrated India throughout the morning session but was trapped by Ashwin in the end for 43. Trent Boult's idiosyncratic batting then compounded India's woes. At the start of the day, New Zealand had an overall lead of 51.
India vs New Zealand 1st Test Day 3 Live Cricket Score Updates:Highlights
Ishant Sharma – who took a fifer – leads India off the field after the innings. Huge advantage to the home team as we head into the longest break of the day. New Zealand have added 123 runs for the last three wickets and that has put them in a huge position of strength. The runs came in some very odd ways – especially when Trent Boult was batting – but there were a lot of quick runs in the morning session. India restart their bid to save the match when play resumes after the Lunch break.
Trent Boult is finally dismissed. He goes for a eventful stay of 38 runs. Ishant Sharma picks up his fifer. 5/68 his figures from the innings. New Zealand are all out for 348. They get a first innings lead of 183 runs. Big task for India up ahead when play resumes after the Lunch break.
Get on the Boult train because it seems to show no signs of stopping. Slashed for four off Shami. Smashed to sweeper cover. Moves to 36. There have been 36 runs in this partnership, all of those runs scored by Boult. Ajaz Patel, his partner, also seems in a bit of disbelief. He has shown more solid technique, but his role right now is to just hang in there as Boult goes berserk. NZ 346/9 after 100 overs, lead by 181 runs
Boult smashes Ashwin for a six over his head. Dances down the track and fearlessly smashes Ashwin. He has moved to 30 runs off 18 balls. India cannot believe this contribution from the No. 11. NZ 341/9 after 99 overs, lead by 176 runs
Unbelievable scenes as Trent Boult is smacking Ishant around for runs. Takes a double after playing it to third man. Scampers across the width of the pitch while running. Almost ran into Ishant there. He then smashes Ishant with brute force down the ground for four runs. And there's a four off the fourth ball of the over as well. Boult is also making a sound everytime he hits a shot! Virat Kohli cannot believe what he is seeing. He has his hands raised in the air in disbelief. The Boult comedy act has to be seen to be believed. NZ 334/9 after 98 overs, lead by 169 runs
The Boult drama continues! He steps out to Ashwin and smashes him down the pitch. Placed that well. Ajaz Patel plays a few more conventional strokes to see out the Ashwin over. Lunch not taken yet. Surely not much more time will be afforded to the Boult drama before Lunch is taken unless Ishant can take his wicket in this over. NZ 323/9 after 97 overs, lead by 158 runs
Every ball is a drama when Trent Boult bats! Swipes his bat around like a Star Wars sword. Ishant bowls one at his body. Boult almost surprises himself by blocking it out. The stump mic catches what sounds dangerously like a squeal from the batsman as he blocks it out. Comic scenes as Ishant is making the No.11 dance. The fifth ball is lofted over the inner field. No timing on that. Two runs. NZ 318/9 after 96 overs, lead by 153 runs
Four! Boult steps out. Ishant had directed a bouncer at him. Boult just made room and threw his bat at it. The lead goes up to 150. Boult is throwing his bat at everything! Ishant is pitching it in short and hard. Entertaining times! NZ 315/9 after 95.2 overs, lead by 150 runs
Wicket! Ashwin gets Grandhomme. Ashwin, who was hammered by Jamieson, got Jamieson's wicket. And now, he takes revenge on Grandhomme, who hammered him in the last over. That is Ashwin's third wicket. 3/86 his figures, and Kohli reaps the rewards of sticking with his main spinner from one end. Grandhomme is out for 43. And New Zealand are down to their last wicket, with a lead of 145 runs. Boult joins Patel. NZ 310/9 after 94.2 overs
Grandhomme takes a single off the last ball of the Ishant Sharma over to retain the strike. He is playing a very responsible innings here. Ishant Sharma has a chance to pick up a fifer. He is on figures of 4/48 at the moment. Ashwin, despite being put to the sword, continues from the other end.
Grandhomme gives Ashwin the charge. The first ball is worked behind square on the on-side for two runs. The next is smashed for four to fine leg. The thid is also an aggressive shot. Two runs as fine leg runs in to cut it off. Ashwin is being put to the sword by Grandhomme. Field closes in around Ajaz Patel as he comes to face the last two balls. They are played without incident. NZ 309/8 after 93 overs, lead by 144 runs
Patel starts off with a very lucky four. Bottom edge. Bumrah will be gutted that did not go on to bhit the stumps and went to the ropes instead. 300 comes up for New Zealand with that piece of luck. Bumrah gets Patel to bottom edge the ball almost on to his stumps with the last ball of the over as well. But Patel survives again. The 71-run 8th wicket stand between Jamieson and Grandhomme has seriously hurt India's chances of getting back into this match, but they would desperately want to wrap up this innings by the Lunch break. NZ 300/8 after 92 overs, lead by 135 runs
Finally, India get Jamieson's wicket. They will be delighted to see the back of him. Jamieson starts off his Test career with a 44 run innings off 45 balls. The highest score by a No 9 on debut for New Zealand in Test cricket. Ashwin, who was being punished by him, gets his wicket. Jamieson cannot time one big shot very well and Vihari comes around in the deep to catch it. Brings out Ajaz Patel at No.10. NZ 296/8 after 90.2 overs, lead by 131 runs
Ashwin gets the odd ball to grip and bounce unevenly. He is targetting the footmarks in search of a breakthrough. Jamieson moves into his 40s with a lovely on drive shot off Bumrah. Ishant Sharma gives chase but not before the batsmen run three. Batting is looking easy at the moment as Jamieson and Grandhomme plod on comfortably. Bumrah gets in a yorker off the fourth ball of his over. Jamieson does well to get down his bat again. This is now the highest score by a New Zealand No.9 in Test cricket. NZ 295/7 after 90 overs, lead by 130 runs
Chance! Grandhomme edges one off Bumrah but that is short of Kohli at slip. Grandhomme survives again. India have been inches away from his wicket so many times today. Bumrah bowls a maiden over. Jamieson has become the aggressor in this partnership, Grandhomme is playing the role of the foil at the other end. In other news, Shami is going off the field. Jadeja is on the field in his place. He took a catch in the infield last day. Can Jadeja the fielder provide the impetus India need to break this stand? NZ 288/7 after 88 overs, lead by 123 runs
Jamieson frees his arms off the second ball of Ashwin's over as he pitches it wide outside off stump. And then the fourth ball gets the same treatment. Again the ball disappears into the crowd. Two sixes in the over. What a batting performance this is from New Zealand's number 9. He has hit four sixes in his knock so far. The most aggressive knock in the match so far. NZ 288/7 after 87 overs, lead by 123 runs
Jamieson drives Shami through the covers for three runs. That brings the 50 partnership up as huge cheers go around. This has been a potentially matchwinning partnership in perspective of what India's first innings score was and how India looked to strike back with early wickets today. NZ 276/7 after 86 overs, lead by 111 runs
Ashwin is introduced into the attack for the first time in the day. 1/60 in his 21 overs so far. And he gets Jamieson in trouble straightaway. The last ball of his over goes through everybody. Jamieson does not quite know what happened with that ball. No harm done though. Shami continues from the other end. NZ 272/7 after 85 overs, lead by 107 runs
For the second time, Jamieson swings his bat at Shami and gets a six. Hits that straight back over his head and that flies above the keeper's head. The 100-lead comes up for New Zealand. Jamieson now on 24 off 23 balls. His cameo is hurting India. NZ 271/7 after 84 overs, lead by 106 runs
Bumrah bowls a good over. Gets a thick outside edge off Jamieson's bat. Treats Grandhomme to some bouncers which the batsman ducks out of the way of. One hour of the day done now. India looked to have made a great start to the day with the two early wickets. However, this partnership between Jamieson and Grandhomme has again turned the compass to the home team's favour. 38 off 51 balls this partnership now. NZ end the first hour at 263/7 after 83 overs, with a lead of 98 runs
Caught and bowled chance. Jamieson gives India a chance. Shami, off balance, gets a hand to it. But he does not hold on. Just half a step away from a wicket there, Shami. If he had put a dive in, he could have broken this partnership. But Jamieson survives. Interesting that Ishant has been taken off the attack just as the second new ball is taken. NZ 260/7 after 82 overs, lead by 95 runs
Grandhomme welcomes Bumrah in his new ball avatar with a four first ball. Goes between mid-wicket and mid-on and flies to the fence. The third ball of the over is dispatched for four as well. A terrific on drive. Sweet sound off the bat. His balance looks beautiful as he plays that shot. India forced to change their field around. Grandhomme is beginning to hurt them. Bumrah reacts by bowling a bouncer. Grandhomme ducks. NZ 258/7 after 81 overs, lead by 93 runs
At the end of 80 overs, the home team get to the 250 mark. India take the second new ball straightaway as it is available. And Bumrah is brought back into the attack. India want to take the remaining three wickets without much ado. NZ 250/7 after 80 overs, lead by 85 runs.
After a shaky start to the day, Grandhomme and Jamieson are starting to get some runs and starting to add to the home team's lead now. 20 runs in this partnership. Cries of 'Catch' as Grandhomme pulls Ishant Sharma to fine leg. One drop and to the fielder. These two are also adding the runs quickly, not looking to waste too many balls. Jamieson has shown good technique so far. Jamieson pulls Ishant for four to end the over. Ishant, who has bowled since the start of the day, and the start of Day 2, might just be feeling the effects of jet lag. NZ 245/7 after 79 overs, lead by 80 runs
Jamieson smashes Shami for a six on the leg side. Bashed that! That will be a wake up call for Shami. These runs will hurt India's chances of getting back into this match. Jamieson and Grandhomme could hurt India with some quick runs here. The fifth ball of the over is a brilliant 140kph yorker. Jamieson, a tall man, needs to get down a long way to get his bat to that. A smile of acknowledgement at how good the ball was from him. NZ 240/7 after 78 overs, lead by 75 runs
Ishant goes through Grandhomme's gate with a cracking delivery. And then it is Grandhomme who cracks a shot between covers and mid off. Imperious shot. That's his first big shot of the day. The last ball of the over is also whipped on the leg side. Two runs. Grandhomme seems to be hitting his stride. Shami replaces Bumrah. NZ 234/7 after 77 overs, lead by 69 runs
India's turn to go for a review. Review for caught behind. And Grandhomme survives the Review again. Kohli and Ishant agreed they had heard two sounds and went for the Review. India want to see the back of this batsman badly. Kohli has seen how destructive he can be in the IPL.
Another one, it looked like! India are unstoppable today, it seemed. Bumrah got an lbw decision going his way. And it is Grandhomme's wicket on the line as he goes for a review. And Grandhomme overturns the decision. Replays show the ball to be missing the wickets. By quite a distance. Bumrah thought he had got his second wicket of the day. India thought they had the big one. But not yet. Another excellent over from Bumrah. NZ 227/7 after 76 overs, lead by 62 runs
Kylie Jamieson is the new man in. He had a great debut with the ball. Can he frustrate India with the bat too? He reportedly used to play as an opener in high school. He gets off the mark with a non-nonsense single. Grandhomme is looking belligerent at the other end, though he has not hit any boundaries in the day so far. NZ 226/7 after 75 overs, lead by 61 runs
Ishant keeps tirelessly delivering just outside the off stump. And he gets his reward! Tim Southee falls with a nothing shot which is pouched by Shami at fine leg. India have 2 early wickets now. NZ 225/7 after 74.3 overs, lead by 60 runs
Two singles from Ishant's over. Southee allowed to get off the mark. Then Southee hits a beautiful back foot punch behind point for the first boundary of the day off Bumrah, Fielders give chase in vain. Bumrah goes through Southee's gate off the 5th ball. Keeps India excited. NZ 224/6 after 74 overs, lead by 59 runs
Bumrah starts the day on an ominous note. Beats Southee's edge off the last ball of the over. Ishant Sharma takes the ball from the other end. Grandhomme gets off the mark for the day with a single first ball. NZ 217/6 after 72.1 overs
Williamson update: Official news from the NZ camp. X-rays show that the NZ captain is clear of any complications. He looked uncomfortable after getting hit on the finger with a bouncer on Day 2.
Wicket first ball! How about that for a start for India! Bumrah takes his first wicket since February 2. BJ Watling gives Pant an outside edge to grab on to off the first ball of the morning. Tim Southee comes on and will face Bumrah. India have got the wicket they wanted very very early on Day 3. Can they now press on this advantge? NZ 216/6 after 71.2 overs
Fasten your belts folks. The players are on the field and all set to resume their battle for the spoils in the 1st Test. 8.5 overs till the second new ball is available. Bumrah to bowl the first over of Day 3.
Sanjay Manjrekar says, "India didn't bat too well, their bowling hasn't looked as potent but one of their great strengths of never letting their shoulders sag came to the fore late in the day. India back in the game for sure!" However, New Zealand are in such a position that if they are given some space to breathe in the first hour of Day 3, they will be in a very commanding position. From their point of view, they would like a big partnership to blossom between Watling and Grandhomme and the bowlers to do their part as well. To put India in to bat in the second or third session with a lead close to 200. Less than 10 minutes away from the first ball of the day.
The Indian team management seen with the Indian pacers around the pitch as we get close to Day 3. The weather is cooler than the first two days but the winds are still there. The temperature at the moment at the venue 14 degrees Centigrade. Holding on to catches not the easiest thing to do in these conditions. Challenging. Might Jasprit Bumrah, who has not quite looked his best since his return from injury so far, strike form today and get the wind to work in his favour?
Shami and Bumrah need to be on the money early on in the day for India. They would be aiming to wrap up this New Zealand innings quickly. Ideally, before the lead goes into triple digits. Just the bowlers to come agfter this partnership between Watling and Grandhomme. One good ball to get one of these batsmen out and India could earnestly hope to keep the lead down to less than 100. In the 2nd innings, with the pitch expected to slow down, maybe India's batsmen can get them back into the game. The first hour, as always, will be crucial. Watling and Grandhomme have good techniques – if contrasting styles. Can the Indian bowlers get them to make a mistake early on?
Wellington saw some overnight rain on Saturday, but the clouds have cleared up to allow an on-time start at the Basin Reserve today. There was a hit of rain on Day 1 at the venue. Yesterday, it was bad light which signalled an early close of play. India skipper Kohli had looked bemused at the early close of play, as this came about just when India were looking to get back into the match. Let us hope the weather stays as it is throughout the day. Can Kohli's men continue pressing their window their opportunity after having seen the back of Williamson and Taylor?
Welcome back to Test cricket from Wellington, where India need to do a bit of work to get back on level terms in the 1st Test. Williamson's fluent 89 has given the hosts the firm upper hand at the end of Day 2. New Zealand are 216/5, with an overall lead of 51. B.J. Watling (14 not out) and Colin de Grandhomme (4 not out) will resume the NZ innings in less than an hour's time. India can take the second new ball within 9 overs of Day 3, but they would like a few early wickets in the day to get the momentum going their way.
Mohammed Shami (1/61 in 17 overs), during his final spell of the day, removed Williamson, who couldn't check an uppish drive. Henry Nicholls' (17 off 62 balls) struggle seemed to have hampered Williamson's rhythm. During the final hour, Ravichandran Ashwin (1/60 in 21 overs), who also bowled beautifully throughout the day, relieved Nicholls' of his agony with a delivery that had drift and a hint of turn as India skipper Virat Kohli snapped the low catch at second slip.
Source: Read Full Article