Congratulating Suhas Yathiraj, an IAS officer who won a silver medal at the Paralympics, Prime Minister Narendra Modi on Sunday described him as a fantastic confluence of service and sports who has captured the imagination of the entire nation.
Yathiraj ended his campaign with a historic silver after going down fighting against top seed Lucas Mazur of France in the men's singles SL4 class final at the Tokyo Paralympics.
The 38-year-old Noida district magistrate, who has an impairment in one of his ankles, produced an entertaining performance before narrowly going down 21-15, 17-21, 15-21 to two-time world champion Mazur in a 62-minute summit clash.
Modi tweeted, "A fantastic confluence of service and sports! @dmgbnagar Suhas Yathiraj has captured the imagination of our entire nation thanks to his exceptional sporting performance. Congratulations to him on winning the Silver medal in Badminton. Best wishes to him for his future endeavours."
Bindra hails 'exceptional performance'
With Noida District Magistrate and para-badminton player Suhas Yathiraj winning the silver medal in men's singles SL4 event at the ongoing Tokyo Paralympics on Sunday, Olympic Gold Medallist Abhinav Bindra congratulated him for registering his name in the history books.
"Silver for Suhas Yathiraj! Exceptional performance by the IAS officer to almost outclass the world no.1 in the men's singles badminton SL4. Exemplifies the belief of our Para athletes at the #Tokyo2020 Paralympics. Many congratulations! #Praise4Para," tweeted Abhinav Bindra.
"Inspiring IAS officer Suhas Yathiraj has made India extremely proud at #Tokyo2020 #Paralympics Congratulations Suhas Yathiraj on winning spectacular silver medal in the Men's Badminton Singles SL4!" wrote Kiren Rijiju.
Deepa Malik lauds Suhas' silver medal win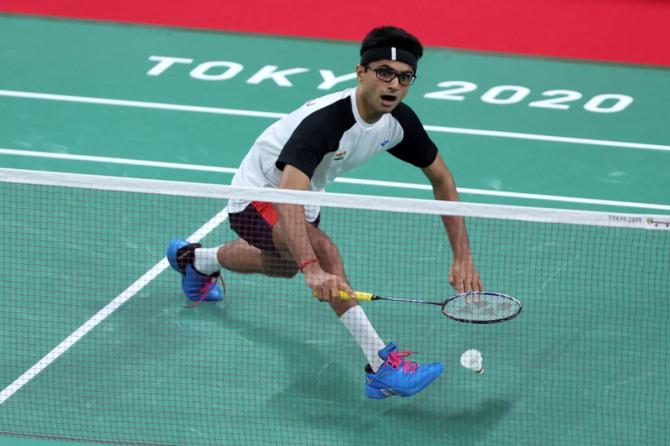 Deepa Malik, the President of the Paralympic Committee of India (PCI) on Sunday hailed badminton player Suhas L Yathiraj for his "fantastic display" in the finals of the Tokyo Paralympics.
"Another medal secured in Badminton! Extremely proud of the fantastic display put on by @dmgbnagar Suhas Yathiraj to win the #Silver . A fantastic debut for us in Para Badminton at the @Paralympic with a couple of matches still to go," Deepa Malik tweeted.
On Saturday, shuttler Pramod Bhagat clinched the gold medal after defeating Great Britain's Daniel Bethell by 2-0 in the men's singles SL3 — final.
Battling it out on Court 1, the top-seed Indian overwhelmed the second-seed Daniel Bethell in straight sets by 21-14 and 21-17 in 45 minutes. This was India's first medal in badminton at the Tokyo Paralympics.
Meanwhile, shuttler Tarun Dhillon missed out on a bronze medal after he faced a defeat at the hands of Indonesia's Fredy Setiawan in the men's singles SL4 event of the Tokyo Paralympics on Sunday.
Source: Read Full Article