Smriti Mandhana isn't actually known to be the most prolific T20 player — her career T20 International average of 27.32 is middling at best.
There have been failures too, but her ability to analyse and assess them honestly is a rarity in modern sport.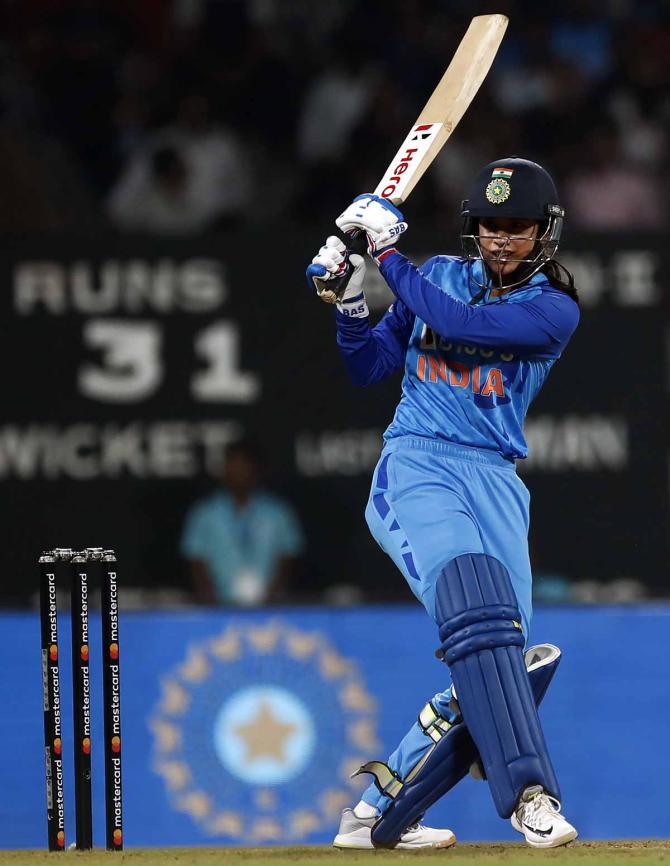 Looked at in one way, there seems to be a certain inevitability to Smriti Mandhana's rise to the top of the women's cricket echelon.
At nine, she was picked to play for the Maharashtra Under-15 state side.
Two years later, she was fast-tracked into the Maharashtra U-19.
Her talent was so unignorable that her father and first coach Shrinivas decided to put her in the more qualified hands of Anant Tambwekar, a junior state coach at the time.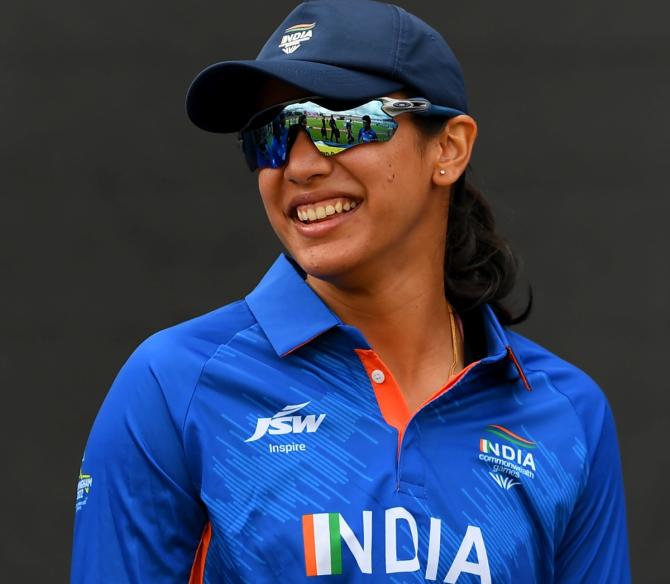 At a time when most kids were being chastised by their parents to study hard, go to school and then hit the tuition circuits, Mandhana would have pretty much the same routine.
She'd train in the morning, go to school, and hit the cricket nets in the evening.
It helped that she grew up in Sangli, a small Maharashtra town where everything was close by, and everyone around her even closer — a fact she always highlights as among the reasons for her constant growth.
'Unlike Mumbai or Pune, there's not much time spent on the road,' she said at a press conference recently.
'Even at the ground, once the boys finished training, I could get someone to bowl at me for as long as I wanted. I couldn't have had that kind of practise in big cities.'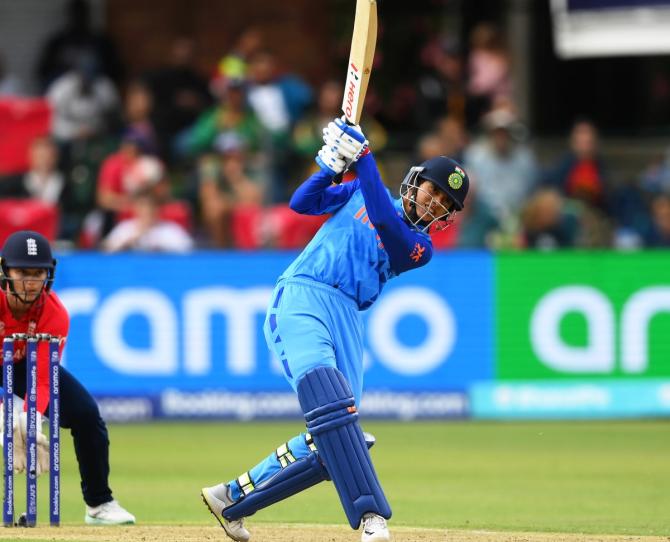 At 15 — she decided against science upon her mother's insistence — she was scorching the domestic and national age-group circuit, regularly scoring runs against some of the best bowlers in the country.
She was captaining her state at 17. Called to the India side in 2013, when a disappointing World Cup prompted a personnel reshuffle, Mandhana locked her place in the squad.
Even at this time, when the Indian mainstream hadn't yet discovered the young girl from Sangli — and in fairness, who really had till this month — one of her coaches, Amrutha Shinde, had predicted that at 22, Mandhana would win the Arjuna Award. She did. And for good measure, at the same time, she was also adjudged the ICC Women's ODI Player of the Year.
And now, of course she is the most expensive buy of the inaugural Women's Premier League (WPL) auction: Royal Challengers Bangalore's winning bid of Rs 3.4 crore — almost a crore more than the next most expensive Indian on the list (Deepti Sharma, Rs 2.6 crore/Rs 26 million, UP Warriorz).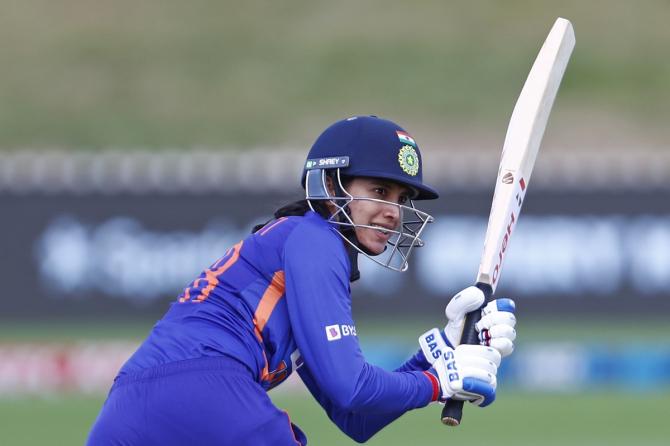 There has been a huge reaction to this.
Mandhana isn't actually known to be the most prolific T20 player — her career T20 International average of 27.32 is middling at best.
There have been failures too, but her ability to analyse and assess them honestly is a rarity in modern sport.
In her maiden stint in the Women's Big Bash League (WBBL) in Australia, she had to pull out early because of an ACL injury.
When the team, Brisbane Heat, decided not to renew her contract, she figured it was actually a boon in disguise and offered her a chance to hit the Indian domestic circuit again, raking in the games to get confidence back.
When she went back to the WBBL, she did so with a vengeance, not just to lay a marker but also a mark, in more ways than one.
This was a time when the BCCI was dilly-dallying on introducing a women's T20 league, and many Indian cricketers were plying their trade abroad.
Speaking when the Australian women's team visited India last year, Australian teenager Phoebe Litchfield was full of praise for Mandhana's brilliance and credited her for helping her raise her game, too.
'She's a class above,' Litchfield said. 'There's a lot to learn for me personally, as a left-hander. I made the most of her time when she was playing the WBBL and picked her brains constantly… she even gave me one of her bats at the end of the series.'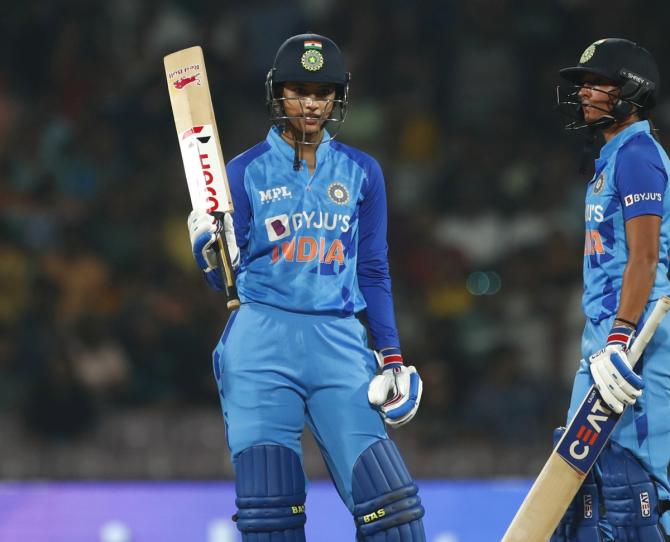 In 2021-2022, a year when women's cricket was almost at a complete standstill, Mandhana led the scoring charts for Sydney Thunder with 377 runs at a strike rate of 130.44.
Litchfield was the next on that list, and the next year, when Mandhana opted out of playing the WBBL, Litchfield was Thunder's best performer, earning her a call up to the Australian squad.
"If you need to chat about your troubles in life, or even your game," Mandhana's friend cricketer Jemimah Rodrigues says, "She's the best person to go to. She'll give you the simplest advice in the simplest way. No drama."
Rodrigues also plays for the Indian women's team and videos of her and Mandhana engaging in banter are a must watch for anyone who believes that women's cricket is not the same standard as the men's game.
It might seem an antithetical thing to say, but it's the off-field wit that really makes sport shine.
Sample this from 2017. Asked in a post-match presser at the World Cup if India could go on to win the tournament, Mandhana hit back, smoothly, smiling, 'What? You don't?'
There is a light and shadow to Mandhana's character that is uncommon among elite athletes in India.
She's stoic, calm, unexpressive, wearing a mask on the pitch.
Off it, her Instagram feed is basically cracking jokes with Rodrigues and the other hapless souls in her orbit.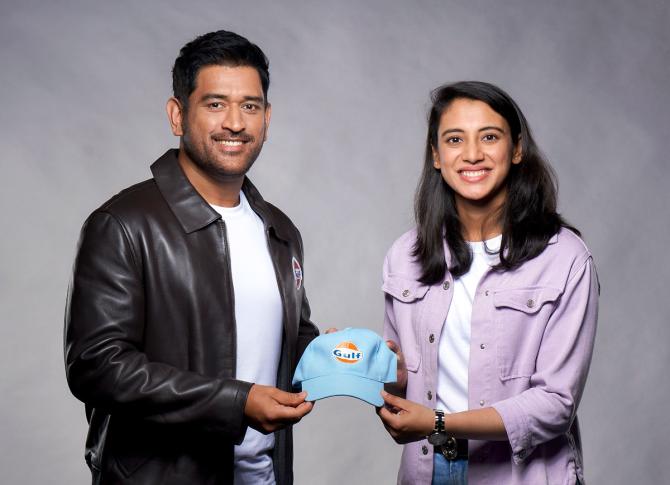 While Mandhana's auction bid will undoubtedly draw the eyeballs — it is perhaps mere coincidence that India's best male batter (Virat Kohli) and female batter will now be part of the same T20 franchise in the IPL — the WPL itself will benefit from this elevation.
Indian cricketers, across genders, are famous for remaining tight-lipped and PR-friendly, lest they annoy the bosses in suits, and yet even in some of those PR-friendly quips, Mandhana's honesty shines through.
When the WPL was announced, while players went on a BCCI praising spree, Mandhana tempered her words with some reality, saying that the league would help domestic players develop and was long due.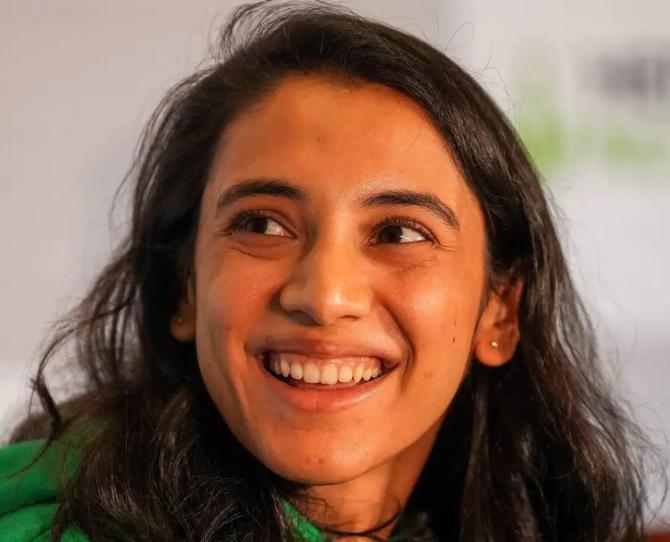 There was a time long back when Mandhana was studying for a commerce degree, a backup plan in case cricket failed. Safe to say there are over three crore reasons it won't.
Feature Presentation: Rajesh Alva/Rediff.com
Source: Read Full Article