Rock-steady Jon Rahm, channeling Spanish great Seve Ballesteros on his late hero's birthday, survived a marathon day and scored an emotional Masters win at Augusta National on Sunday, denying LIV Golf a watershed victory.
Rahm, who started the day four off the lead, rallied behind a final round three-under 69 for a winning total of 12-under 276 and a decisive four-shot victory over LIV standard bearers Brooks Koepka and evergreen Phil Mickelson.
The win was Rahm's fourth this season, earning him a second career major to go along with his 2021 US Open title.
He also reclaims the number one world ranking from defending champion Scottie Scheffler.
"Never thought I was going to cry by winning a golf tournament, but I got very close on that 18th hole," said Rahm, who becomes the fourth Spaniard to win the Masters after Ballesteros, Jose Maria Olazabal and Sergio Garcia.
"A lot of pride, I am really proud of myself and what I did."
Koepka, who sat atop the leaderboard for three rounds, simply could not get in gear at the end, labouring to a three-over 75.
Winner of three Green Jackets, 52-year-old Mickelson turned back the clock and carded the round of the day with a sensational seven-under 65 – the lowest Masters round ever for a player over 50 – to join Koepka on eight-under 280.
Two former-Masters champions in Jordan Spieth (66) and Patrick Reed (68), along with Russell Henley (70), finished one shot further adrift in a tie for fourth.
Coming on what would have been Ballesteros's 66th birthday and the 40th anniversary of the Spanish talisman's second of two Green Jacket wins, Rahm soaked up a rousing ovation as he walked up the 18th fairway with a four-stroke cushion.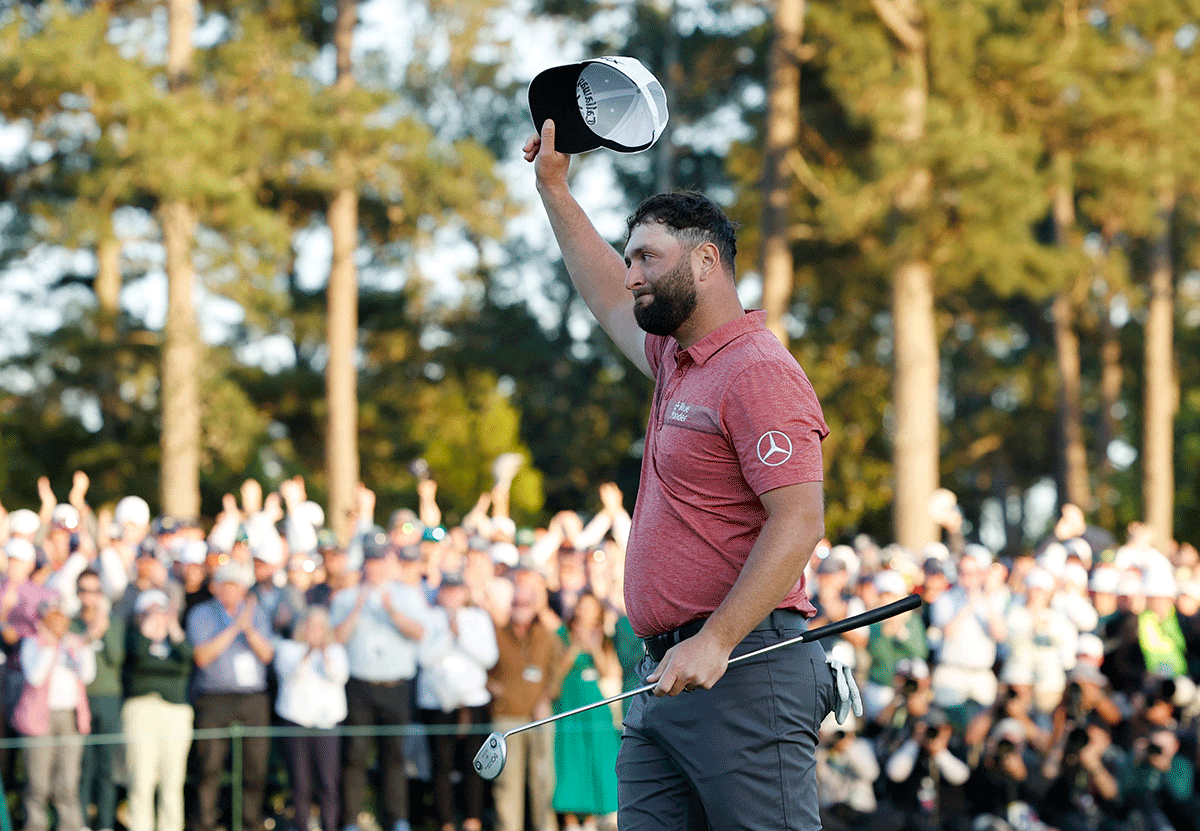 Fighting to keep his composure, the 28-year-old sealed victory with a 4-foot par putt, capping a marathon day of golf that started at sunrise and finished in the Georgia twilight.
"History of the game is a big part of why I play and one of the reasons why I play, and Seve being one of them," said Rahm. "For me to get it done on the 40th anniversary of his win, his birthday, on Easter Sunday, it's incredibly meaningful.
"To finish it off the way I did — a Seve par, it was in a testament to him, and I know he was pulling for me today.
"This one was for Seve. He was up there helping, and help he did."
After two days of play interrupted by lashing rain and ferocious winds that toppled trees, the field of 53 returned to the water-logged course on Sunday to complete the third round.
Koepka, who led Rahm by four shots overnight, was ahead by two at the end of the round.
LIV Tour tournaments are contested over 54 holes and if the action in Augusta had ended after the conclusion of the third round, Koepka would have been slipping into a Green Jacket.
Unfortunately for Koepka, the majors require 72 holes to find a winner.
By the time the two men reached the turn of the fourth round, the Spaniard now in front by two had taken charge.
With Koepka going 22 holes without a birdie, Rahm delivered the knockout blow with back-to-back birdies at 13 and 14 to go five up with four to play.
While Koepka and Mickelson could not deliver victory, LIV Golf will still look at the Masters as a major success after putting three players in the top five.
Critics of LIV Golf have branded the Saudi-backed venture as uncompetitive and little more than a sportwashing enterprise by a country eager to polish its human rights record.
While a Green Jacket would not have put an end to the human rights questions it would have given the breakaway circuit some of the credibility and legitimacy it craves.
"This tournament isn't about what tour you play from," said Mickelson.
"There's players from all over, all over the world on many different tours, and you're bringing the best players to play against each other in the majors.
"That's what it's all about."
Source: Read Full Article