Villa cleared to face Liverpool in FA Cup but Premier League games in doubt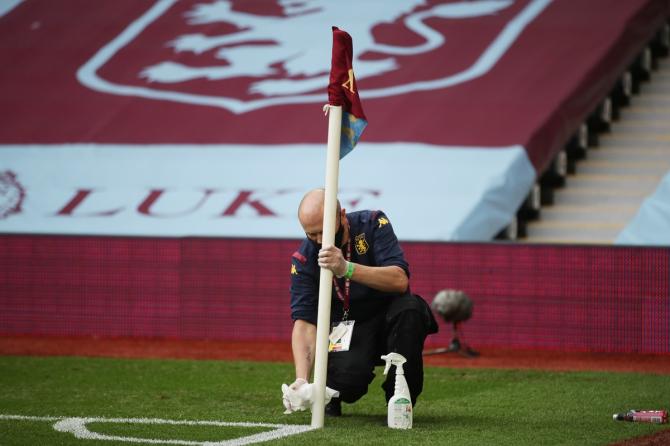 Aston Villa's FA Cup third round tie at home to Liverpool, on Friday, will go ahead as planned but Wednesday's Premier League game against Tottenham Hotspur is in doubt after a COVID-19 outbreak in the first-team squad.
Villa's chief executive Christian Purslow said 10 first-team players are among 14 positive cases of coronavirus at the club.
The club are preparing to field a team of youngsters after the entire first-team squad went into isolation.
Mark Delaney, Villa's under-23 coach, is set to take charge in the absence of manager Dean Smith and his backroom staff.
"We have obviously been faced with a rather difficult situation," Purslow told Sky Sports.
"In the last six days, we went from no positive tests to 14 positive tests as of early yesterday (Thursday) morning, including I think 10 first-team players.
"At that moment, we had to take the decision to get everybody in the first-team squad into isolation."
Purslow said it was too early to judge whether Villa's league games against Spurs on Wednesday and Everton on Jan. 16 will go ahead.
"We are now in the hands of the Premier League medical people, Public Health England, and the experts will have to form an opinion as to whether the outbreak has been contained," he added.
"We will wait for the next round of testing this weekend."
Newcastle's Bruce says 'morally wrong' to keep playing amid pandemic
Newcastle United manager Steve Bruce believes it is "morally wrong" for English football to continue as COVID-19 cases continue to surge in the country and disrupt the fixtures list.
Shrewsbury's third-round FA Cup tie with Southampton was postponed after a significant number of cases reported within their club, while several other fixtures are in jeopardy.
Newcastle were the first Premier League side to be hit by a coronavirus outbreak earlier this season, leading to their training ground being shut down for 10 days.
"Certainly at our club, when you are getting more and more cases every few hours, it is scary… how it ripped through lots and lots of people," Bruce told a news conference.
"That is something a lot of football clubs are looking at now. Financially it's right to play on, but for me – morally it's wrong. I understand people want to play a game of football but we are just as vulnerable as everyone else."
COVID-19 outbreaks have led to four Premier League matches being postponed and more than 50 games in the lower divisions of the Football League being called off this season.
The Professional Footballers' Association has urged players to be sensible when celebrating goals to avoid spreading the virus.
But Bruce, whose team face Arsenal in the FA Cup on Saturday, said it was easier said than done and will not condemn any player for enjoying the game.
"Even though we are doing everything possible to stick to the protocols, how do you stop Manchester City celebrating together because they have reached another (League) Cup final like they did the other night?" he said.
"We want to see that. If you stop that, you are stopping the whole enjoyment of sport."
EFL records 112 positive COVID-19 tests in latest round
The English Football League, which governs the three divisions below the Premier League, said on Friday that 112 individuals tested positive for COVID-19 in the latest round of testing.
This week's tests involved 66 EFL clubs including all of those playing in the FA Cup third round. The six clubs not covered will be tested ahead of their next league fixtures.
The EFL did not name the clubs or players who tested positive for the novel coronavirus, but said the infected individuals will self-isolate for 10 days.
"Following the latest round of mandated Covid-19 tests, the EFL can confirm that 3,507 players and club staff from 66 EFL Clubs were tested over the course of the past week with 112 individuals testing positive," the EFL said in a statement.
The EFL said it was confident its COVID-19 testing protocols "continue to mitigate against the spread of infection as intended" despite the surging infection rate in Britain caused by a new variant of the virus.
The United Kingdom has recorded more than 2.8 million confirmed COVID-19 cases and more than 78,000 deaths, according to a Reuters tally.
The EFL added that it will conduct twice-weekly tests for its 72 clubs, starting on Monday.
Second-tier Championship side Brentford said their manager Thomas Frank had tested positive on Thursday, two days after their 2-0 League Cup semi-final loss at Tottenham Hotspur.
League One (third-tier) Shrewsbury Town's FA Cup third round match at Southampton on Saturday was called off on Thursday due to several COVID-19 cases in their camp.
Derby County said on Wednesday their first-team squad and interim manager Wayne Rooney would not be involved in Saturday's FA Cup match at sixth-tier Chorley as they were self-isolating following an outbreak of COVID-19 at the club.
Middlesbrough also said preparations for their third-round match at Brentford had been affected after a number of their first-team players and staff tested positive.
Source: Read Full Article