WWE Extreme Rules Live Results, WWE Live Streaming and Updates: Catch Live results and updates of the WWE pay-per-view Extreme Rules.
WWE Extreme Rules Live Results, WWE Live Streaming and Updates: For the 10th time in WWE, things go Extreme, as WWE kicks off its 10th annual WWE Extreme Rules pay-per-view. An exciting action-packed event is in store with all the titles, except the Universal Championship, will be up for grabs. WWE Champion AJ Styles will defend his WWE Championship against the Bulgarian Brute, Rusev. Will it be the Rusev Day in Pittsburgh? Also, the Big Dog Roman Reigns will take on the powerhouse Bobby Lashley after the rivalry between the two has turned bitter over the past few weeks. Catch Live results and actions of WWE Extreme Rules.
Live Blog
WWE Extreme Rules Live Results, WWE Live Streaming and Updates: WWE Extreme Rules pay-per-view Live Results and Updates
This could be an epic clash as Jeff Hardy takes on WWE's Rockstar Shinsuke Nakamura. Nakamura has been on a roller coaster ride, and he will be eyeing his first title win.
CARMELLA IS STILL THE SMACKDOWN WOMEN'S CHAMPIONSHIP!
As Asuka continued to pile her wrath on James Ellsworth, Carmella came from behind to push the Empress towards the shark cage, face first. She covers… ONE. TWO. THREE. GAME OVER!
James Ellsworth has found a way to open the shark cage and he has now hung himslf up from the shark cage with one leg. And he is getting the beating of a lifetime from Asuka, with Carmella injured outside the ring. This must feel good to the Empress of Tomorrow!
This has been a match in which Asuka not only has to fight her way, she also has to keep herself guard to the tricks and trades in Carmella's arsenal. She tried to pass on a lock cutter to Ellesworth, to break open the shark cage. Later, Carmella tried to spray pepper spray on Ashuka's eyes.
Carmella will defend her WWE Smackdown Women's Championship against Asuka and Carmella's ally James Ellesworth will be hung up inside a steel cage on top of the ring.
The Bludgeon Brothers have attacked Team Hell No Kane and Daniel Bryan ahead of the Smackdown Tag-Team match. This is a brutal attack out of nowhere. Will the match be cancelled? Stay tuned for updates.
RAW's Commissioner Stephanie McMahon's self-appointed Commissioner Baron Corbin has been defeated by Finn Balor. Corbin tried to put the final nail in the coffin with an End of Days, but Balor countered to turn it into an Inside cradle, and then he rolled over to pin him down. ONE. TWO. THREE!
What a move by Baron Corbin as Finn Balor attempted to jump up from the top ropes to take down the Wolf, but Corbin was too quick to figure out the move and he just punched Balor right bang on the face. Fist-to-face connect. LIGHTS OUT!
OR
The Balor Club has come to life and it will be the Constable Baron Corbin who will step up to Balor in a singles' competition. This rivalry has turned bitter in the past few weeks and this match has been sanctioned by Stephanie McMahon.
WWE Raw General Manager has issued an ulitmatum to Brock Lesnar for not signing a contract on when his next title defense would be. Angle says either Lesnar shows up tomorrow on Monday Night Raw and signs the contract or he will be stripped of his title. THIS IS HUGE!
WHAT AN UPSET THAT IS! WHO WOULD HAVE THOUGHT THIS WOULD HAPPEN!
A distraction from Axel prompts Dallas to connect a neck-breaker from the top of the rope to Matt Hardy and he has been pinned down to the ground. ONE. TWO. THREE. RING! RING! RING!
AND THE NEW WWE RAW TAG TEAM CHAMPIONS…..!!!
DELETE! DELETE! DELETE!
https://platform.twitter.com/widgets.js
The Deleters of World Bray Wyatt and Matt Hardy defend their Raw tag-team titles against the B-team Bi Dallas and Curtis Axel. This wil be a career defining moment for the B-team if they win the gold.
https://platform.twitter.com/widgets.js
Ronda Rousey who was suspended for a month following her attack on WWE Raw Women's Champion Alexa Bliss. The suspension is over and now she is sitting in the ring. Trouble for Alexa?
Sanity defeated New Day in the Tables match in Kickoff show
Andrade "Cien" Almas defeats Kalisto
become extremely bitter between the two.
What is WWE Extreme Rules 2018 Full Fight Card?AJ Styles (c) vs Rusev – WWE World Heavyweight Championship
Dolph Ziggler (c) vs Seth Rollins (30-Minute Iron Man Match) – Intercontinental Championship
Alexa Bliss (c) vs Nia Jax (Extreme Rules Match) – Raw Women's Championship
Carmella (c) vs Asuka (James Ellsworth suspended in a shark cage) – SmackDown Women's Championship
Roman Reigns vs Bobby Lashley
Jeff Hardy (c) vs Shinsuke Nakamura – United States Championship
Bludgeon Brothers (c) vs Team Hell No – SmackDown Tag Team Championship
Deleters of Worlds vs B-Team – Raw Tag Team Championship
Braun Strowman vs Kevin Owens (Steel Cage Match)
Finn Balor vs Baron Corbin
New Day vs SAnitY (Tables Match) – Extreme Rules Kickoff
Andrade "Cien" Almas vs. Sin Cara – Extreme Rules Kickoff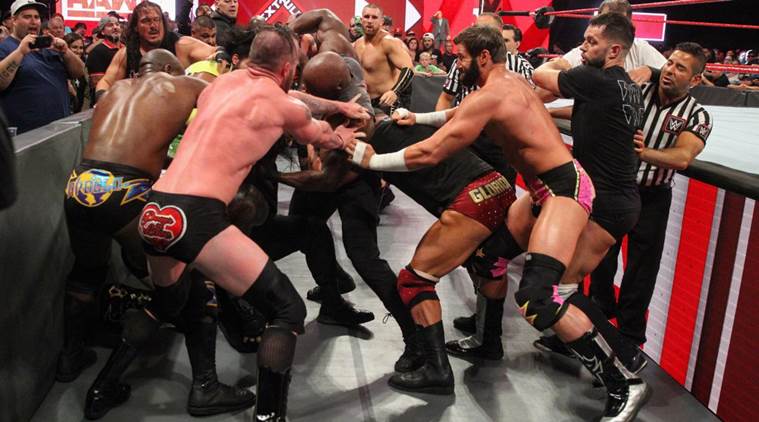 WWE Extreme Rules 2018 Live Streaming: Bobby Lashley will face Roman Reigns. (Source: WWE)
WWE Extreme Rules Live Results, WWE Live Streaming and Updates: Things are about to go Extreme as WWE kicks off its latest pay-per-view Extreme Rules. All the title will be on the line as superstars from both Raw and Smackdown compete in some of the most gruelling matches. Except for the WWE Universal title, all champions will defend their titles. Extreme Rules is a pay-per-view where the rules will be extreme, and there will be different stipulations in every match.
Source: Read Full Article