'I met him in September, just days before he was hospitalised for Covid, for a documentary that his daughter was making.'
'He was in the pink of health, conversing with everyone the whole day.'
Satyajit Ray directed Soumitra Chatterjee in 14 films, and Ray's son Sandip grew up watching this great twosome at work.
"Comparable with (Frederico) Fellini-Marcello Mastroianni and (Akira) Kurosawa-(Toshiro) Mifune," the affable Sandip Ray, a film-maker himself, tells Subhash K Jha.
"Soumitrababu had gone to my father to be cast in Pather Panchali. My father found him too old to play Apu. Later, he cast Soumitrababu as Apu in Apur Sansar. That's how their collaboration started."
Sandip cannot stop marveling at the variety of films Satyajit Ray and Soumitra Chatterjee did together.
"No two roles in the films they did together are comparable. Soumitrababu played the most varied characters in my father's films. I can't pick favourites but Apu (in Apur Sansar) and Amal (in Charulata) were widely lauded."
"I also liked the taxi driver that Soumitrababu played in my father's Abhijaan where he had to speak in Hindi throughout. I came into the picture with Ashani Sanket in 1973. I became a full-fledged assistant to my father with Ashani Sanket. That's when I got a chance to observe the two of them at work. It was a learning experience for me."
"All the greats are gone. Recently, one of my father's closest associates, photographer Nemai Ghosh, also passed away. It is frightening."
Sandip got a chance to direct Soumitra Chatterjee in two films.
"The first was Uttaron in 1994. It was written by my father. He wanted to make the film with Soumitrababu and I did the needful after my father passed away. My second film with him was Nishijapon in 2005, based on a famous Bengali novel by Narayan Gangopadhyay."
Directing this actor was like collaborating with a family member.
"Soumitrababu was like my own uncle. He was very close to my father even outside the studio sets. He came home often."
"They (Satyajit Ray and Soumitra Chatterjee) met beyond their shootings quite regularly to discuss the magazine, Ekhon, which Soumitrababu edited. My father suggested the name of the magazine. His screenplays were regularly published in Ekhon."
"Losing him is like losing a close member of my family. One by one, they are all leaving. This has been a very depressing year. Losing Soumitrababu was a shock to me."
"I met him in September, just days before he was hospitalised for Covid, for an archival documentary that his daughter was making. He was in the pink of health, conversing with everyone the whole day."
"Soumitrababu was a very learned man, but he didn't allow his knowledge to come in the way of his democratic attitude. Whether it was an actor or a spot boy, he was equally friendly with all."
"And yes, one more thing. He always encouraged new directors. He did not hesitate in working with them. You have no idea what that meant to younger directors who come into the Bengali film industry in the generations following my father."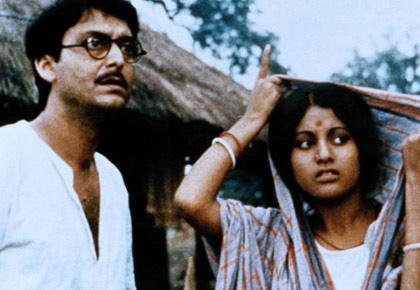 Source: Read Full Article