Hello, hi, please alert the dot com! The Bold Type is officially coming back for season 4, meaning all those fan letters to Freeform have finally been answered. The renewal was announced at the Walt Disney Television Upfronts Presentation along with the news that Wendy Straker Hauser will be the new showrunner. (Don't worry, you can trust her. She's been around since the first season.)
There are still a few episodes of the current season left, but if you can't get enough of Scarlet magazine, keep reading for all the details on what's to come.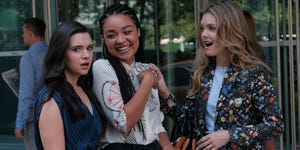 The news was revealed in the most adorable way ever.
Katie Stevens, Aisha Dee, and Meghann Fahy (who play Jane, Kat, and Sutton, respectively) learned about season 4 unexpectedly as they were reading a teleprompter at yesterday's event.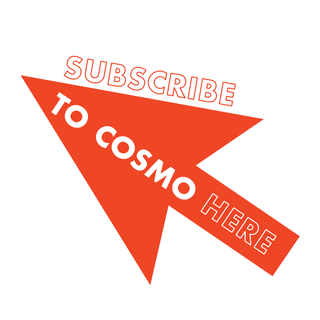 "On The Bold Type, we play characters who are determined to succeed in the New York fashion media business," the girls read. "We balance careers, friendship, and love on the daily. But this show is so important to us and our fans because regardless of who you are, we are all just trying to navigate the mess of our lives. And we are so excited to be coming back for season 4! Here's to more bold stories, friendship, and a whole lot of rosé."
Meghann practically yelped in excitement (can't blame her) as she read the announcement, and the trio was immediately greeted onstage with wine glasses and hugs. Can I get some of that too, please?
Katie posted a video of the surprise with the caption "BEST SURPRISE EVER!!! Season 4 bbs!!!" Also, you can hear Meghann shouting "OH MY GOD" as she realizes the show is being renewed. BRB, my heart is glowing.
https://www.instagram.com/p/BxdUoMnBNS1/
BEST SURPRISE EVER!!! Season 4 bbs!!! thank you @freeform @theboldtypetv #TheBoldType I cant wait to tell more stories ✨
A post shared by thekatiestevens (@thekatiestevens) on
Speaking of the cast…who will be in season 4?
Obviously, our three main girls will be returning. It's also probably safe to assume #BFGoals Richard will be back. As for Pinstripes…he better shape up if he's going to stick around for another season.
Nothing else has been confirmed, but here's to hoping Alex (Matt Ward), the lovable office boyf, returns. Also, as great as this Kat and Tia (Alexis Floyd) ship is…an Adena and Kat (Aisha Dee) reunion would be unreal.
Okay, so when's the next season?

Season 3 has yet to wrap up, so there probably won't be any new episodes for a while after that. (But that's fine, because there's still so much to resolve! Like, everything with Jacqueline plus Kat's city council race.) The first three seasons have all premiered in the spring, so the fourth will probably roll out in about a year. I guess you can just hold tight and pour yourself a glass of rosé while you watch Katie's Instagram video on repeat?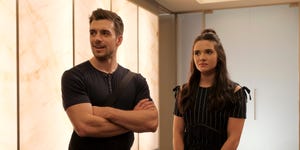 This post will be updated as more season 4 information becomes available.
Source: Read Full Article