Devoleena, Tejasswi, Abhijeet and Rashami get a last chance to win a ticket to the finale.

The episode resumes with Tejasswi Prakash crying as Abhijeet Bichukle destroys her basket.
Karan Kundrra consoles her, but Tejasswi is upset, so she pushes him away.
Pratik Sehajpal supports Bichukle and says he is just playing the task and shouldn't be accused of spoiling anyone's game.
Tejasswi is angry and walks away, stating she is done with the game.
Rakhi Sawant tells her to stop playing the emotional card.
Abhijeet, on the other hand, continues to play the task.
After Tejasswi, he gets into a fight with his friend, Devoleena Bhattacharjee.
They argue, as she tries to take away Bichukle's remaining sponge balls.
While the two are in the middle of the task snatching and pulling, Abhijeet accuses Devoleena of biting his hand.
He makes a big scene about it and almost picks up a brick to hit Devoleena.
The housemates stop him.
After the chaos and madness, Nishant is declared the winner.
Bigg Boss asks Rajiv whether he should be given the ticket to the finale or should he downgrade someone from the VIP zone and take their place. Rajiv says Nishant should directly go to the ticket to finale week.
After the task, Tejasswi has a chat with Rashami and tells her that Devoleena doesn't like her at all. That's the reason she asked Bichukle to destroy her basket in the game.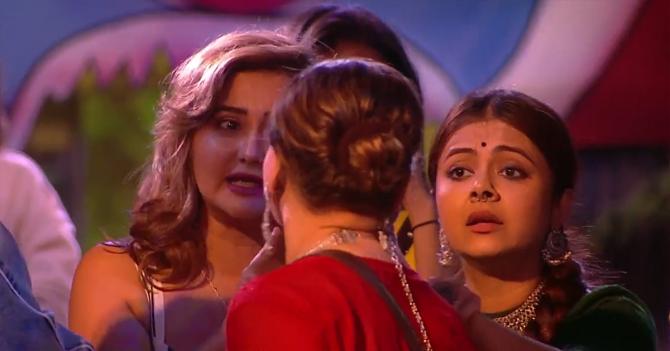 Shamita Shetty and Pratik discuss Nishant's changed behaviour towards them. Shamita is hurt that Nishant keeps calling them self-obsessed and fake.
The actress tells Pratik that the trio have known each other for a long time and yet, Nishant acts like they are strangers and she finds that very upsetting.
She also states that the three of them have done something for each other at some point in the game, so Nishant should stop bitching about them to those who have never supported him.
Devoleena, Tejasswi, Bichukle and Rashami get a last chance to win a ticket to the finale.
Bigg Boss announces a new task where the four contestants have to decorate a mannequin and collect signatures from the VIP members.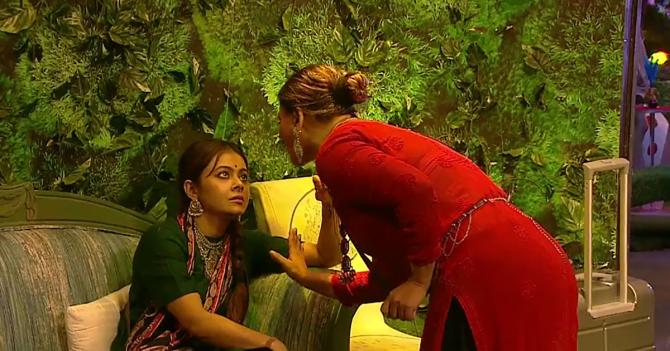 In the first round, Rajiv chooses Tejasswi, Devoleena and Rashami for the task.
Nishant and Karan support Tejasswi whereas Pratik and Rakhi sign for Devoleena.
Shamita picks Rashami.
In the next round, Nishant and Karan sign for Tejasswi again, and Shamita for Rashami.
Nobody signs for Abhijeet, leaving him fuming.
Karan strategises with Rakhi saying if she supports Tejasswi, then Rashami will be out and in the last round, it will be between Devoleena and his girlfriend.
So Rakhi chooses Tejasswi, and Rashmi is left fuming.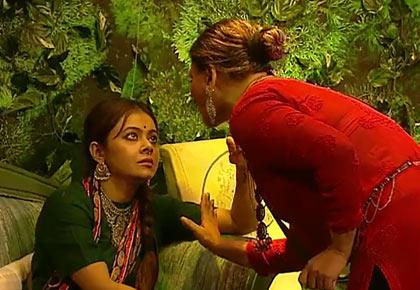 Source: Read Full Article