Everything Everywhere All At Once forgets to tell a coherent story, complains Mayur Sanap.
Writer-director duo Daniel Kwan and Daniel Scheinert are back after their maiden film, a bizarre buddy comedy called Swiss Army Man, went mostly off the cinema radar in 2016.
With Everything Everywhere All At Once, they become all the more audacious and present an eccentric relationship drama entangled in a genre-bending multiverse story to get you the message: Life and people are messy and you should accept them for who they are.
The concept is wacky, but the execution yields mixed results.
Just like Swiss Army Man, EEAAO too brims with originality and tall aspirations.
But outside its intriguing premise, EEAAO is a muddled drama that is never sure what it's trying to say, or what, in fact, it means.
I stepped into the film hoping for an intelligent take on the multiverse, or to be at least impressed by its novel ideas.
What we have here is a classic case of 'style over substance — a film that is so enamoured of its own peculiar qualities that it forgets to tell a coherent story.
EEAAO opens with a particularly chaotic day in Evelyn Wang's (played by the wonderful Michelle Yeoh) life, who runs a struggling laundromat with husband Waymond (Ke Huy Quan).
Their marriage is on the brink of collapse.
Evelyn also has difficulty acknowledging daughter Joy's (Stephanie Hsu) sexuality.
Times are tough for the family as they land in trouble with a tax audit of their business.
While being crushed with the rough going, Evelyn discovers there are other universes that exist with different versions of herself. And when the multiverse is threatened by a sadistic villain, she is the only person uniquely capable to save it.
A film about the multiverse benefits greatly from a uniform structure, some kind of logical reasoning that helps viewers feel invested in. Otherwise, it can get complicated to follow.
Take Doctor Strange and Loki. Both have simple motives and audiences find it easy to tag along.
Watching EEAAO is like trying to solve a particularly complex jigsaw puzzle.
At first, we are accosted by what looks like a mass of jumbled bits and then, as we start to put them together, a bigger picture starts to emerge. Then when they sort of come together, it isn't very clever or convincing.
The Daniels, who also wrote the story, try to do something creative and moody, but the potentially interesting multiverse idea is never fully explored or developed.
It just becomes a series of odd kung fu fights tagged with seemingly random events.
There are also some unnecessary and inappropriate attempts at humour, wherein you get two baddies looking to amp up their strength by sticking a sharp object up their posterior or another character getting kicked around by a set of male genitalia. SHUDDER!
Michelle Yeoh is the beating heart of the film and does her best to hold EEAAO together. Michelle is sensational and deserves every recognition she is receiving at various award ceremonies.
The supporting cast is equally awesome.
Stephanie Hsu's rebellious teenage daughter and Ke Huy Quan as a submissive husband are competent adjuncts, but it is Jamie Lee Curtis who goes totally bonkers as an uptight auditor.
The lack of anything substantial, whether it is characterisation or plot, makes EEAAO crumble under its lofty ambitions. And so, instead of saying a lot with very little, this film says very little with a lot.
Still, I am not mad at EEAAO. with so much promise and novelty at display, I am just disappointed.
Rent Everything Everywhere All At Once on BookMyShow Stream.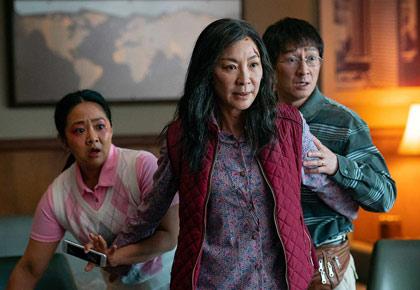 Source: Read Full Article