Mission Impossible Fallout is set to hit the theatres soon. Henry Cavill's character August Waters is very different from the actor's portrayal of Superman. According to him, the movie has a very "edge-of-the-seat" experience.
Fans may wonder "What is Superman doing in a Mission: Impossible film?", but Henry Cavill says it provided him with the perfect opportunity to ditch the suit and the good guy persona for a while.
Cavill, 35, says he enjoyed exploring a different part of his psyche through the portrayal of August Walker, a ruthless CIA agent, nicknamed 'The Hammer' for his take-no-prisoners approach, who takes an instant dislike to Tom Cruise's Ethan Hunt when they are forced to team-up for a mission.
"It, for me, was a wonderful opportunity to play a different character. Just to play around with a character that I have not yet explored and maybe, something different to that part of my psyche as well, which is always fun. Storytelling is fun and I want to be able to tell a variety of stories.
"It also gave me a chance to work with someone like Tom Cruise, which I was not going to pass up. He is a great producer, a very good actor, a professional and a kind of guy who has a lot of depth to him. It was really interesting to talk to Tom on the sets every day, I genuinely enjoyed it. Director Christopher McQuarrie is a great storyteller and I wanted to work with him," Cavill told PTI in an interview ahead of the film's global premiere in Paris.
Asked whether it was also an attempt to subvert his Superman fans' expectations, the actor says, "Ideally, yes. It is tough for me to say what fans are going to feel or say, but it is definitely a departure from the old suit for me."
The actor says he watched Mission: Impossible – Fallout only recently and was blown away by its "edge-of-the-seat" feel.
"Mission: Impossible is like all the good things from the previous films but there is a real sense of weightiness to this one. There is a real sense of danger… It is an exciting ride. I was on the edge of my seat when I watched the film last night and I am in it."
Cavill's moustache, which he grew for his role in Fallout, made global headlines last year when Warner Bros wanted the facial hair gone for the Justice League reshoots. But his contractual obligations to Paramount Pictures proved to be a major hurdle.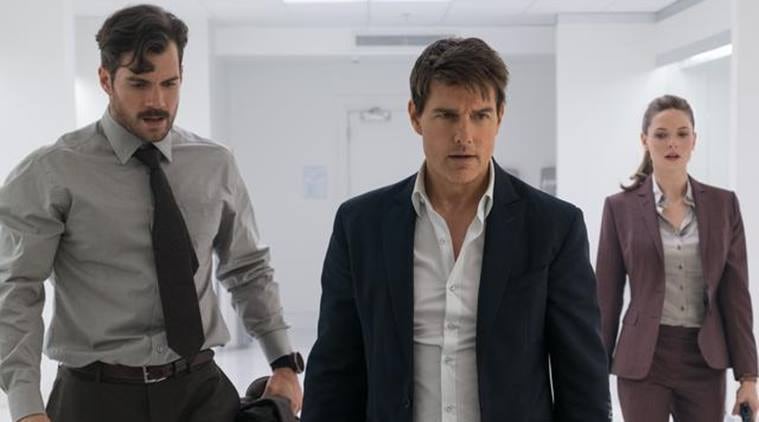 Ultimately, Warner Bros took the middle road and had Cavill's moustache removed digitally. They, however, were unsuccessful in hiding it from the diehard fans who spotted the anomaly in the film.
The actor turned it into a comedy sketch of sorts when he mourned the end of his "king stache" on Instagram, saying his moustachioed self may be gone but will never be forgotten.
Cavill is happy that the post resonated with the fans and let them get a glimpse of his real "funny side".
"I enjoy a good laugh. I definitely mess about a lot in real life. It is just one of those things that you don't necessarily get the opportunity to share with the world and you have to wait for the right time," he says.
The film, which premieres today in Paris, features the city prominently in some of the key action and chase sequences.
Also starring Rebecca Ferguson, Alec Baldwin, Angela Bassett, Simon Pegg, Ving Rhames, Vanessa Kirby and Michelle Monaghan, the film releases worldwide on July 27.



Tom Cruise planning more Mission: Impossible films




Mission Impossible Fallout's new teaser shows Tom Cruise and Henry Cavill battling it out
Source: Read Full Article