Nail Polish is an engaging watch, recommends Moumita Bhattacharjee.
A lot of movies released on OTT in the last year due to the pandemic. None of them made me wish I had watched it at a theatre.
Nail Polish does.
It is a court drama, Bollywood's favourite genre to manipulate and over-dramatise.
But while Nail Polish is a part of the same genre, the pointless excesses of it are kept to such a bare minimum that it's exhilarating to watch.
Based on true incidents, as suggested by the title rolls, Nail Polish opens with a brutalised Veer Singh (Manav Kaul) been taken to hospital.
Sid Jaisingh (Arjun Rampal) rushes to meet him and is told about his condition.
Veer has made a physical recovery, but his mind is not waking up.
One day it does, but not in the way anybody had hoped.
Veer, in reality, has been accused of the rape and murder of two children. The latter's bodies were charred and the State is fighting a case to prove him to be the criminal.
The biggest triumph of this court piece, written and directed by 'Bugs' Bhargav Krishna, is its subtlety.
The distractions have been kept so low that it enhances the quality of the content.
No pointless jargon or roaring monologues or blazing one-liners that's supposed to echo in our heads to get the point across.
It just deals with facts and a short commentary on dissociative identity disorder.
It's very rare to see such a closely fought case without the usual shenanigans we have all grown up watching and that's exactly why I feel, Nail Polish deserves a 70mm presentation.
Bugs's writing is so smartly done that every question you have on your mind regarding the trial is answered.
It's as if he knew what could be running in the minds of his audiences after the facts are presented and the disorder comes to light.
The movie maintains a colour palette keeping in mind the court case about migrant children being burnt after being killed.
The pace is just perfect and consistent.
But the movie has flaws that can't be ignored.
Bugs tries to give a bit of backstory for the characters, but forgets to flesh them out.
The track of Judge Bhushan (Rajit Kapur) and his alcoholic wife Shobha (Madhoo) is unnecessary. It doesn't lend anything substantial to the storyline as the judge doesn't seem influenced by it in court.
Also, why Sid holds a grudge against his father is unknown. But since we have watched a plethora of movies about the cliched storyline of disharmony between father and son, it's easy to guess. But that's just lazy writing.
Also, the defence's closing statements sounded unconvincing.
I will leave it at that because going any further would mean giving away the climax.
Only two female characters are included and both are shabbily written.
While Madhoo didn't add much to the narrative, Samreen Kaur is wound up rather swiftly, even when she has a huge role to play in the way Veer behaves.
And that song… needless!
Manav Kaul shines bright and caters to the demands of his role.
Rajit Kapur is perfect, but it is Anand Tiwari as the prosecutor and Arjun Rampal as the defence lawyer who make the maximum impact.
Tiwari's clumsy, shaky, intimidated self in front of a cool, suave and confident Rampal is the perfect contrast.
Bugs makes sure Rampal's looks are appreciated, both in words and gestures. Such roles do suit the actor.
Nail Polish is an engaging watch.
Nail Polish streams on Zee5.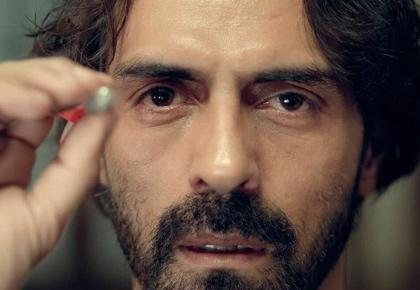 Source: Read Full Article