'I am not a politician.'
'I am a normal citizen and as an actor, I loved the subject of Mulk and through this, I am echoing my voice.'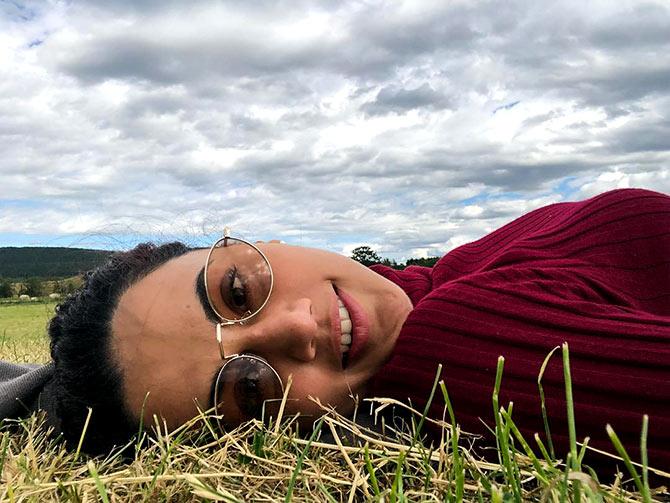 Taapsee Pannu has an impressive line-up of films.
She plays a lawyer in Anubhav Sinha's Mulk.
In September, we will see her in Anurag Kashyap's Manmarziyaan, alongside Abhishek Bachchan and Vicky Kaushal.
It will be followed by her Telugu film Neevevaroo, with Aadhi Pinisetty and Ritika Singh.
Taapsee has strong views, and tells Sneha Chakraborty, "A person is a human first, and then an Indian."
You got trolled after the Mulk trailer came out.
I have been at the receiving end for some time now.
I ignore them sometimes and on a few occasions, I give them a strong reply.
They troll me regarding my upbringing, my religion, almost everything.
In recent times, the most disgusting one was a rape threat on Twitter.
Though I give a damn to these kind of tweets — since most of them are paid trolls — I wonder why sensible people are doing nothing.
How will you define Mulk?
In today's times, Mulk is an important film and is closely related to humanity.
There are times when we have a certain opinion about a particular gender or community without knowing everything.
Sometimes, we judge a person looking at his/her religion.
I believe that a person is a human first, and then an Indian.
Since childhood, we have read that India is a secular, democratic, country.
But look at the scene now. There is a huge difference between rich and poor people.
There is a question in our democracy.
First, we have to accept that there is a problem; we cannot ignore it anymore.
Some people claim you talk about these issues because Mulk is releasing.
I am not a politician.
I am a normal citizen and as an actor, I loved the subject of Mulk and through this, I am echoing my voice.
I have always taken my stand.
I am not going to stand on top of the roof and shout my agenda.
How will you define your character Aarti Mohammad?
She is a lawyer, married to a Muslim, and settled abroad.
When she comes to her family in India, there is an unpleasant incident and she has to save her family.
What you have learnt from Director Anubhav Sinha?
He has taught me to be a braveheart.
If you believe in your role and the film, just go for it.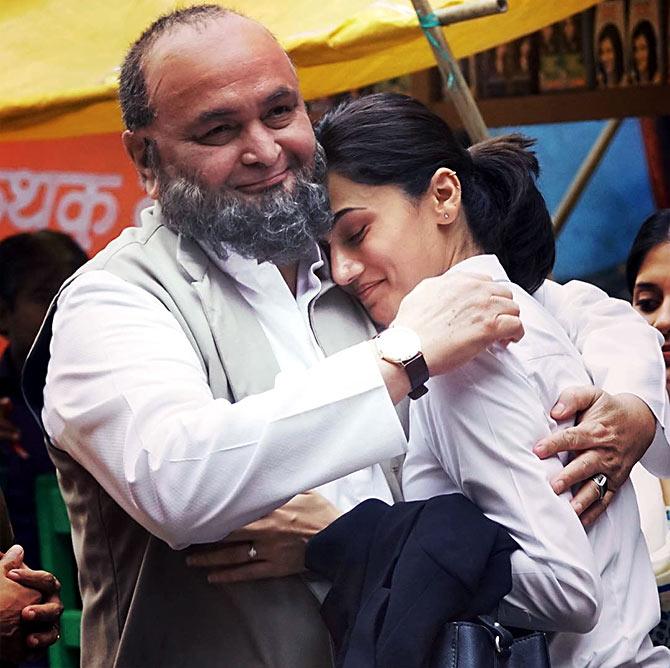 After Chashme Badoor, this is your second film with Rishi Kapoor.
At this age and this phase of his career, he (still) has the hunger for the right role and performance. This teaches me a lot.
If he can sit for hours to get a particular look, we can do more.
You have been appreciated for Judwa 2. How do you choose such diverse characters?
Now people know I can do both — intense and light-hearted, comedy, roles.
For me, that was important.
I didn't want to be typecast in intense roles.
After Mulk, I have Manmarziyaan with Abhishek Bachchan and Vicky Kaushal.
Next year, Badla, with Amitabh Bachchan, will release on Women's Day.
I always wanted one of my films to release on Women's Day and am so happy that it's finally happening.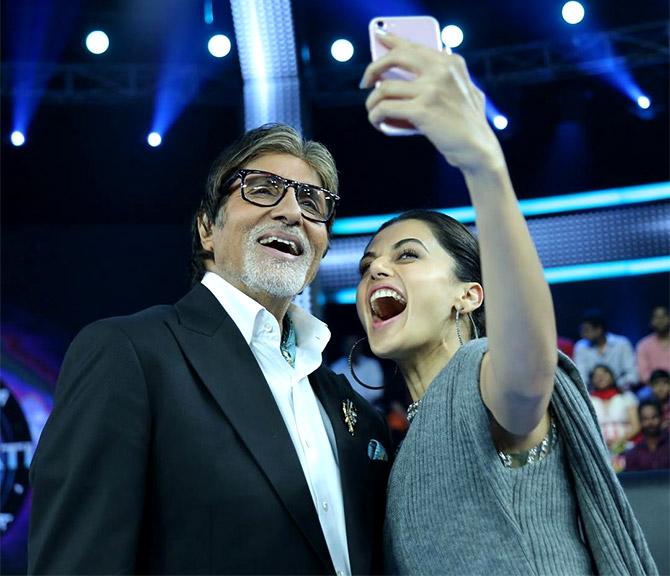 You have worked with both the Bachchans. What similarities you have discovered?
Acting-wise and technique-wise, they are completely different.
Honestly, I have not discovered anything common between them.
They have different styles and techniques.
But yes, the body language and gestures are quite similar.
When I was working with Abhishek on Manmarziyaan, I was quite surprised to see the similarities.
You have bought a home in Mumbai. How does that feel?
I was not sure about my future in the first few years (of my career).
But after I started working in films on a regular basis, I realised I need to buy a house here.
I like working here.
Off camera, I am a very common girl. I do not have actor friends in Mumbai.
We are all busy and working hard.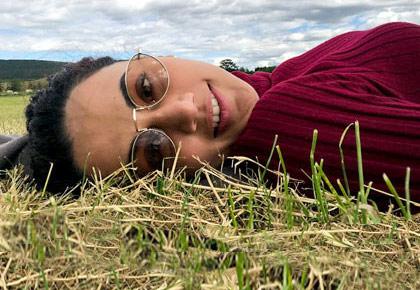 Source: Read Full Article