Any movie about time loops is bound to draw comparisons with the Bill Murray classic Groundhog Day, but Palm Springs holds rather well on its own, raves Sukanya Verma.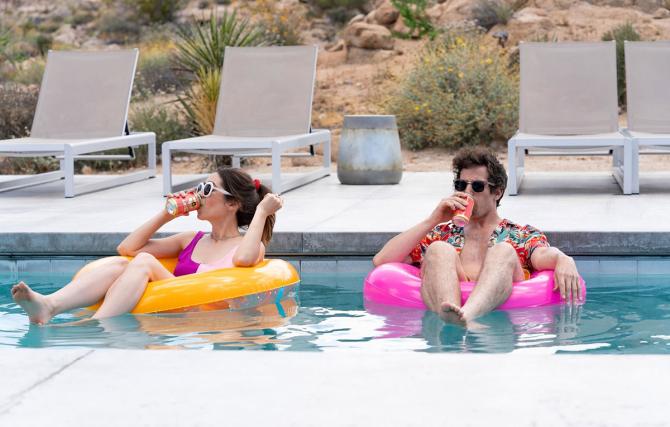 'Today, tomorrow, yesterday, it's all the same,' says a guy in a brightly coloured Hawaiian shirt while guzzling down beer and floating in the pool on an inflated pizza slice.
Post-COVID, the sentiment of monotony in his words hits an instant chord as a world, forced to spend endless days in isolation, collectively fights the feeling of being stuck in a rut.
Directed by Max Barbakow, Palm Springs, which he co-writes with Andy Siara, is a wacky science fiction, romantic comedy about two people reliving the same day over and over again while confronting some pertinent existentialist questions and forming a meaningful bond.
Any movie about time loops is bound to draw comparisons with the Bill Murray classic, Groundhog Day, but Palm Springs, which premiered at Sundance Film Festival holds rather well on its own.
Set in the Californian desert resort city, Nyles (Adam Samberg) is accompanying his girlfriend for a wedding where he bumps into the bridesmaid Sarah (Cristin Milioti).
Just as the duo hit it off, their spontaneous night of passion is disrupted by a mysterious attacker (J K Simmons) dragging Nyles into a creepy glowing cave. Sarah follows them only to wake up and find things back to how they were a day before.
Nyles is well into his Groundhog Day scenario when Sarah joins him in the repeat mode.
Much mirth follows as she tries to make sense of her new normal through episodes of panic, disbelief and daring even as the unflustered Nyles glugs on his beer can and dispenses gyaan on the futility of resistance and the bright side of suffering existence against a postcard perfect backdrop.
Sarah and Nyles develop a tender relationship over the course of going around circles, one we care about and feel invested in.
There's madness and method, depth and daring to their interactions as the twain let their hair down and debate restraint in absence of consequences over how much is too much.
There's a weirdly amusing energy to Palm Springs, its cynical wit and unruly vibe, especially when it reduces all its supporting characters to dust and mocks their inevitability by allowing Nyles and Sarah to play God. But it's only when the two confront their own demons and desolation, something truly eternal surfaces.
If Samberg's genius shows in his droll charmer whose crushing vulnerability lends the show all its heart, Milioti blazes the screen in all her spunk and acumen.
Not only do they infuse heft and humour in this remarkably clever and refreshing take on a familiar premise but also render its fable enough nuance to discover and savour across every fresh viewing.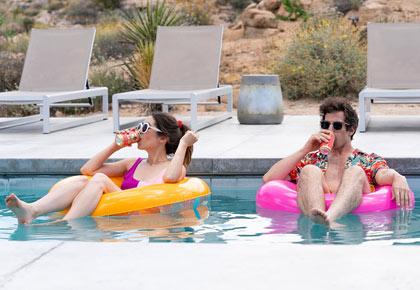 Source: Read Full Article