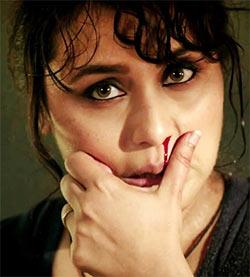 'Mardaani has become a kind of movement. It is beyond being a film.'
Rani Mukerji loves the response to her latest film.
The box office collections for Mardaani may be average but Rani Mukerji is still going all out to promote the film.
In fact, she is also pushing against the film's A certificate, as the actress wants 12-year-old girls to watch it.
Mardaani tackles a serious subject like human trafficking, and Rani is quite proud of her performance.
Rani talks to Patcy N about the kind of response she is getting for the film.
We heard you are reapplying for the censor certificate for Mardaani?
I am trying to reapply the film for censorship. I started my career at 17; why can't you show this film to 12 year olds? They are in the eighth standard.
The things that are shown in the film are happening. This is the reality. How can you shy away from showing the reality?
We have made this film for the girls of India. In UK and Canada, we are have a plus 12 certificate. It's only in India that we have got above 18 A certificate. There is nothing objectionable in the film.
I am trying to get a plus 12 viewing certificate. Girls, who are 16, are cheating and watching the film anyway. Some NGOs have approached me to show the film to younger girls. Once I get letters from them, I am going to approach the Censor Board.
What's the best compliment you have got for the film?
I have got so many compliments for the film. Rekhaji said 'God chose you to do this role'.
Shabanaji (Azmi) and Aamir Khan also liked my work.
Mukesh and Nita Ambani have appreciated the film.
The biggest compliment came from the Madhya Pradesh Chief Minister (Shivraj Singh Chouhan).
They have all said this is a very positive film. My character has been appreciated a lot.
They say this is my career best performance. That's nice because I thought after Black people will have difficulty in appreciating any other work.
Mardaani has become a kind of movement. It is beyond being a film.
People are taking it as a women's issue. They want to show it to their children.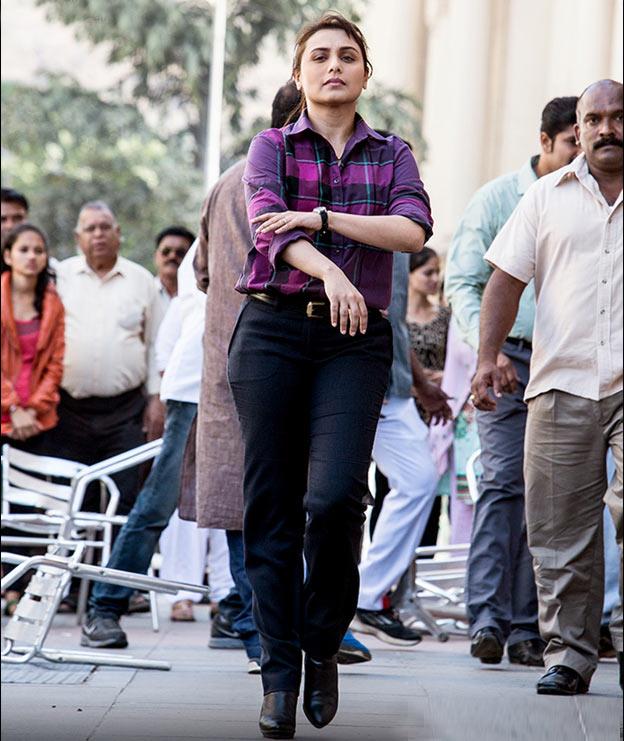 What did your mother have to say about the film?
Mummy likes all my work; she is very sweet and encouraging.
Mere maa ne meri nazar uthari. She never does that but suddenly she called me when I was in between an interview and asked me to come home for just five minutes.
When I reached home, she did that. She told me her sister had called from Kolkata and asked her to do that.
My family is very proud and happy.
In real life, did you become a mardaani?
Luckily, I was in a girl's college so I never had to show my mardaani side.
But I went to a co-ed school and once, a boy spoke nonsense to me so I slapped him. I was in the eighth standard and 12 years old then.
Lakshmi released a few months ago, which was also on human trafficking, but it did not reach too many people. You being in Mardaani has helped the film…
I think this issue should be considered and talked about. As Mr Shivraj Singh Chouhan rightly put it, this is the worst evil in our society. It must be eradicated, and films like Mardaani are bringing it to national attention.
Human trafficking has never been tackled. Journalists have the power to write about it.
There are so many women in Mumbai, who don't know such things happen and that's really a shame. People only read entertainment in the newspaper.
Five-year-old girls are raped by diseased drug addicts four times their age.
Aamir told me this film is a must-watch because this can happen to anyone. Aamir's daughter travels by train. One wrong step, one wrong situation you are in — anything can happen at that time.
In the film we have shown the boyfriend is the human trafficker and even the bhelpuri wala outside the school is a trafficker.
How much can you keep your children safe? You can't be with your child all the time, but if the child is aware then she can come out of the situation.
That's why I have been saying throughout my promotion of the film, learn self-defence, it is so important for today's children.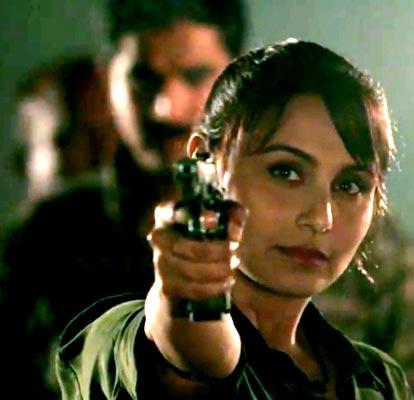 You have superb body language in the film.
When I signed the film, I knew I had to play the role of a crime branch officer so it was necessary for me to meet them.
I spent time with them, saw their mannerisms, how they walk and talk, how they interrogate and their body language.
Will there be a sequel?
I hope Mardaani is a blockbuster and our producer (Aditya Chopra) gives us permission to make a sequel.
What was Aditya Chopra's reaction?
Yash Raj as a brand has got lots of respect for making this film. So that makes him very happy.
At the same time, he wants the film to do well as today everybody equates a film's success with its box office takings.
It's important that the film makes that kind of impact critically as well as at the box office.
Have you seen Singham 2 which released a week before and is also a cop film?
I have not seen Singham 2 as I was busy with Mardaani's promotion. But I have seen the first Singham and I loved it. But my favourite character is Chulbul Pandey. I love Salman Khan.
Salman's parents saw Mardaani and they went mad; they really loved the film.
Salma aunty, Helen aunty and Salim uncle called me after the film and gave me their blessings.
Salman is in Los Angeles and told me he will watch the film there. He told me 'Mummy, papa ko bahut achchi lagi hain film, I am waiting to watch it.'
It is also Pradeep Sarkar's comeback film. How much faith did you have in him?
As much as he had in me. I think it is important that the camaraderie and relationship between director and actor be very strong.
Dada (Sarkar) and I are like two school girls.
Have you thought about doing a television show like Satyamev Jaytey?
Why not? It may just happen. I have seen that whenever media has asked me about anything, it happens. So my fingers are crossed. You all are really lucky for me.
What kind of show would you like to do?
I would like to do a show like Oprah Winfrey, who tackles everything and people from different fields come on the show
I watch television, it is a stress buster. Mostly I watch movies and news.
Which of your performances is your favourite?
I like Black. My life changed in a big way after I met the deaf, blind and dumb people.
I don't think I can replicate that work. Sanjay (the film's director Sanjay Leela Bhansali) feels the same.
I have the same feeling about Mardaani. I portray a strong female character in the film.
What was the most challenging scene for you in Mardaani?
The action scenes were very challenging.
People think that only men can do action and girls look stupid when they do action scenes.
But I got lots of compliments for doing action scenes from youngsters who are very opinionated. They said it looked real.
Source: Read Full Article