Detective shows like CID did a better job than Gumraah of creating thrilling cases, observes Deepa Gahlot.
This film claims to have been inspired by true events, a slew of believe-it-or-not cases all over the world (some listed at the end), in which murderers walked free due to a strange technicality, when the judge was forced to release a guilty man so as not to punish an innocent one.
Magizh Thirumeni's 2019 hit Thadam was a fictional imagining of one such case. In the few years that it has taken for the Hindi remake, Gumraah, to come out, viewers have seen superior police procedurals like Delhi Crime on streaming platforms, and the film, directed by Vardhan Ketkar, seems to pale in comparison, despite the interesting premise.
A man is killed in a Delhi bungalow, and the cops find a clean crime scene with no clues.
The face of the killer inadvertently caught on a neighbour's selfie and spotted by the investigator Shivani Mathur (Mrunal Thakur), leads to the arrest of engineer Arjun (Aditya Roy Kapur).
He claims to be innocent, but his alibi has some holes. ACP Yadav (Ronit Roy), who has a bitter history with the suspect, plans to beat a confession out of him, when another arrest is made and who should be brought into the same police station, but a lookalike, Sooraj aka Ronnie, gambler and small time conman.
He also says he didn't kill anybody, spouts legal jargon, and throws the bunch of cops — all clownish except for Yadav and the over serious Mathur — into a tizzy.
For the audience, this is a fine twist, and there is curiosity about how these lathi-wielding police thugs solve the case. The males try thrashing and torture to get one of them to blurt out the truth; the female cop at least tries to chase up DNA and forensic evidence.
The script, however, lurches in different directions, dissipating the tension, whenever it builds up, whether through an insipid romantic track between Arjun and film critic (really!), Janhvi (Vedika Pinto), Ronnie and his sidekick's shenanigans, childhood flashbacks, and indifferently picturised songs (four composers at work and not one chartbuster).
The original had all this too, plus a love interest for Sooraj, but Thadam was much slicker, and perhaps audiences were less demanding.
Gumraah has a workman-like approach; old detective shows like CID did a better job of creating thrilling cases.
The film trips up because it tries to pack in too much to boost the runtime, when it needs to be crisp and compact, concentrating on the business at hand.
The actors just go through the motions too.
The title does not quite fit, and worse, reminds the movie buffs of the three Gumraahs made before, at least two of which could be revisited for better entertainment value.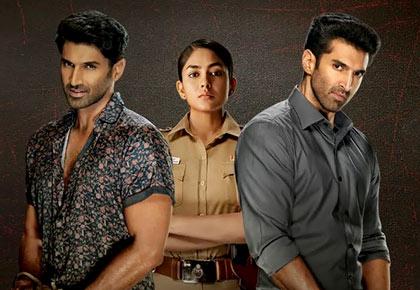 Source: Read Full Article