Not so hatke after all, but no reason to stay bachke either, notes Sukanya Verma.
Innocent lies, trivial conflicts and copious confusion led to much mirth in Hrishikesh Mukherjee and Basu Chatterjee's wise and witty cinema.
As fond its memories are, the world has grown a lot more cynical since and ordinary woes of newlyweds, like the ones in Hrishida's Kisi Se Na Kehna or Basuda's Hamari Bahu Alka, rarely carry the same impact or naivete.
Director Laxman Utekar attempts to channel the energy of these masters of feel-good in Zara Hatke Zara Bachke and finds more success than his Luka Chuppi, which made a mountain out of a molehill but is better off when carving its own identity.
Although it's the same old small-town template of joint family scenes in cramped and cluttered homes of buzzing neighbourhoods, it's almost a relief to see actors other than usual suspects — Seema Pahwa, Pankaj Tripathi or Sheeba Chaddha — dwelling inside.
It's also set in Indore, which means there will be at least one mention of pohe-jalebi.
Nevertheless, Zara Hatke Zara Bachke spares us the mandatory meet-cute and merry marriage to start on the note of a second anniversary celebration that tells us everything we need to know about Kapil Dubey (Vicky Kaushal) and Saumya Chawla Dubey's (Sara Ali Khan) cooped up existence.
He's a penny-pinching yoga instructor, she's a class-conscious school teacher — desperately craving privacy in their modern-day Piya Ka Ghar setup, chock full in shuddh Brahmin values that throws a fit at the sight of non-eggless cake and their Punjabi bahu's protests yet only too happy to accommodate Kapil's acrimonious aunt (Kanupriya Pandit), speculative uncle (Neeraj Sood), a prying nephew, his dull mom (Anubha Fatehpuria) and bored daddy (Akash Khurana).
Add to this familial cacophony is Saumya's whisky-guzzling father (Rakesh Bedi) and perennially gasping mother (Sushmita Mukherjee), Kapil's Muslim neighbour harbouring a childhood crush, Saumya's creepy co-worker hitting on her, their loud lawyer buddy (Himanshu Kohli), the poor disgruntled judge whose ears he screams into, Inaamulhaq's resourceful sarkari sepoy by day and blingy broker by night, Sharib Hashmi popping up belatedly as a nosey watchman.
A home away from home appears to be a perfect solution to all their problems and people. Except dreams and the middle class seldom get along.
Enter the golden combination of jugaad and jhooth that's turned modest endeavours into an overblown course of action in our rom-coms.
What follows is a lively scramble of dodgy housing schemes, real estate scamsters, phony divorces and some moral science lessons on privileged eating out from the poor's share, it's all about loving your family, yadda yadda.
Romanticising liars and fraudulent behaviour is not the same as sympathetic depiction of people forced to act out of character in crisis. And yet, Bollywood always finds charming ways to justify devious as duress for bubble-gum goals.
Like Jug Jugg Jeeyo, Zara Hatke Zara Bachke has moments that make you believe it's a lot darker than its display of cheer lets on.
A slyer film-maker would read deeper into the veiled insults of a couple's fake fights and the stinging tone of disappointment in a real one.
But Utekar and his co-writers, Maitrey Bajpai and Ramiz Ilham Khan, are happier turning Zara Hatke Zara Bachke into a boisterous romp, lapping up every chance for a joke or quip.
Its sitcom humour works in fits and starts.
Silly chaos within a sparring, small-town household is a tedious trope that needs to do away with its penchant for homophobic commentary. Instead, it's the casually blurted zingers that evoke easy laughs. Especially hilarious is the courtroom comedy between a screaming divorce attorney and an exasperated judge.
A fine bunch of supporting actors, effortlessly embodying the milieu and all the chinks in its armour, keeps the mood blithe and breezy.
It's the disarming air and boyish honesty of Vicky Kaushal's mingy everyman, buck tooth and without, and Sara Ali Khan's informed pluck that colours their starry-eyed husband and wife duo in adorable, affectionate hues of friendship and romance.
When Zara Hatke Zara Bachke does slow down for some sombre introspection, it lacks the persistence to pursue the problems it gently points out on the matters of provisions and privilege.
Wishy-washy government housing schemes — the subject alone could be a separate film — is a realisation that comes to Utekar once he's bitten more than he can chew.
Distractions follow as sentimental twists concerning querulous relatives forcibly take forefront making one wish they'd stuck to good old climatic emotional speech for reconciliation.
At the end of 132 minutes, Zara Hatke Zara Bachke grants it too when it has had its fill of mush and melodrama.
Not so hatke after all, but no reason to stay bachke either.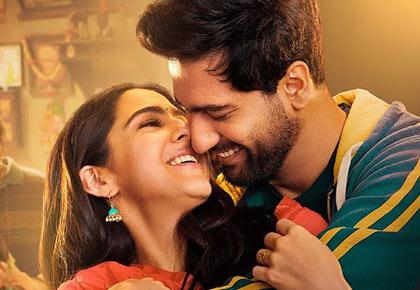 Source: Read Full Article