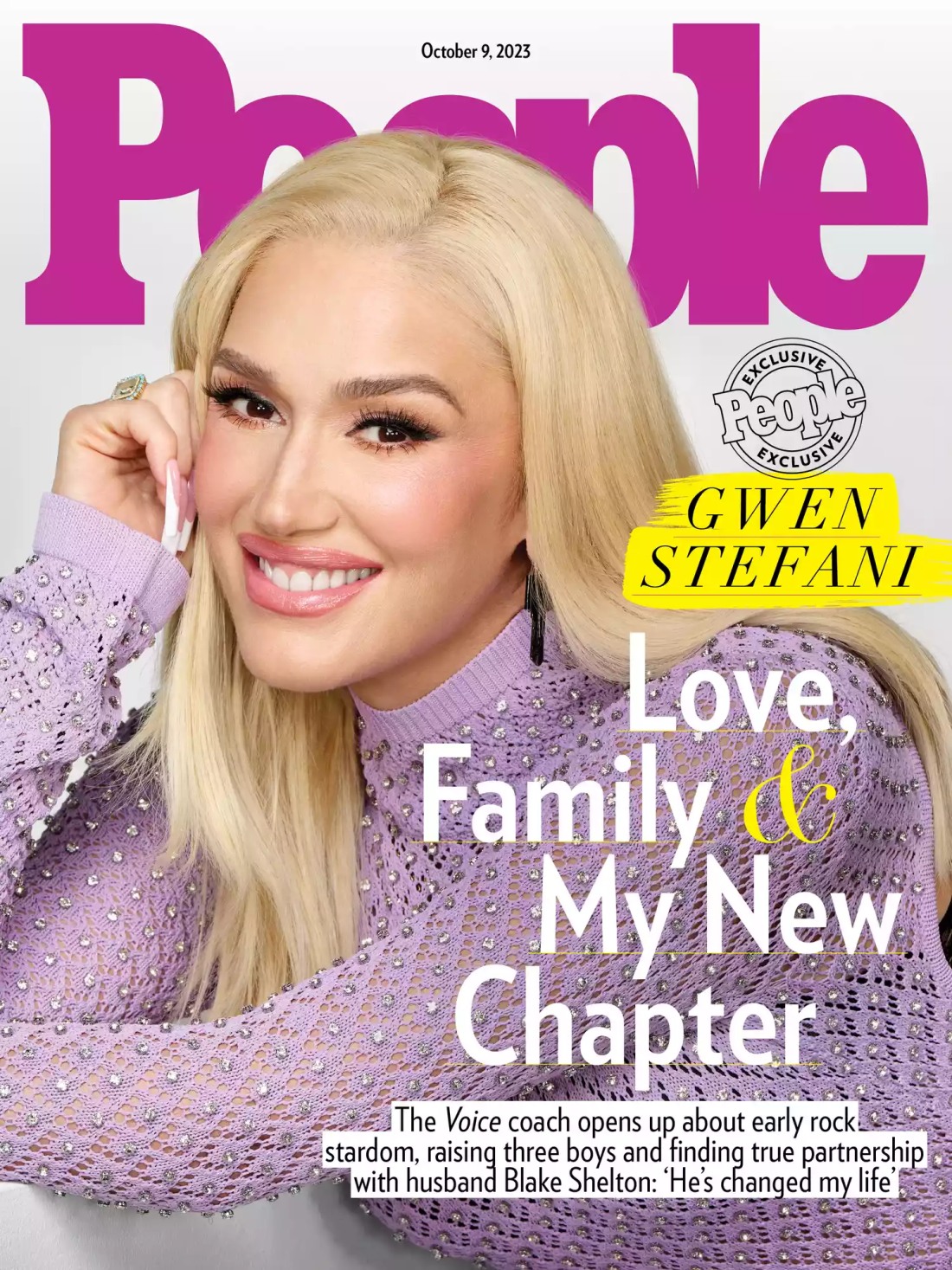 Gwen Stefani covers this week's issue of People Magazine. It's a really nice piece, honestly. Gwen is in a good place professionally and personally, she's happy and she adores her husband, Blake Shelton. As I was reading the cover story, it hit me that those two dorks have been together for SEVEN YEARS. That was when Gwen and Gavin Rossdale split at basically the same time as Blake and Miranda Lambert. It feels like it just happened a couple of years ago, but no, seven years. Blake and Gwen fell for each other hard and fast. They never looked back either, and what kills me is that no one would have ever put them together, and yet they're so perfect for one another. She's turned into Mrs. Family Values, Git Er Done In Oklahoma, and Blake is perfectly comfortable with their LA life too. They flat-out enjoy each other so much. Some highlights from People:
She loves to garden now: "When I was young, I'd walk home from school and see my mom in her shorts doing her gardening, and my dad would be cutting the trees and make me pick up the branches. I'd be like, 'I'm never having a tree at my house,'" she recalls. Yet these days, when she and her husband Blake Shelton are at their home near Tishomingo, Oklahoma, the rocker tends to far more than just a lone tree. They have sunflowers. Zinnias. Even plots of corn. "I just had the most incredible dahlias ever… When we get to Oklahoma, we're constantly working — and it's a different kind of work. It's probably what my mom was doing back in the day, and now I get it!"

She never saw it coming: "I didn't see any of this coming with Blake. This was just a big old 'What?' It was an amazing gift to experience love like that for the first time. He's changed my life … when I [started dating] Blake, that's when I felt home, like, 'Oh, this is where I'm supposed to be, with this guy."

Life in Oklahoma: "I am not really a dirt person, a bug person, I don't like that much humidity. But it's so beautiful [in Oklahoma], and you kind of feel like you're going into this vortex. Nature — and God — is all right there."

Spending more time with her kids: "I took Kingston on a world tour [when he was 9 months old]. I would have to nurse him, then get onstage, come off, and he would twirl my ponytail. That's when things got really hard for me emotionally. That time is so precious, and you don't want to miss anything." Stefani says she powered through with a personal goal in mind: "When my kids were teenagers, I really wanted to make sure that I was home for them — and here we are."

Blake's decision to step away from The Voice: It "was a huge family choice. I am happy for him because he has space to do all these other hobbies and things he wants to do."

Now she works with John Legend, Niall Horan and Reba McEntire: "I was really weirded out like, 'What's it going to be like without Blake?' But we are having so much fun. At the end of the day, coaching these humans who are so gifted … I love it."

Her divorce from Gavin: "Everybody pretty much knows that at one point my life fell apart. It was terrible, and there's so many people out there that have gone through the same thing. When that happened, I had to literally start over again. It was a reset of my life."

Her chaotic life: "It's literally schedule, schedule, schedule. [But] there is a balance. For me the only way that I've gotten this far is with my spiritual faith and being able to take time out to pray. You see the miracles, and that's inspiration and fuel to keep it going."
[From People]
The rocker girl from California has a flower garden in Oklahoma and she loves it. I really am happy for them and I hope nothing bad ever happens to them. I can't believe they've become one of those couples for me, where I wouldn't be able to take it if they broke up. Thinking again about the timeline of her split with Gavin… like, so much sh-t was happening, gossip-wise, in 2016. I wonder if she and Angelina Jolie ever talked about how their lives and marriages fell apart around the same time? They used to be friends and their kids are a similar age. Hm.
Photos courtesy of Avalon Red, cover courtesy of People.
Source: Read Full Article