Don't cut down on the binging post Diwali. Instead opt for healthier versions of the laddoos, chivda and shakarparas.
Made with millets or oats, these three recipes — Ragi Oats Laddoos, Foxtail Millet Chivda and Jowar Shakarparas — use seeds, nuts and fragrant spices.
They may not be richly indulgent, but make for the perfect something meetha or kuch namkeen in this continuing season of celebration, with Chhath and Kartik Purnima just around the corner.
Ragi Oats Laddoos
Servings: 10
Ingredients
1 cup oats, roasted
1 cup ragi flour, roasted
2 tbsp pumpkin seeds, roasted
2 tbsp watermelon seeds, roasted
2 tbsp chia seeds, powdered
Seeds of 3 green elaichi or cardamom pods
1 cup seedless dates
½ cup milk
2 tbsp ghee
Handful roasted cashews
½ cup honey
For the coating
2 tbsp sesame seeds, roasted
2 tbsp grated coconut, roasted
Method
In a blender, grind the roasted oats, pumpkin seeds, watermelon seeds, powdered chia seeds, cardamom into a fine powder.
Transfer into a bowl and keep aside.
In the same blender, add the seedless dates,d milk.
Blend into a smooth paste.
In a microwave/oven safe bowl, add the ghee, roasted ragi flour, powdered oats mixture, dates-milk paste.
Add the honey.
Mix well and cook in the microwave for 2-3 minutes, stirring twice in between.
Alternatively, you can cook the ingredients in a kadhai or frying pan over medium-low heat.
Once the mixture is cooked, take out of the microwave or off the heat.
Once it cools, using your hands, roll the mixture into medium-sized, 1½ inch diameter laddoos.
Spread out the roasted sesame seeds and grated coconut on a flat plate.
Roll the laddoos in the sesame seed-grated coconut mixture until well-coated.
Serve immediately or store in an air-tight container for a week.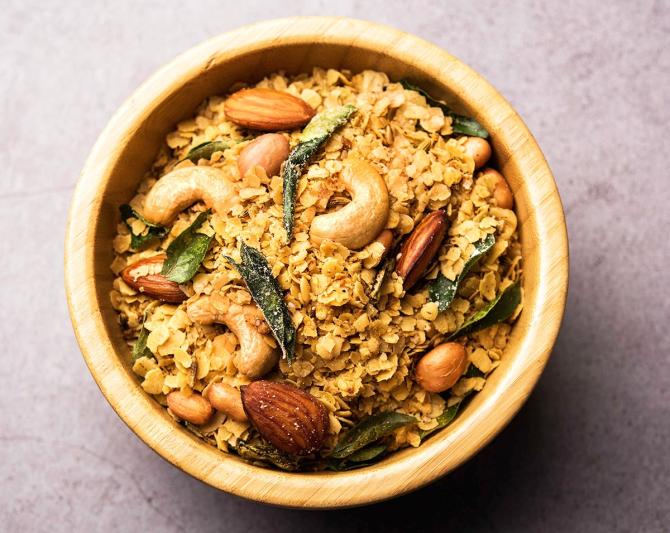 Foxtail Millet Chivda
Serves: 3-4
Ingredients
3 cups foxtail millet flakes, available online
¼ cup mung dal
½ cup peanuts
2 tbsp oil
1 tsp rai or mustard seeds
2 tsp chopped green chillies
Few curry leaves
Handful cashews
Handful almonds
¼ cup pumpkin seeds
¼ tsp haldi or turmeric powder
1 tsp red chilly powder
Handful raisins
1 tbsp sugar
Salt to taste, around ¼ tsp
Method
Pour the oil in a microwave/oven safe glass bowl.
Alternatively, you can heat the oil in a kadhai placed over medium-low heat.
Add the curry leaves, mustard seeds, chopped green chillies, mung dal, peanuts.
Mix well and cook for 3 minutes in micro mode or over low heat in the kadhai.
Add the pumpkin seeds, cashews,almonds, turmeric powder, red chilly powder.
Mix well and cook for 2 minutes.
Add the millet flakes, raisins, sugar, salt.
Mix and cook for 4 minutes.
Take out of the microwave or off the heat.
Serve warm.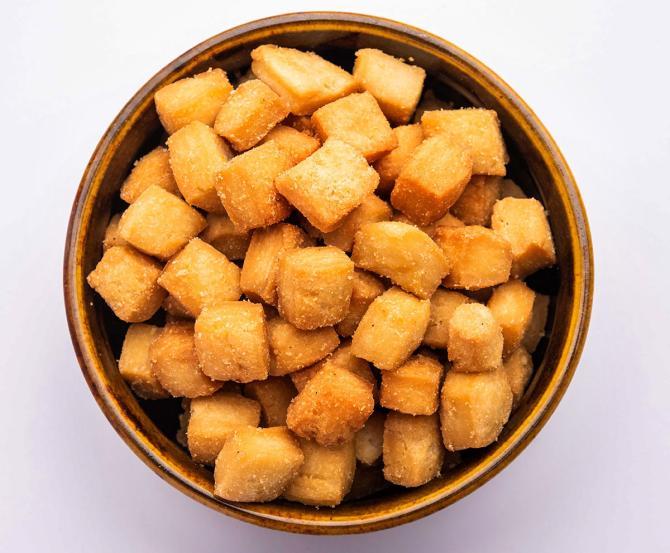 Jowar Shakarparas
Serves: 3-4
Ingredients
1 cup jowar or sorghum flour
½ cup rava or semolina, roasted
1 cup ghee
½ cup malai or cream
1½ cup powdered gud or jaggery
½ cup milk
1/8 tsp green elaichi or cardamom powder
1 tbsp sesame seeds
Oil for deep frying, optional
Method
In a bowl, add the powdered sugar, ghee, cream, milk, roasted rava, sorghum flour.
Mix well.
Cover and set it aside for 30 minutes.
Make two balls of the dough.
Roll each ball into a large round puri of 1 cm thickness.
Using a knife, cut the puri into small 2 cm diamond shaped cookies.
Preheat the oven to 200⁰C for 4 minutes.
Arrange all the shakarparas on the grill mesh rack.
Place the rack in the preheated oven.
Select the convection mode at 200⁰C, set the timer for 14 minutes, and press start.
You will need to turn the shakarparas once in between.
Take out of the oven and cool.
Alternatively, you can heat oil in a kadhai or frying pan over medium-high heat.
Fry the shakarparas in batches until golden brown.
Drain from the oil and transfer onto a paper towel or tissue-lined plate.
Store in an airtight container.
Recipes courtesy Godrej Appliances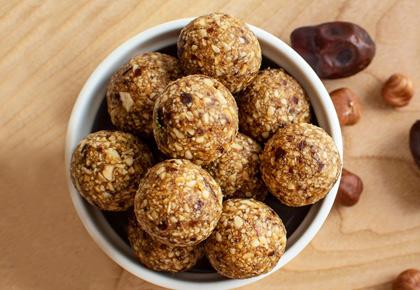 Source: Read Full Article