Sharada Ajmera, 28, loves to cook.
She started experimenting in the kitchen when she was 15 and likes recipes that can be made quickly.
While she's not a fan of brinjals or eggplant herself, she'll whip up this smoky delight for anyone who'd like to tuck into it.
You only have to ask her nicely 🙂
Baingan Bharta
Serves: 2-3
Ingredients
1 large bharta wala baingan or brinjal or eggplant
1½ to 2-inch piece ginger
1-2 light green chillies or the darker spicier variety, depending on your spice tolerance
3 garlic pods
1 medium onion, finely chopped
1 medium tomato, finely chopped
½ tsp garam masala
1 tsp dhania or coriander powder
1-2 tbsp oil + extra to rub on the eggplant
Salt to taste, around 1 tsp
Green dhania or coriander or cilantro, chopped, to garnish
Method
Wash the baingan well and pat it dry.
Do not cut off the stem.
Rub the baingan with oil.
Poke it at multiple places with a fork.
Roast directly over a medium flame of a gas burner or under the grill in a foil-lined tray.
Flip after 5-7 minutes.
When the skin of the baingan turns black and it begins to split, it's cooked.
Keep a shallow container or bowl ready, large enough to hold the baingan.
Pour a little water in it.
Take the cooked baingan off the heat and place it in the container/bowl.
Peel the burnt skin off the baingan while it is hot otherwise the skin will stick to the vegetable.
Remove the stem.
The water allows you to remove the skin without losing too much of the actual baingan.
Drain the water.
Pick off any remaining bits of blackened skin.
Mash the baingan.
In a blender or mortar-pestle crush or grind the ginger, green chilly and the garlic into a coarse paste.
Heat the oil in a kadhai over medium-high heat.
Add the chopped onion.
When the onion is semi-cooked, add the ginger-garlic-green-chilly paste.
Add the garam masala, dhania powder, salt.
When the paste is cooked, add the tomato and let it cook further.
Add the mashed roasted baingan, mix and cook a few minutes more.
Take off heat and add the chopped coriander.
Serve hot with parathas or rotis.
Light, fluffy phulkas or rotis go best with Sharada's Baingan Bharta.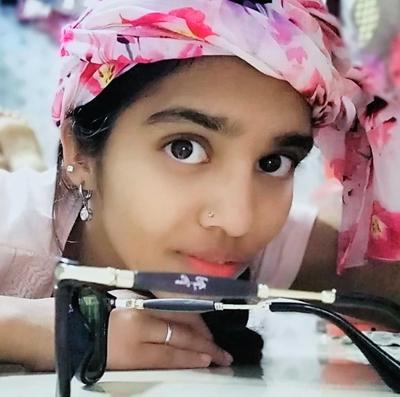 Though she was born in Hyderabad, Sharada Ajmera prefers cooking Gujarati food.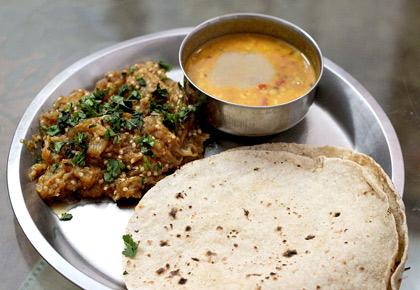 Source: Read Full Article