Selena Gomez caused quite the stir when she half-heartedly addressed the ongoing war between Israel and Palestine. So now her beauty brand is taking a crack at it?
Last week, the Wolves singer addressed the Middle Eastern conflict, but fans quickly began criticizing her for taking too neutral of a stance. As a refresher, she wrote on her Instagram Story:
"We need to protect ALL people, especially children, and stop the violence for good."
Frankly it seems like a pretty reasonable stance for someone without a lot of knowledge of the situation (which ya gotta assume includes most pop stars). See her full statement (below):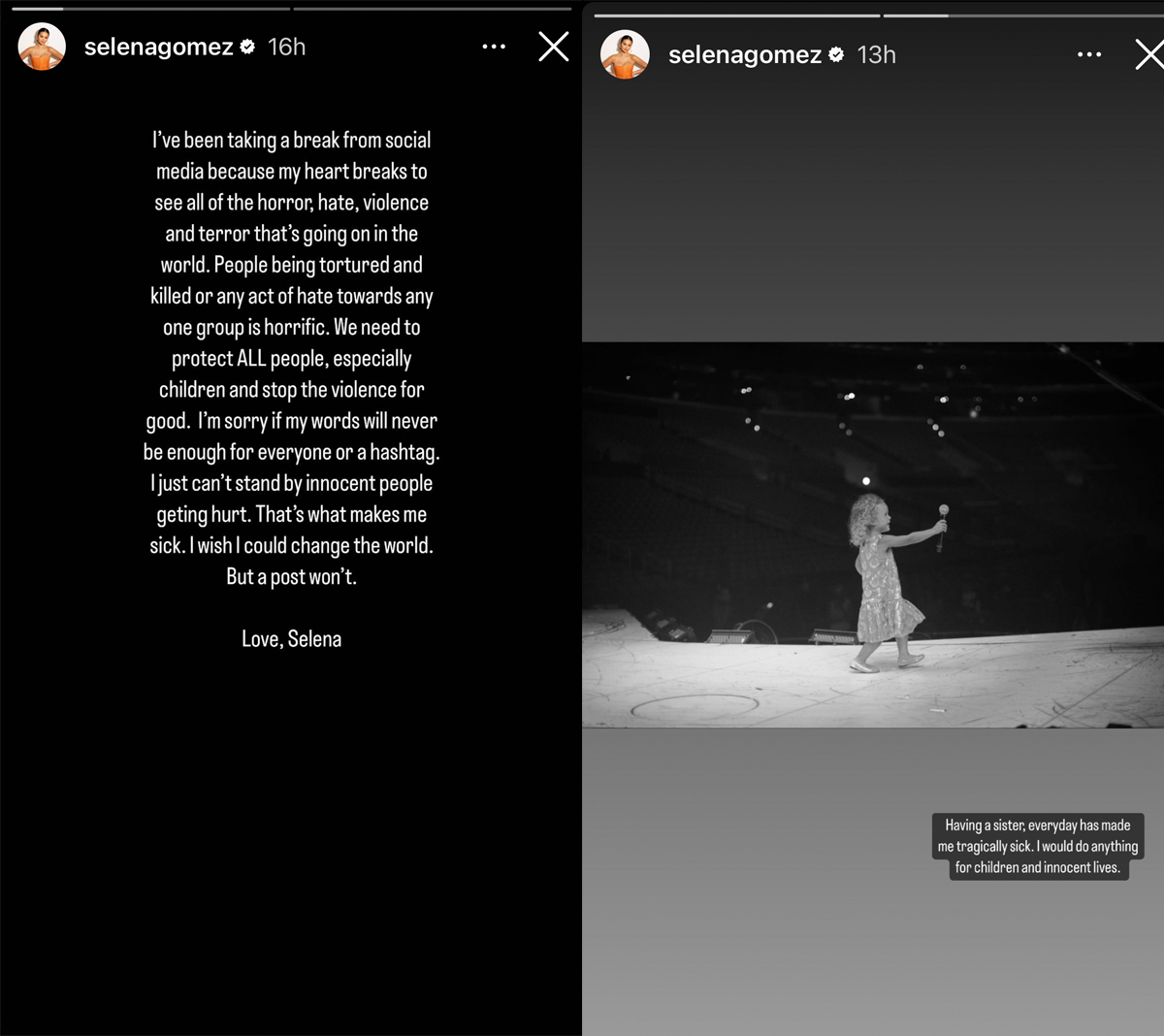 The backlash was apparently so intense it led her to take a social media break — albeit a very short lived one. But now it looks like she's taking cover behind her cosmetics brand, Rare Beauty, as they take a firmer stance.
On Monday, the company uploaded a maroon image with the text, "Humanitarian Crisis in Gaza" — signaling right off the bat that they'd be leaning more pro-Palestine in their lengthy statement.
They wrote about being "devastated" by the imagery and reports coming out of the region of the "thousands of innocent Palestinian civilians" that "have been killed in Israeli airstrikes," and the "millions" who've "been displaced & left without access to food, water, medicine, or basic necessities for survival." But they also paid sympathy to the "horrible" October 7 Hamas attacks "against innocent civilians in Israel," ultimately denouncing "all forms of anti-Semitism and Islamophobia." Ultimately, they seemed to indicate they believe Israel's relentless attacks are drastic.
Who are "they" here?? That's an excellent question. It's apparently meant to represent the company as a whole, as the post explains:
"The DNA of our company is rooted in inclusivity. Our company is diverse & employs individuals from various backgrounds including race, creed, sexuality, gender identity, & religion – many of whom have been directly impacted by the recent violence."
The statement also obliquely excuses Selena's decision to duck out, referring to how a crisis like this can exacerbate mental health problems:
"As a company that aims to reduce the stigma associated with mental health, we understand that in these particularly trying global circumstances everyone's mental health is suffering. We encourage you to reach out if you need help."
Remember, it's "Rare" saying this, not Selena. We guess? Read their full statement (below):
https://www.instagram.com/p/CzUNeR-vgvn/
A post shared by Rare Beauty by Selena Gomez (@rarebeauty)
We can't help but think this is Selena wanting to take another swing at addressing the war — but also playing it safe by camping out behind her company, just in case it were to be received poorly AGAIN. That way she wouldn't have to take all the heat…
Do you agree? And do you think she pulled it off? Let us know in the comments down below.
Source: Read Full Article