Shobhaa De wistfully recalls the golden Diwalis of her childhood.
It's 7.15 pm. Dhanteras. Diwali Eve. I am back at my writing desk after lighting the diyaS outside our home.
I have spent the better part of the morning, shopping for "Diwali things" as my children call them.
These include paper lanterns (big and small), rangoli powders, flower torans for the entrance, fragrant oils for the ritual I most enjoy during Diwali — traditional oil baths at dawn, even more fragrant herbs sold in flat, tiny packets, which I mix with fresh milk and use instead of soap, stencils to make it easier for the children to learn the art of rangoli and of course, Maharashtrian sweetmeats from my favourite shop at Thakurdwar — Satish Ladoos.
This is an annual ritual I greatly look forward to. It represents something far more than celebrating an important festival.
It is a ritual I associate with my childhood. It reminds me of a period in my life when I was carefree and exceedingly happy.
There is one big difference though. When I was growing up it was my mother (along with her mother) who spent hours in our smallish kitchen, painstakingly preparing Diwali faral, for which they'd plan weeks in advance. Today, I buy mine from Satish Ladoos.
I recall wonderful Diwalis in Delhi, when my mother would locate a Maharashtrian cook in the sprawling government colony we lived in and enlist his services for the job of creating outstanding faral.
She would play watchful supervisor, as for four days prior to the festival, our home would be converted into an open-style mithai-stop, with enormous kadaiS bubbling with hot oil. The cook would squeeze slightly fermented jalebi flour out of thin muslin pouches into it.
For a young girl, jalebi-making was like magic. Gooey, white flour would miraculously emerge in a steady stream from the muslin pouch, being whirled expertly around the kadhai by the grumpy cook. Minutes later, a perfectly formed, piping hot, deliciously crisp circle of a mouth-watering sweetmeat would emerge.
These newly-cast jalebiS would be instantly dunked into sugar syrup with rose petals swimming in it. Rose petals and saffron stalks.
I'd hear mother instruct the cook sternly. "Don't let the children dip their dirty fingers into that, or else, all the jalebiS will be ruined." We'd manage to get our hands on two or three fresh jalebis anyway.
I would be fascinated with the creation of the faral — boondi ladoos (soft ones and hard ones), rava ladoos (with kishmish embedded in them, besan ladoos (firm and grainy), chaklis (these irresistibly wicked whorls of lentil flour, coated lightly with sesame seeds), chivda (deliciously mixed with cashews and highly flavoured with hing), karanjis (rice flour pockets stuffed with sweetened fresh coconut), thikat shev (spicey wiggly strings of chana dal)… and topping it all the incomparable anarsey, lacey, well browned and well-balanced in their sweet-savoury ratio.
Mother had a set of tin boxes with tiny locks in which to store the faral till that pre-dawn moment on Diwali day, when the family would sit down for a ceremonial breakfast, all of us, freshly-bathed and grandly dressed in our colourful Diwali finery.
The breakfast would commence with Dahi Pohey, made by mother with previously soaked puffed rice mixed with whipped yogurt and dressed up with diced ginger, green chillies and grated fresh coconut.
Each one of us had our own special way of mixing Dahi Pohey.I liked (and continue to like) mine with a sprinkling of thikat shev.
Nothing much has changed in all these well-remembered practices. My mother is no longer there to preside over the Diwali breakfast. And unfortunately for us, we weren't wise enough to get down her special recipes.
We try our hand at making our own faral, but our attempts are rather clumsy. Besides, we don't dare present our version of chirotey to our critical father, who takes one dismissive look at them and says, "Nothing like your dear mother's." Which is perfectly true.
There is nothing like our mother's Diwali. Not even Padwa or Bhau Bij, even though, we faithfully go through the motions year after year, in the vain hope that one day, at least one of us will get it right.
I love the significance of both, Padwa, the Maharashtrian New Year, and Bhau Bij, when sisters honour their brothers in the best way possible, by inviting them to their marital homes for a meal and performing an elaborate aarti for them.
My own brother, Ashok, continues to behave slightly self-consciously, as we three sisters (watched with amusement by them nephews and nieces) fuss over Ashok and insist on his wearing a topi before the commencement of the aarti (no bare heads, please). In return, we receive generous gifts from our only brother.
Since my sisters live overseas, this ceremony is generally conducted at my home. I decorate a portion of the drawing room especially for the aarti with rangoli around a painted chaurang, flowers and diyas everywhere, and the fragrance of burning camphor combining with agarbatti smoke.
Padwa is reserved exclusively for my husband Dilip. It is his day. And I cherish it deeply. We begin the day with an oil bath. I massage him, and he reciprocates the gesture.
Dilip wears a new dhoti, and I my 'Diwali' sari. I perform an aarti for him, while he repeats a prayer, his eyes shut, his lips moving. The children watch, sometimes with amusement, at other times with genuine interest.
After the aarti I bow down and touch his feet, while he places his right hand over my head and blesses me.
It is a very special, very sacred moment in our lives.
I recall it being the same for my parents, and for us, as we observed the solemnity of the exchange, not quite understanding its import, but appreciating it deeply, nevertheless.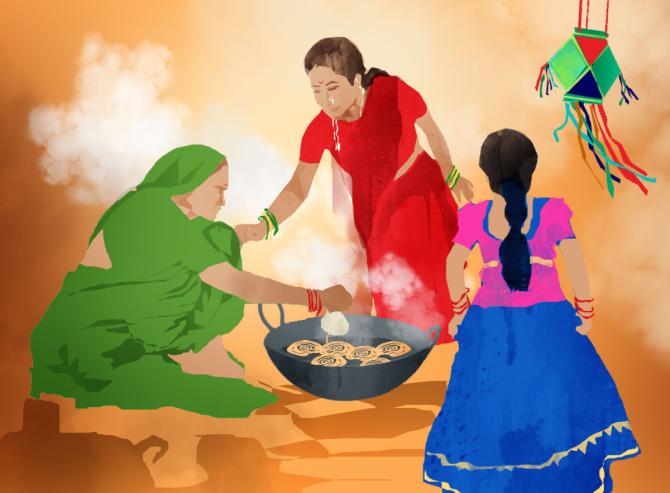 I hope and pray when my own children are older their memories will be equally precious. That they too will be able to pass down to their kids all the various centuries-old traditions they have been active participants of. It is a valuable legacy that I feel privileged to have inherited from the previous generation. It is the one 'constant' that I wish to bestow on the next.
Today, I see the crass commercialisation of a beautiful festival and feel slightly sad at the passing away of an era. I am guilty, too. I buy 'commercial' faral. I could so easily have learnt the art of making it myself from mother.
I don't make lanterns with my children either. I buy them from other children who craft them sitting in their tiny kholis in Girgaum, supervised by watchful mothers, making faral for sale in the adjoining kitchen.
Bless the sweet families that offer these services to other families, like mine — busy urban creatures who have lost the fine art of making Diwali a complete and fulfilling experience.
So what? We still know a good thing when we see it. And the good thing is the spirit the festival.
I wonder if the next generation will be able to identify an aakash kandeel with its long pretty tail blowing in the early evening breeze, or recognise the unique, slightly sour taste of an anarsa if they bite into one.
In all likelihood, these last remnants of my childhood will go the way of countless other traditions, to be replaced by impersonal Blue Mountain cards with computer-generated flames flickering on simulated diyas sent to an e-mail address where the person's identity is perfectly protected with a login name like 'Red Heat'.
Happy New Year, folks. And welcome to Cyber Diwali.
This feature was first published on Rediff.com on November 6, 1999.
Source: Read Full Article