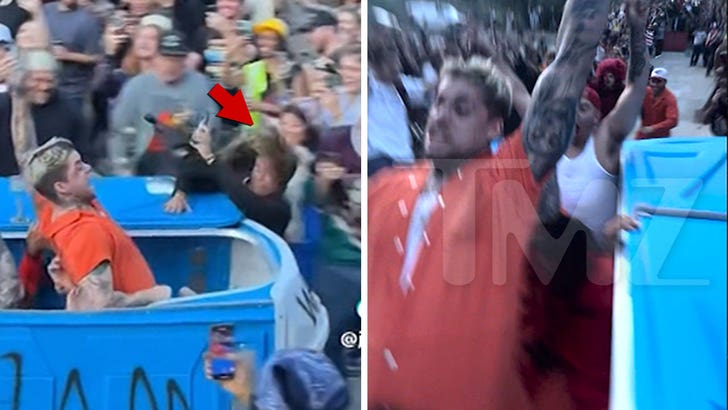 If you think just using a porta-potty is rough … grab some TP, because you're about to see a woman get crushed by a porta-potty on wheels, and it's definitely a memory she'd love to flush!!!
A group of stuntmen, known as the @madhouseboys on IG, took part in a Thrasher Magazine event called The Halloween Hellbomb skating/costume competition — and the video from last week's wild event shows them hurtling down a skate park in L.A.'s Griffith Park in their mobile toilet.
Y'know … for when ya really gotta go, go, go!
Anyway, things were running smoothly until a woman in the crowd named Katrina Ponce De Leon got distracted while filming on her phone. She told us she couldn't gauge how close she was to the potty shot because she was viewing through a wide-angle lens.
She also didn't see the door hanging off the side, which ended up taking her out as the porta-potty slammed into her. Oh s**t, was never more appropriate! 💩
Katrina only suffered minor injuries in the crash, but check out the guy standing near her who took a street sign to the dome. He went to a hospital to treat a cut on his head.
Luckily, no one was sliding into third and feeling a greasy … well, y'know.
Source: Read Full Article