With another quarter of steady growth in demand, cement companies are expected to report strong year-on-year (Y-o-Y) growth in earnings, according to analysts.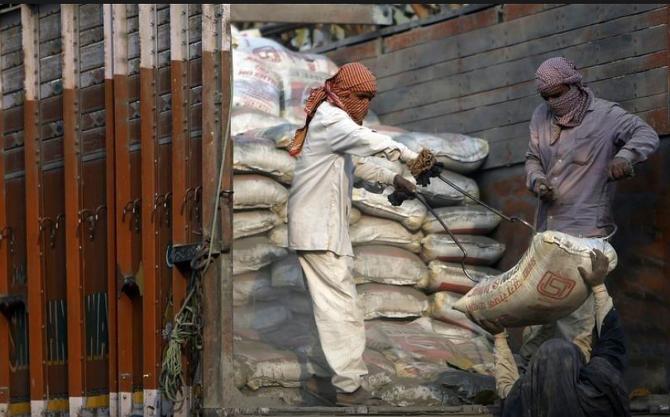 The September quarter (Q2FY24) also witnessed a resumption of price hikes in certain markets.
UltraTech Cement, India's largest cement producer, reported a 15 per cent Y-o-Y increase in cement sales in the country for the quarter under review.
Analysts believe that major players like UltraTech may have expanded their market share in the past quarter.
"We expect cement industry demand growth at 12-14 per cent Y-o-Y in Q2FY24.
"We estimate 15 per cent Y-o-Y volume growth for our coverage universe, factoring a gain in market share by larger players," wrote analysts in a Kotak Securities note.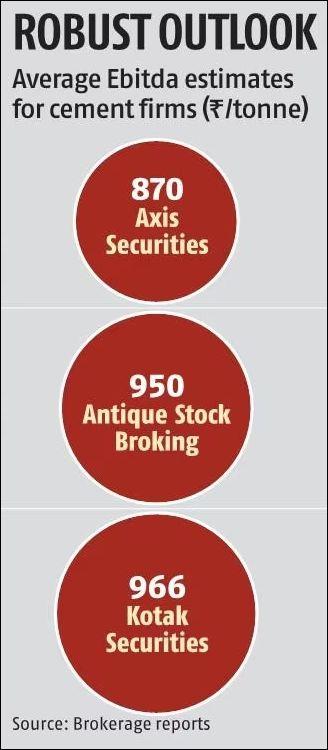 The second quarter of a financial year is typically a weak period for cement companies due to the monsoon season slowing down construction activity in various parts of India.
However, Q2FY24 witnessed steady growth and stable prices.
Demand growth in Q2FY24 was accompanied by costs remaining flat sequentially and falling compared to the high cost base of the previous year.
Kotak Securities expects cement Ebitda (earnings before interest, taxation, depreciation, and ammortisation)/tonne to see a marginal sequential increase and a 60.5 per cent Y-o-Y rise to Rs 966/tonne, driven by stable costs and prices during the quarter.
Analysts at Axis Securities expect Ebitda/tonne of the companies under their coverage to improve by 64 per cent to Rs 870, from Rs 530 in Q2FY23.
They said: "Owing to lower operating costs over last year, … since last year was negatively impacted on the back of higher energy prices as many companies reported quarterly loss."
Revenue growth, the broking firm said, is expected to come in at 12 per cent Y-o-Y, and profit after tax growth would likely be 166 per cent YoY.
CRISIL noted in its half-yearly rating round-up on the sector that power and fuel costs, which account for 30-35 per cent of production cost, declined 10 per cent during the first quarter of FY24 and they may have declined further as high-priced inventory would have been replaced with cheaper inventory, following the softening of coal/petcoke prices.
"This will improve the per-tonne profitability of cement makers to Rs 950-975, as against a multi-year low of Rs 770," the rating agency said.
Analysts with Motilal Oswal expect the sector to report 72 per cent Y-o-Y earnings growth on a low base of earnings reported last year.
Q2FY24 also saw cement companies attempt price hikes in certain markets, including east India.
"Historically, Q2 usually sees a price correction relative to Q1, which was not the case this time due to robust demand and producer pricing discipline," noted analysts with Axis Securities.
Analysts with Antique Stock Broking noted that average prices are likely up 1-2 per cent sequentially in the northern, eastern, and central regions; prices in south and west India have likely declined 3 per cent and 1 per cent sequentially, respectively.
"Dealers indicate that companies may announce price hikes of Rs 40-50/bag in the south and Maharashtra markets and Rs 5-20/bag across most other regions during October," the analysts noted.
Source: Read Full Article