US President Joe Biden on Wednesday said he supports a two-state solution so that Israel and the Palestinian people can both live safely and securely in dignity and in peace as he announced $100 million for humanitarian aid in the war-torn Gaza and the West Bank.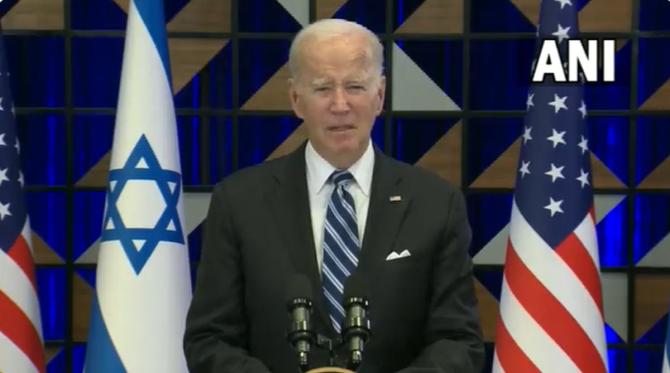 Biden, who is in Tel Aviv on a solidarity visit to express support for Israel amid the ongoing conflict with Hamas-led Palestinian factions, made the remarks after a meeting with Israeli Prime Minister Benjamin Netanyahu.
He said that "nations of conscience" like the US and Israel are not measured solely by the example of power. "We are measured by the power of our example, and that's why as hard as it is, we must keep pursuing peace," he said.
"We must keep pursuing a path so that Israel and the Palestinian people can both live safely and securely in dignity and in peace," Biden said.
"For me, that means a two-state solution," the US President said.
Biden said the recent attacks have made him even more determined in his efforts to push for a two-state solution.
"We must keep working for Israel's greater integration with its neighbours. These attacks have only strengthened my commitment and determination and my will to get that done," Biden said.
The two-state — an independent Palestinian state alongside Israel — has long been proposed as the best solution for lasting peace in the volatile region. However, the biggest obstacle to the solution is the borders of the two states.
On Wednesday, the 57-member Organization of Islamic Cooperation in a statement said it supports the embodiment of the independent and sovereign State of Palestine on the borders of June 4, 1967, with its capital, Al-Quds (East Jerusalem).
Later in a post on X, Biden announced $100 million for humanitarian assistance in Gaza and the West Bank to support over 1 million displaced and conflict-affected Palestinians. "And we will have mechanisms in place so this aid reaches those in need — not Hamas or terrorist groups," he said.
"Let me make myself clear: The vast majority of Palestinians are not Hamas. And Hamas does not represent the Palestinian people," he said in another post.
On October 7, Hamas-led factions launched an unprecedented multi-front attack – from land, sea and the air – on Israel, which has said that more than 1,400 people have been killed so far on its side.
Israel launched a series of attacks on Hamas-ruled Gaza and since the start of hostilities, as many as 3,478 Palestinians have been killed and 12,065 others injured.
Late last week, Israel issued an ultimatum that the entire population of Gaza north of Wadi Gaza, approximately 1.1 million people, should relocate to southern Gaza within 24 hours.
The situation is rapidly deteriorating with each passing hour as Gaza runs out of food, water, fuel and essential supplies.
After meeting with President Biden, Netanyahu agreed to allow the shipment of humanitarian assistance from Egypt to Gaza.
Source: Read Full Article