India's economic growth will be above 6 per cent in the current fiscal as the country has managed to strengthen its macroeconomic stability and performance even in a period of large global shocks, RBI Monetary Policy Committee (MPC) Member Ashima Goyal said on Monday.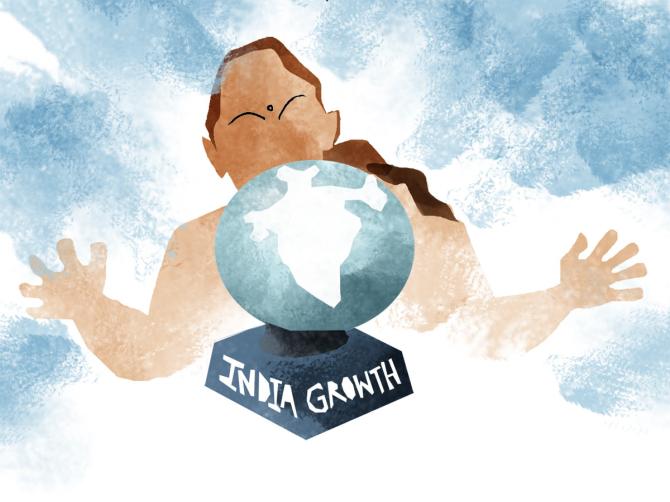 Goyal further said that a global slowdown reducing India's export growth, geopolitics fueling oil and food prices, and erratic weather are some of the continuing risks that the country faces.
"India has managed to strengthen its macroeconomic stability and performance even in a period of large global shocks.
"India's GDP growth in FY24 will be above 6 per cent," she told PTI in a telephonic interview.
While GDP growth in 2022-23 was 7.2 per cent, lower than 9.1 per cent in 2021-22, the RBI projects India's GDP to grow at 6.5 per cent in the current fiscal year.
Asked when retail inflation will decline to RBI's target of 4 per cent, the eminent economist said inflation expectations are getting anchored at around 4 per cent.
"For a long time now, firms' inflation expectations are around 4 per cent. That means, despite cost shocks, their price increases do not exceed 4 per cent," Goyal noted.
Observing that core inflation is softening, she said inflation targeting is teaching price-setters to look through transient supply shocks.
According to Goyal, under transient even if repeated supply shocks (like the Ukraine war), monetary tightening should be adequate to anchor inflation expectations, but not so sharp as to impose a large growth sacrifice on the economy.
"But other supply-side policies will continue to reduce inflation," she opined.
Retail inflation declined to 6.83 per cent in August after touching a 15-month high of 7.44 per cent in July, mainly due to softening prices of vegetables, but still remains above the Reserve Bank's comfort zone.
RBI has the mandate to keep retail inflation in the range of 2 to 6 per cent.
Commenting on a recent brokerage report which stated private capex actually declined in the last two quarters, Goyal asserted that it is absurd to over-interpret quarterly changes.
While observing that since the pandemic annual gross domestic capital formation has been rising, she said it has fluctuated in quarters.
"Quarter on quarter growth is normally negative in Q1 and shows the highest growth in Q4," Goyal said, adding that many other types of data, including bank credit, IPOs and capital goods imports, show a revival in private capex.
Pointing out that the government capex creates opportunities for private capex in steel, cement, logistics, green infrastructure , she noted that people mistakenly think it is not happening because they expect a 2008 type boom.
"Private capex will rise sustainably in step with GDP in a virtuous cycle, even if there are some delays because of political uncertainty in an election year,' she said, adding that policy continuity is very important for private capex.
Responding to a question on rising crude oil prices and it's impact on the government's subsidy figures and inflation, Goyal said the government and oil companies have built-up counter-cyclical buffers by not fully passing through a fall in international crude oil prices.
Emphasising that in a well- established inflation targeting regime, transient rise in cost is looked through and does not have second round effects, she noted that high crude oil prices have intensified efforts to diversify away from oil.
"So overall we are seeing less pass-through of higher oil prices to Indian inflation," she said.
With international crude oil prices breaching $90 per barrel mark for the first time in 10 months, Indian refiners which are the key beneficiaries of cheaper Russian crude should still be able to clock refining margins of around $9-10 per barrel in current fiscal, CareEdge Ratings had said recently.
Asked if India losing out on accurate data measurement as the government is yet to come up with the latest version of the Consumer Expenditure Survey and Census, she said overhauling statistical systems takes time.
"The pandemic, as well as excessive criticism, has intensified the break in many of these periodic surveys…The break is a loss to policy-making," Goyal said.
The eminent economist, however, noted that now India has all kinds of new high-frequency data to aid policy.
In 2021, the Ministry of Statistics and Programme Implementation (MOSPI) decided not to release the Consumer Expenditure Survey results of 2017-18 due to data quality issues.
"According to the ministry, the reference period for the next Household Consumer Expenditure Survey is 2022-2023.
The decadal Census, postponed for an indefinite period due to the pandemic, is unlikely to be held before the next Lok Sabha elections that are due in April-May 2024.
Source: Read Full Article