'After having changed chief ministers in Uttarakhand, Tripura, why are they not doing it in Manipur?'
All India Trinamool Congress Rajya Sabha MP Sushmita Dev visited Manipur twice in recent weeks to understand the situation in the troubled state.
Dev tells Prasanna D Zore/Rediff.com what the people of Manipur are asking for and how she believes the situation can be normalised in the state which has seen at least 150 deaths since May 3 when the violence began.
What do people of Manipur want?
It's very simple. People want a resolution.
But what that resolution is and who's going to do that resolution is controversial because there are two states within a state. There's the hills and the valley and huge distrust against the government.
The way forward — the first step — in the strife torn state could be to put someone in the seat of the chief minister who enjoys the faith of the people, somebody who's acceptable to all sides.
First problem is the distrust with the government and why did they let it happen? So many arms, ammunitions are stolen from the local police. The local police are guilty of handing over people to mobs. How do you sit with people like that on the mediating table?
The BJP is refusing to acknowledge this ground situation and relent.
After having changed chief ministers in Uttarakhand, Tripura, why are they not doing it in Manipur? That's the one step they've not taken in Manipur yet. And that's a big problem.
How to win trust of Meiteis and Kukis of Manipur
There are two ways to do it. First of all, contrary to popular belief, they (both Kukis and Meiteis) were very happy that we had made it (the ethnic violence in Manipur) an issue in the Parliamentary session.
The mainstream media kept on crying 'disruption, disruption' (that the Opposition was disrupting Parliament over the issue and the visits of Opposition MPs to the state were stalling tactics), but people of Manipur were very happy that we kept the issue alive in Parliament.
Our visits have sent the first message to the people of Manipur that we care.
Apart from the all-party delegation (which visited the state between July 19-20), Mamata Banerjee (West Bengal Chief Minister and Trinamool Congress chief) sent a delegation of her own. Similarly, many other parties did it.
They were happy to see us because they feel they were in a remote area and that they were disconnected from the Internet and outside world. They have no way of communicating with the world.
So we going there was the second message, second way of giving them a message that we care and that we would raise their voice in Parliament.
Thirdly, we went to the President of India, that also gave a good message to the people of Manipur because Amit Shahji had an all-party meeting, but it achieved nothing.
The people of Manipur are upset that the prime minister did not make any statement in Parliament despite their local media, which is quite vibrant, repeatedly asked us 'What's the modus operandi? Why is he (Modi) not speaking (in Parliament)? But it's not for us to answer that because that was our demand too.
We had to move a no confidence motion to bring him into Parliament for a day. The prime minister's silence has impacted the people there because he is a star campaigner. Otherwise, during elections, he goes there repeatedly to ask for votes.
But in their times of trouble, he didn't as much as step in there but had time to visit so many foreign countries and is still visiting foreign countries. This has definitely impacted the people of Manipur.
Nominating two women from Manipur in Parliament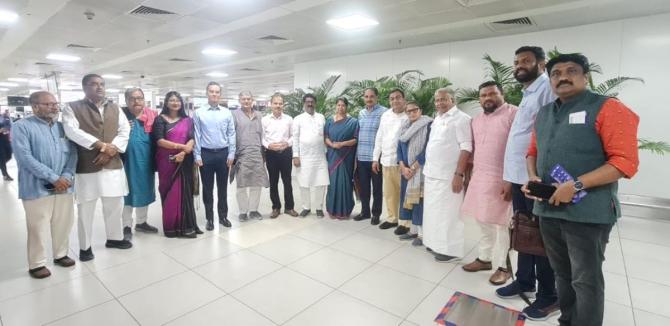 I requested the President of India to nominate two women from Manipur to the Rajya Sabha. The reason behind this request demand is that Parliament is basically a forum for the people's voice. All the people who are elected or nominated and sit in the Upper House (the Rajya Sabha) or the Lower House (the Lok Sabha) are there as representatives of the people.
There are two communities (the majority Meiteis and minority Kukis) who are deeply divided. One woman from each community being nominated by the President would give them a message that the nation is not shying away from their voice.
Because they would come to Parliament and speak, you have to give them a voice. That's what Parliament is for.
Back-to-back visits to Manipur
There was no difference in the ground situation in Manipur between these two visits because I went in very quick succession of like a week. To my plain eyes I could see no difference.
Mamata Banerjee had written to Amit Shah that she wanted to visit Manipur. But she got nothing but a simple acknowledgement.
It was very difficult for a chief minister to travel under these circumstances without support from the Union home ministry. Therefore, she sent a delegation of MPs from the party. And thereafter, when the Parliament session started, the INDIA (Indian National Developmental Inclusive Alliance) partners basically sat and said that one MP from every party of the alliance should go.
And that's how I went the second time as a part of that delegation.
Source: Read Full Article