Akasa Air has reduced its service on 10 routes and stopped operating flights on eight others since the exodus of pilots began in early July.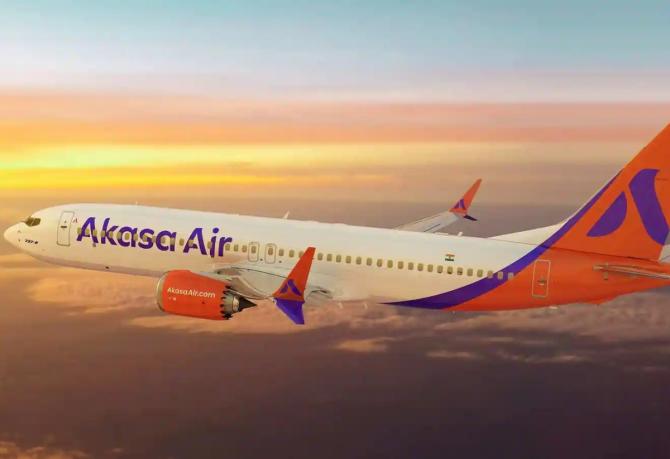 The airline's flights per week reduced from 945 in June to 754 in October, according to aviation analytics firm Cirium's data, which has been reviewed by Business Standard.
The airline currently operates flights on 34 routes. Between June and October, Akasa Air ceased operations on the following: Ahmedabad-Kochi, Ahmedabad-Hyderabad, Ahmedabad-Pune, Bengaluru-Hyderabad, Bengaluru-Chennai, Kochi-Hyderabad, Goa-Lucknow, and Goa-Hyderabad.
Between July and September, 43 pilots left the airline to join competing carriers without fulfilling their mandatory notice periods, which can range from six months to one year.
The airline has initiated legal action in the Bombay high court against five of the 43, seeking substantial compensation.
An Akasa Air spokesperson told Business Standard in the past thirty days, the airline had rationalised its network (deployed capacity) to ensure that it offered its customers the highest levels of "operational reliability".
"Our commitment to be reliable remains sacrosanct — this means that we have chosen to fly less and in the short term offer a more reliable network to our customers.
"These are only short-term constraints," the spokesperson added.
The airline currently has a fleet of 30 planes, all B737 Max aircraft.
Between June and October, the airline has significantly reduced flights on 10 routes including Delhi-Hyderabad, Goa-Bengaluru, Kochi-Bengaluru, Ahmedabad-Bengaluru, and Mumbai-Kochi, according to the Cirium data.
On the Goa-Bengaluru route, the airline had scheduled about 45 flights per week in June, and those were reduced to 12 per week in October.
The spokesperson told Business Standard the shortage of pilots was an issue the airline industry had faced for decades.
"As a team of planners, we are prepared for unforeseen circumstances and have contingency management strategies in place.
"In that regard, we have a 10-year plan that covers pilot recruitment, training, and career upgrades.
"As of today we have enough pilots at various phases of their training to fly over 30 aircraft," the spokesperson added.
The Delhi high court had last month addressed a petition filed by Akasa Air, affirming that the Directorate General of Civil Aviation (DGCA) possessed the authority to take action against pilots who did not adhere to its regulations concerning mandatory notice periods.
Throughout the proceedings of this case, the DGCA conveyed its limitations, citing that these regulations had faced legal challenges from pilot unions in a separate court case.
The spokesperson said the airline was poised to take delivery of additional aircraft from Boeing in the remainder of 2023-24 and expand its domestic and international footprint.
"We also remain on track to announce a three-digit aircraft order before the end of the year," the spokesperson noted.
Source: Read Full Article