'As a police officer, I had gone on deputation to the prison department; on both occasions (the hanging of Ajmal Kasab and Yakub Memon), the government said I should remain present.'
'I was not mentally prepared for these sensitive operations and had to work on myself to lead the teams.'
Dr Meeran Chadha Borwankar, a 1981 batch Indian Police Service officer — the only woman in that batch — retired in 2017 adorned many prestigious policing positions in Maharashtra as well as the CBI.
Borwankar recently published her third book Madam Commissioner– The Extraordinary Life Of An Indian Police Chief, which takes the readers through 36 years of illustrious service from the day she entered the Lal Bahadur Shastri National Academy of Administration in Mussoorie, her fateful brush with death while on her way to Dehradun en route to Hyderabad's National Police Academy for further training, the challenges she faced as a lady IPS officer when it came to promotions, her brush with corruption at the highest political levels, her stints as chief of the famed Mumbai police's crime branch and how she oversaw the hanging of Ajmal Kasab.
"When I sought the district police chief's post I had to prove that I am a competent leader. In the '80s and '90s people felt that women cannot be district police chiefs because the districts consisted of a 100 per cent male police. So that was challenging," Borwankar tells Prasanna D Zore/Rediff.com in a must-read three-part interview.
Could you tell us what motivated you to write Madam Commissioner, and what was your experience when you recounted your 36 years of experience to bring it, in a nutshell, in a book sized form?
Whenever there was some gathering of family and friends, they would like to listen to police and prison stories, and they would keep asking me 'kuch aur batao, kuch aur batao' (tell us more about your interesting stint as a police/prison officer).
This made me realise that people have lot of interest in how government, police, prisons and courts work, and what came as something very ordinary to me — being in the service for 36 years — would be totally fresh and absolutely unknown kind of facts for family and friends.
In fact, sometimes I would get very bored narrating my stories to them, but the interest of people with whom I would have gone out for lunch or dinner would be so strong that I felt that I could write a book.
I've already written two books. One was for youth — it's a motivational book called Leaves of Life and the second is very simple police stories through Inspector Chougule, a collection of true stories, where I fictionalised my character.
So when I took up this book (Madam Commissioner), I re-lived my whole life and I found the process of writing very interesting. It was also very enjoyable for me to recall my youth, my time in uniform.
So, I took to writing the book Madam Commissioner mainly because of people's interest and I must admit that it was very rejuvenating for me.
Whenever I meet people while travelling — and this happens regularly — I don't tell anyone who I am. The moment I say that I am from the police, the whole conversation is around policing. Many times I've said that I'm a housewife, I don't work. Or I would say I'm a professor, lecturer. But all this showed that people have very deep interest in policing.
You were part of the police service for 36 years. You have said in your book that the police force was a male dominated bastion. What groundbreaking changes, if any, did you see in this male-dominated bastion through your 36 years of being a police officer?
The adverse fact is that while policing used to be an enjoyable and problem-solving kind of work initially and we had time to investigate, today we are so overburdened, overworked, so much in a hurry that investigations suffer. Police officers' patience with the citizens has reduced, corruption has seeped in.
Plus points are that now the young police officers are very technology-friendly. In fact, I was part of a CID team which would select the best detection in Maharashtra every month. Invariably, it would be youngsters using technology and detecting heinous crime, robberies, dacoities with recovery of property through technology.
Another plus point has been more presence of women in policing, more emphasis on their training. The minus has been extreme workload, corruption and lack of sensitivity and patience due to overwork.
What I wanted to know is, is the police force still a male-dominated bastion where a woman is considered not being made for the job of a police officer?
I did a study — this sample had about 450 women officers from all over Maharashtra — along with the psychology department of Pune University, where the head of the department, Bhaskar Shezwal sir guided me and provided help of two PhD students, Vishal and Yogita, for studying gender-friendliness of Maharashtra Police for its own female officers.
What emerged was in the police force, men have accepted women in uniform as colleagues. They also welcome their presence, especially when it comes to dealing with crime against women and children. But the atmosphere within the police station needs much more change — both from the infrastructure point of view and amiable environment. We haven't been able to provide them the same as yet.
Many women felt that duty distribution in police stations was not fair; they also mentioned some stray comments by male officers which were not gender-friendly. But on the whole, the study showed that acceptance of women by the police staff is now much higher.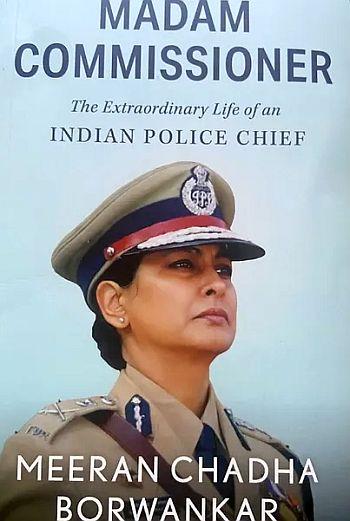 While there was pressure from the people of Kolhapur to arrest and try the rapist of an eight-year-old girl in Kolhapur (Chapter 8 in Madam Commissioner titled The Long Road To Justice), your team and you worked diligently, navigated the long and winding legal process, to get justice for the girl and get the rapist convicted.
Everybody would have forgotten about the rape within six months. But you and the entire police team you worked with ensured that the guilty gets punished by the courts even if it took interminable efforts on the police's part.
How do you look at that case today?
Thank you. That's a compliment to the local police. The case was finally heard in appeal in the Supreme Court.
The people of Kolhapur must be complimented because they formed a committee that took genuine interest in putting the pressure on the system and have the guilty, an influential businessman in Kolhapur then, punished.
In the 36 years of policing, could you tell us about the biggest challenges that you faced and how you overcame them?
The first challenge was the training itself, finding myself alone (she was the only woman probationer at the Sardar Vallabhbhai Patel National Police Academy, Hyderabad)
The physical training was a very tough challenge for me to go through that one year.
Then when I sought the district police chief's post (in Maharashtra) I had to prove that I am a competent leader. In the '80s and '90s people felt that women cannot be district police chiefs because the districts consisted of a 100 per cent male police. So that was challenging.
Then I would say crime branch Mumbai was very challenging for me because it was not (dealing with) ordinary criminals. Till then, I had either handled ordinary criminals or white collar crimes in the CBI. Here (at Mumbai the Crime Branch I had to deal with) dreaded criminals but thankfully I had very daredevil kind of officers, my own officers.
Then this hanging (as Additional Director General — Prisons, Dr Meeran Chadha Borwankar oversaw the hanging of Pakistani terrorist Ajmal Kasab and Yakub Memon who was convicted as a co-conspirator in the serial bomb blasts of March 12, 1993 in Mumbai).
As a police officer, I had gone on deputation to the prison department; on both the occasions (hanging of Kasab and Memon), the government said that I should remain present.
I was not mentally prepared for these sensitive operations and had to work on myself to lead the teams. I was fortunate to get the support of very capable prison officers.
Source: Read Full Article