Making the Pixel 8 in India will not necessarily bring the price down — witness iPhones made in India that are more expensive than those in the US and Dubai.
Last December, just before Google CEO Sunder Pichai's visit to India, Communications Minister Ashwini Vaishnaw confirmed that India was talking to him about assembling Google phones in India.
Google has kept its promise. Last week, it announced that its new flagship phone, the Pixel 8, will be rolling out from India next year.
The Pixel range and its new Pixel 8 (which starts from Rs 75, 999), aimed at the upper premium end of the market, where Samsung is the big boy it has so far not set the market on fire.
Google has been scouting around for a potential EMS player to assemble the phone and the possibilities include Dixon Technologies and Bharat FIH (the non-Apple making assembler of phones and other products that is part of the Taiwanese Foxconn group).
Bharat FIH remains the largest EMS player in India in terms of market share.
Google also had talks with Lava International, but they did not move ahead. While negotiations are in the final stages, Google has not yet taken a final decision.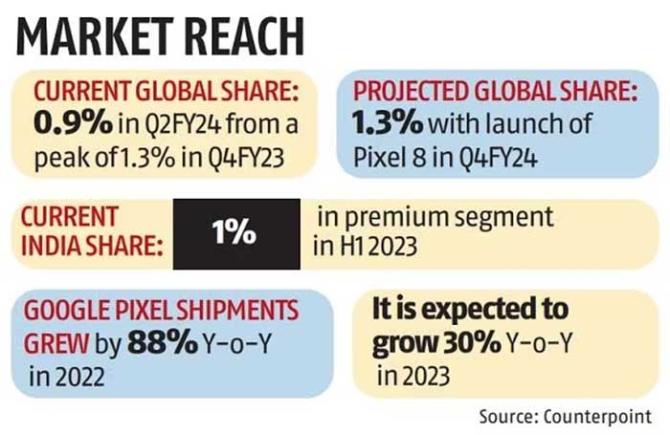 With a price tag ranging from Rs 34,000 plus the series competes with other smartphones in what is the premium end of the market (over Rs 30,000).
According to research firm Counterpoint, all the different Pixel models together barely have a 1 per cent share in the HI 2023.
However, the fact remains that the premium market is also the fastest growing segment. It grew by over 112 per cent in the second quarter of 2023 and accounts for 17 per cent of total smartphone shipments.
The top player is Samsung with a 34 per cent market share followed by Apple, but the Apple iPhone dominates the ultra-premium end (above Rs 45,000) with a nearly 60 per cent share.
Google's hope is that its phones will benefit from the growth of the premium segment, but they have not been game changers in other markets either, remaining a niche player.
Research firm Statista Consumer Insights asked around 9,572 smartphone users in 2022-2023 whether they used a Google phone as their primary smartphone.
The highest response came from Canada (5.3 per cent), followed by the US (4.6 per cent), Japan (4.2 per cent), India (3.3 per cent), the UK (3.3 per cent) and Germany (2.2 per cent).
In many ways, Google is replicating the Apple model in India. Like Apple, it is hedging its bets on China and diversifying its assembly base.
Apple chose only India for assembling its mobiles. By 2025, it expects to produce 20 per cent of the iPhones in terms of value in India.
Unlike Apple, Google moved production to Vietnam and is only now coming to India, and that too with a far lower volume.
Google is talking only to those contract manufacturers who are eligible for incentives under the Production Linked Incentive (PLI) scheme so that it does not suffer from a disadvantage over its competitors.
But Google can leverage the PLI scheme only for one to two years (it ends in 2025), compared with Samsung and Apple vendors who will have had a five-year run and are in a better position to reach their value addition numbers and targets.
Dixon is a possible partner. It already has tie-ups with Nokia, Motorola, and Xiaomi.
As to Bharat FIH, experts say Google could leverage its existing relationship with Foxconn in China and Vietnam where it currently makes the Pixel.
Another difference with Apple is that the latter's strategy is focused on exports which account for the bulk of sales.
While Google has not provided any details, experts say that in the initial stages, Google will be more focused on the domestic market than exports. If its business grows, though, it could become an export hub too.
Making the Pixel 8 in India will not necessarily bring the price down — witness iPhones made in India that are more expensive than those in the US and Dubai.
The reason is that the gap in the production cost for Google between India and China or between India and Vietnam will remain huge. It will not be neutralised by the PLI scheme.
Also, Indian phone assemblers face a disability in terms of tariffs as the bulk of the components are imported and many attract substantial duties, unlike China where they are imported with zero duties.
Feature Presentation: Ashish Narsale/Rediff.com
Source: Read Full Article