Indian women's hockey team midfielder Vaishnavi Vitthal Phalke hails from a small village named Asu in Satara, Maharashtra.
Although her father, Vitthal Phalke, is a farmer, he was once a wrestler who participated in Kersari Kusthi, a regional wrestling competition in Maharashtra. His dream of winning the competition went unfulfilled, but his passion for sports lives on through his daughter.
"My father was a wrestler when he was young but he couldn't make it to the big leagues so he invested in me and hoped I would play for the country. He sent me to Shree Shiv Chhatrapati Sports Complex Balewadi, Pune in 2011 to pursue sports and after trying my hand at several games I decided to take up the hockey stick," she said recounting her first steps as a hockey player.
Vaishnavi spent her childhood away from home to fulfil her father's dream. In 2017, she played in her first Sub-Junior National Championship, the 7th Hockey India Sub-Junior Women's National Championship held in Ramanathapuram. Her tenacity in the midfield was impressive, and she was called up to the Junior Women's Squad after her stellar performance in the 9th Hockey India Junior Women National Championship in 2019.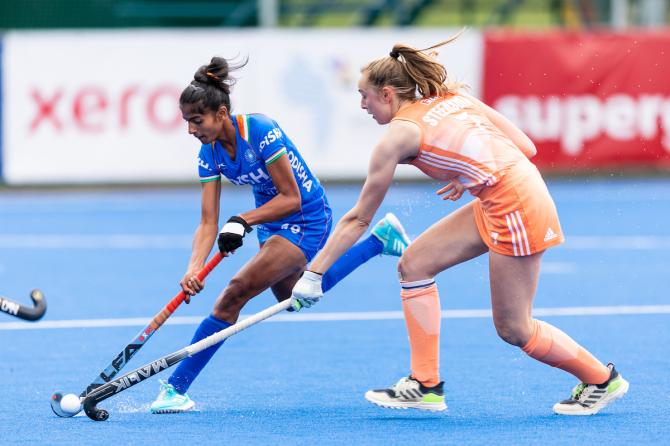 "My father always encourages me to give my best, and I remember he was really happy when I went on my first international tour as a senior. Once he found out I made the squad for the 19th Asian Games Hangzhou 2022, his happiness was tenfold. This will be my first major tournament in the senior squad, and I am over the moon to make my father's dream come true. It is a big platform, and I am looking forward to showing my skills on the pitch," she elaborated on her feelings after making it into the squad.
So far, Vaishnavi has donned the Indian jersey on six occasions and netted one goal. She was also a member of the Junior Indian Women's Hockey Team that won the Women's Junior Asia Cup earlier this year in Kakamigahara, Gifu Prefecture, Japan.
"We have been playing a lot of practice matches in the build-up, along with some hard practice sessions. The whole team has a positive disposition going into training, and my teammates keep encouraging me. They always remind me that if we make a mistake, we are the ones who can make amends," she commented on preparations for the 19th Asian Games Hangzhou 2022.
"The aim is to come back with a medal, and we do not want to leave the pitch thinking we could've done more. I want to perform the same way I do during practice games. There will be a little pressure as it is a major tournament, but I will keep it all aside and play freely and, hopefully, come back with a medal," she signed off.
Source: Read Full Article