England may need to take a leaf out of the Test side's "Bazball" playbook and reignite their 50-overs World Cup campaign with an aggressive approach against fellow strugglers Sri Lanka, spin all-rounder Moeen Ali said on Wednesday.
Under Test coach Brendon "Baz" McCullum England have forged a result-oriented approach in the longest format and Moeen said the one-day team guided by Matthew Mott must look to play more attacking cricket after losing three of their four games.
"The thing is, Bazball is in Test cricket. One day cricket's different and we've been playing different all the time," Moeen told reporters ahead of Thursday's match against the 1996 champions at the M Chinnaswamy Stadium.
"We've been playing aggressive cricket throughout since 2015 and done it quite well. Probably the lack of that way of cricket has cost us a little bit in this tournament.
"We haven't been playing that way in my opinion and we need to play that way without slogging the ball. Just be that really aggressive side we know we can be."
Defending champions England crashed to a team record 229-run defeat by South Africa in the last game leaving their semi-final hopes hanging by a thread.
The clash with Sri Lanka, who have also lost three of their four games, comes at the right time for England and Moeen said the players had to take responsibility.
"We're obviously disappointed from the result and not just the result, but the way we played. But in the competition you've got to move on as quick as you can and regroup," Moeen added.
"Everything is a must-win and we know we've been in this position before, probably not to this degree, but … we have to get our confidence and perform well and bat and bowl and field better than we have done so far in this tournament."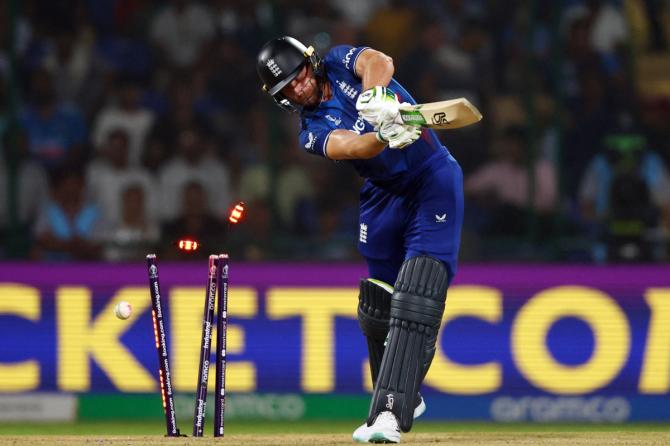 However, the 36-year-old hoped that openers — Jonny Bairstow and Dawid Malan — and the No. 3 batter would fire soon so that the middle-order players can cash in on it, something of a template South Africa have been setting here.
"If you get your openers and your top three firing, it certainly helps everybody else and you get in the big scores aside.
"We've spoken about it, and it's not always easy. We know you can't do it all the time. But the guys are due for some runs, and hopefully, it's going to come now," he added.
Moeen reasoned that his and captain Jos Buttler's experience of playing in the IPL would come good for England at some stage in the tournament.
"Jos has played a lot here as well, so he knows a lot of the conditions, and he knows what happens in India. And yeah, he bounces a few ideas off me, and I do the same thing," he said.
Moeen also exhorted his teammates to forget about individual goals and focus on how to take England back in to this World Cup.
"It comes down to the individual to perform. As long as it's within the team's way of playing, I think that's really important. Because you can get individuals get a bit, not selfish, but they start thinking about themselves rather than the team.
"I think it's important that we forget all that and just, as an individual, once you get the opportunity, you try and win the game (for the team), and that's the most important thing," he noted.
However, he admitted that not getting a place in the playing 11 in the match against South Africa was a frustrating experience for him.
"It's very frustrating because you want to play and make some sort of difference. Yeah, it's difficult when you're not winning and then when you're not playing on top of that, it's hard. But you prepare well and that's all you can do at the minute," he signed off.
Source: Read Full Article