Brazil's Rebeca Andrade won gold in the women's vault at the Artistic Gymnastics World Championships in Antwerp on Saturday after a fall by Simone Biles denied the American another win.
Biles won her 21st World Championships gold medal in Friday's all-around event, with Andrade, the reigning champion, finishing second. But the order was reversed on Saturday as a near flawless Andrade won by a margin of 0.201 points.
Yet the silver still extended Biles's record tally of World and Olympics medals to 35.
"I didn't expect this; of course in my head I always want to win but the primary goal is to do my thing. I don't know if I can believe it but it was something that I really wanted," Andrade said.
Biles over-rotated her signature Yurchenko double pike — which will be renamed the Biles II — and fell backwards on the mat on landing.
"I didn't expect Simone to fall, so I feel sad for her because I know how much we train for this," Andrade added.
The American also took a half-point deduction because her coach stood on the mat as a precaution, ready to assist in case of an accident.
After scoring 15.000 points with her first vault, Andrade then pulled off a double twisting Yurchenko.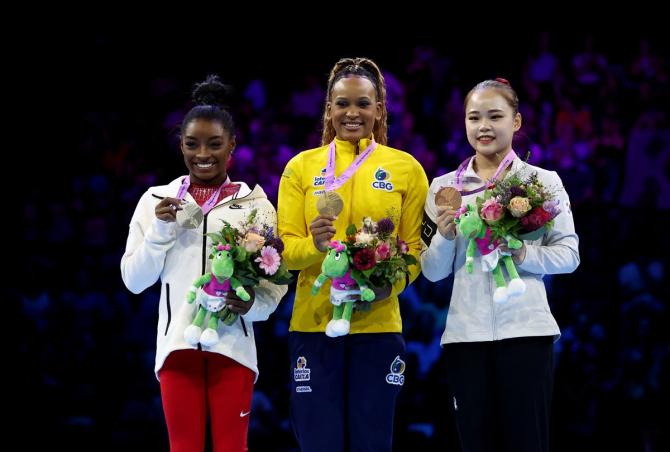 Biles also took part in the uneven bars final, but finished fifth in the event won by 16-year-old Qiyuan Qiu of China. Algeria's Kaylia Nemour took the silver while American Shilese Jones took the bronze medal.
Biles will also compete on Sunday, the final day of the championships, in the balance beam and floor finals.
Qiu scored a total of 15.100 points to claim the gold medal.
"I am super excited, super happy right now. The moment when I saw my score come up, I almost cried," Qiu said.
MCCLENAGHAN DEFENDS TITLE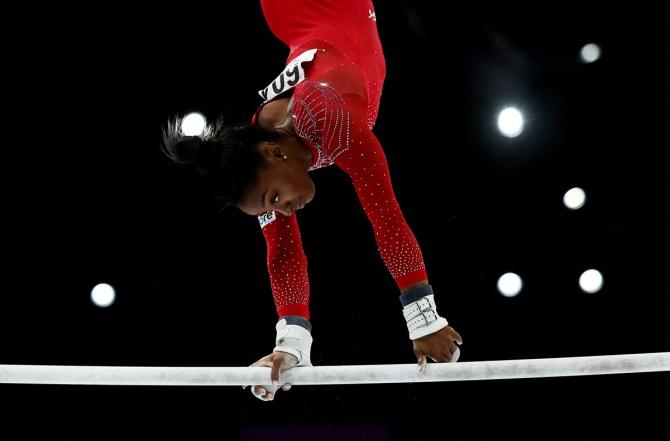 In the men's pommel horse final, Ireland's Rhys McClenaghan defended his title to win gold ahead of American Khoi Young. Ahmad Abu Al Soud of Jordan took the bronze medal but missed out on automatic Olympic qualification.
Max Whitlock won gold at this event in 2015, 2017 and 2019, but the British three-time Olympic champion fell during his routine and ended up in fifth place.
Israel's Artem Dolgopyat took gold in the men's floor exercise final with a total score of 14.866, ahead of Japan's Kazuki Minami, while Milad Karimi claimed the bronze medal for Kazakhstan.
The men's rings final was the last event of the day, and Yang Liu of China won the gold medal with Eleftherios Petrounias of Greece taking silver and China's Hao You winning the bronze medal.
Source: Read Full Article