'90 is not impossible because if I am getting close, I can go beyond 90, maybe 92 or 93.'
'My main focus will be to first cross the 90 mark and then stay consistent in that score.'
Every time Neeraj Chopra interacts with the media, his humility shines through effortlessly.
His words resonate with genuine honesty, and his happiness for his competitor and fellow countryman, Kishore Kumar Jena, is truly heartfelt.
Neeraj isn't just a collector of titles; he's a catalyst for the growth of others around him.
When he expresses his elation for Kishore Kumar, who secured a spot in the Paris Olympics, you can't help but believe him.
When Neeraj confidently states that three Indian throwers will be competing in Paris, you have full faith in his words. And when he shares his dream of standing on the podium with all three Indians, it's a vision that leaves you in awe.
In a virtual media interaction, Neeraj shared his belief that he hasn't yet realised his full potential.
As he gears up for the Paris Games next year, his aim is not only to exceed the 90 metres mark but to establish it as a new benchmark.
Additionally, Neeraj shares his unwavering support for the Indian cricket team in the World Cup.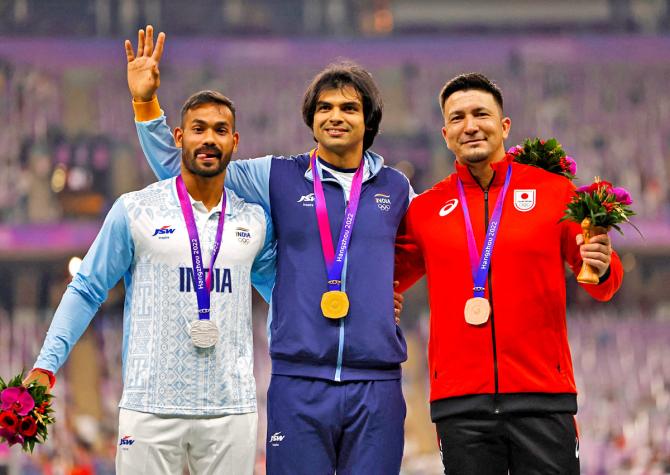 How does it feel when there were two Indians on the podium?
Earlier, the Germans and Finnish throwers were dominant. I would always wonder whether Indians would reach that level. Today, it feels great that we are also dominant.
Earlier, when I used to win, I used to feel lonely on the podium. This time Jena was there. My dream is to see all three Indians on the podium.
What was going into your mind after Jena's throw was wrongly called foul?
He immediately knew it was not a foul, and I was also watching. I asked the officials to show us on the screen, and they had to change their decision. It was great that we stood for our rights. Haq ki baat ko bolna chaheye aur humne wohi kiya.
In these Games, first Jyothi Yarraji stood her ground, then it happened with my throw, and lastly Jena's throw. But what was great about it in the end was we stood for what was right.
What was also surprising that China was not hosting such big event for the first time. They have hosted Olympics, World Championships and Asian Games. They should have been more than prepared. I hope it doesn't happen again.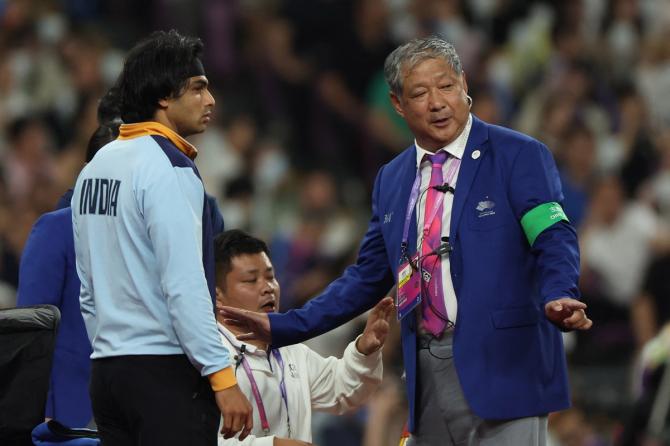 Did it irk you more after your throw wasn't measured?
At least 15 to 20 minutes were lost while talking to the officials. I had warmed up, so my body had gone cold. So when you are in a zone and such things happen, it can take you away from your focus. There were other athletes also who would have been affected.
We were looking forward to India-Pak duel but it turned out to be India vs India.
I felt delighted about Jena securing his Olympic qualification, and his throw served as motivation, reigniting my performance. This was especially uplifting after the controversy surrounding my initial throw.
Tell us about the celebration with the relay team.
Following our event, Jena and I embarked on a victory lap, coinciding with the commencement of the 4×400 men's relay. I turned to Jena and confidently declared that we would secure the gold medal.
Together, we made our way toward the finish line, where we congratulated and took pictures with the relay runners.
During the medal ceremony, Jena remarked, 'Sabhi taraf Tiranga he Tiranga dikh raha hai.' My chest swelled with pride.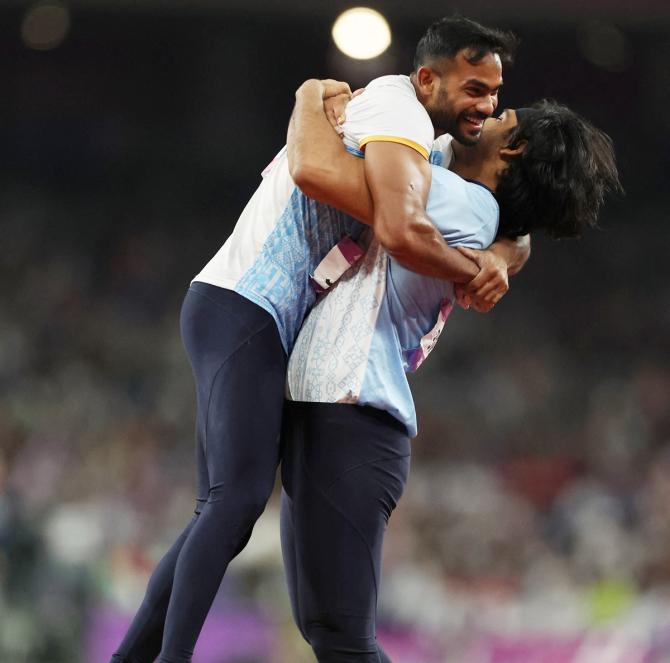 How was the feeling of defending your Asian Games title?
In 2018, before the Jakarta Asian Games, I had only the Commonwealth Games title. In 2023, I came as Olympics and World Champion. There was an added responsibility. But I am glad that I lived up to the expectations.
What was the most satisfying performance of our season?
I am happy I won the World Champion title and defended my Asian Games gold, so the season was really good.
But somewhere about distance, I felt I could have gone further. I feel I am throwing very close to 90 metres very consistently. It will come, I am very close to it.
I have been positive about it since 2018. At the Asian Games, I threw 88.06 that year, then I had an injury in 2019, then COVID happened but I managed to qualify for the Olympics.
In 2021 also, I had good preparation. In 2022 and 2023 also I threw close with 88 and 89.
So I don't know, I am also waiting for that. I mean 90 is not impossible because if I am getting close, I can go beyond 90, maybe 92 or 93. So it is not a question of 90, now I am consistent at one score, so my main focus will be to first cross the 90 mark and then stay consistent in that score.
What will be your focus now?
I have to think about how I can improve my physical strength, see how I can push myself further in competition. Next year, there is the Olympics, so probably I will push myself more mentally.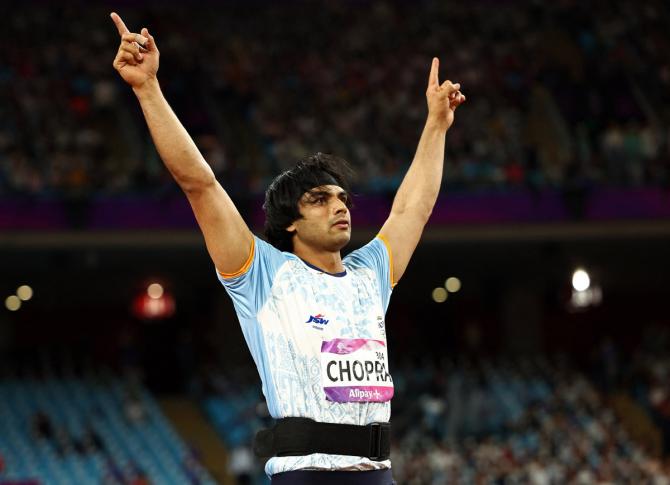 What are your plans for the off season?
I will spend time with my family and friends. I am looking forward to enjoying some home-cooked choorma-ladoo and halwa too. But that will be just for a few days because I do not want to put on too much weight.
It gets difficult to lose weight and then get into training. We will be focusing on the Paris Olympics, so we will try to be injury-free. That's MOST important.
Who will you be supporting in the World Cup?
Pura support toh India ke saath he rahega! If I get time, I will definitely go to watch live matches; otherwise, I will surely catch up on television.
I train mostly in South Africa, so A B de Villiers is my favourite, but when it comes to support, it is ALWAYS INDIA!
Source: Read Full Article