Alizeh demonstrates smarts as sharp as her cheekbones and a restless fire in her eyes raging to conquer the world, observes Sukanya Verma.
Cheating in exams is a little like stealing diamonds from a high security museum. At least that's what Farrey's nail-biting depiction of the practice makes it seem when instead of questioning a bunch of kids and their academic dishonesty, it's the question of 'will they? won't they?' that baffles the mind.
Scoring high marks by hook or crook is mostly an occasion for humour in our movies. Remember when Aamir Khan and his cronies sneaked inside the school office in the middle of the night to steal question papers in Jo Jeeta Wohi Sikander? Or Kurush Deboo appearing for a medical entrance exam as an impersonation of Sanjay Dutt in Munnabhai MBBS? Or Shah Rukh Khan's ridiculously fake marksheet in Kabhi Haan Kabhi Naa?
But in Farrey, the tone is distinctly a thriller.
Director Soumendra Padhi's second feature film after the under-rated gem, Budhia Singh: Born to Run looks at the cunning of teenagers engaged in an elaborate exam scam in his engrossing remake of the 2017 Thai blockbuster, Bad Genius.
The original grabbed eyeballs for its clever tricks and heist-style portrayal of turning multiple choice questions into something as nerve-racking as Ethan Hunt sneaking into a CIA vault to copy spy code names. Under all that crowd-pleasing action though was a story motivated by the uncomfortable reality of class divide and peer pressure.
Farrey, which is slang for cheat chits snuck inside examination halls, is mostly a faithful copy but for its belief in second chances over atonement.
Raised in an Old Delhi orphanage by a pair of supportive parent-figures (Ronit Roy, Juhi Babbar Soni), scholarly but shrewd Niyati (Alizeh) is keenly aware how her success is key to her survival.
She's probably just 15 or 16 years old but a life of hardships and hand-to-mouth existence has not only made her streetwise but strengthened her social climber skills. Wealthy may have the luxury to take knowledge and position for granted but the disadvantaged must seek it with a vengeance.
When an all-expenses paid scholarship at the city's most posh and prestigious school knocks on her door, Niyati sees it as a ticket to IIT or, even better, Oxford.
Awestruck outsiders getting a taste of upscale campus life much to the amusement of their stinking rich classmates is a trope explored by everyone from Karan Johar's Student of the Year to Ashim Ahluwalia's Netflix series, Class.
But Farrey isn't interested in mocking Niyati or fellow grant student Akash's humble backdrops as much as understanding the psychological impulses of those born into disadvantage when pitied against those born into money.
Ironically for all its privilege carping over entitled, elite kids, Farrey is essentially a launchpad for someone who knows that world only too well. Co-produced by Salman Khan, the movie marks the debut of his niece, sister Alvira and brother-in-law Atul Agnihotri's daughter, Alizeh.
Opportunity and grooming advantage aside, the youngster's dazzling confidence and enthusiasm in embracing the dark notes of her character reveal a potential for onscreen adventures. Evoking a young Anu Aggarwal's statuesque presence, Alizeh demonstrates smarts as sharp as her cheekbones and a restless fire in her eyes raging to conquer the world.
As a teenager guided by a skewed moral compass and lured by the posh existence of her affluent friends, Niyati uses her genius to devise innovative cheating methods that'll help her gang of not-so-bright friends Chhavi (Prasanna Bisht) and Prateek (Zeyn Shaw) excel at school.
Fitting in matters more than standing out and the once reluctant Akash (Sahil Mehta), too, joins the cheaters club. What ensues is a slyly designed framework for intellectual theft over meticulously memorised gestures and symbols. But as the stakes grow higher, so does the risk and its nail biting momentum. A little more integrity and these kids could be running a successful start-up.
Padhi's adaptation is a farfetched yet fascinating look at the rat race and ratoo totas.
The film-maker taps into the mischief teenagers are capable of when blurring the lines between right and wrong only to realise there are no free lunches or shortcuts to success. Not for the poor anyway.
All the fun by the pool and free iPhone comes for a price, Niyati quickly realises even as Akash's loss of innocence gets underway. It's an inevitability Farrey foreshadows right from the beginning no thanks to its loud, tell-all background score. The number of times I've groaned about this one aspect of Farrey in my review notes says volumes of how exasperating the experience is.
Although the writing by Padhi along with Abhishek Yadav slips into monotony of methods and doesn't spend enough time in knowing its characters at their most vulnerable or competitive, the young cast brims with promise.
Prasanna Bisht's portrayal of the poor little rich girl harbouring Stanford goals while constantly trying to measure up to her smarter sibling and gain validation from her hard-to-please father (Arbaaz Khan) gives a curious glimpse of her complicated angst when not smoothly manipulating every single person around her.
Zeyn Shaw, also part of the Class alumni, is relegated to her charismatic sidekick with a mandatory smirk while Sahil Mehta (of Tabbar fame) conveys more complexity than the script allows him befitting of the ever mysterious, inscrutable teenager.
Daredevilry of the academic kind fuels Farrey's reckless action but it's ultimately a cautionary tale where coming-of-age is its fixed, foregone conclusion. Why steal what you can earn, reminds a voice of reason as aspiration proceeds a tad wiser if not wealthier.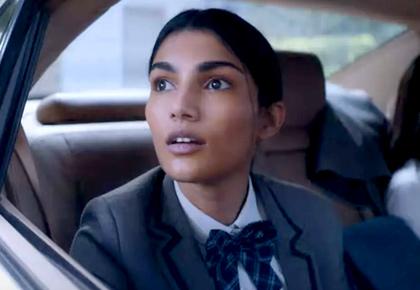 Source: Read Full Article