The mental age of Fukrey 3's humour is the same as the ones who titter at number one-number two jokes.
And this one certainly has more loo than laughs on its mind, observes Sukanya Verma.
Ten years ago a bunch of good-for-nothing Delhi lads gained a fanbase on the strength of silly antics and slacker humour.
What followed next was an aimless sequel cashing on their goofy camaraderie to no avail.
Rounding off the decade, the odd bunch returns to deliver another round of crazy gags while summarising the events of Fukrey and Fukrey Returns in its lively opening credits song. Though pea-brained as ever, this one has something like a plot.
Mrighdeep Singh Lamba's Fukrey 3, written by Vipul Vig, continues its dumb-is-droll momentum but falters when it's time to make it count.
With Ali Fazal's Zafar bhai missing in action for most part, Hunny (Pulkit Samrat) takes charge as Patparganj Ka Chanakya, Lali (Manjot Singh) sulks about business in doldrums while Choocha's (Varun Sharma) psychic skills keeps them afloat by locating all the missing cats and clothes for their clients in an East Delhi neighbourhood.
Manager-cum-mentor Panditji's (Pankaj Tripathi) wobbly English and steady wit comes in good supply and threat wears the face of a politically-driven Bholi Punjaban (Richa Chadha), flanked by her bulky African bodyguards.
Besides Fukrey regulars, a hairy water smuggler (Amit Dhawan) shows up every now and then, gnawing his teeth and bullying Bholi.
There's Manu Rishi Chadha too, playing a Sardar businessman in Cape Town whose tiffin-obsessed wife and Black, Bollywood-inspired niece complete Fukrey's set of overseas jokes that never crack.
Showing a lot more ambition than its previous two editions, the madcap comedy travels all the way to South Africa's diamond mines and pits unlikely political rivals as part of its election campaign exercise.
Slapstick, sweat and susu combine to highlight Fukrey's wholehearted love for toilet humour. From 'blue ice' and its airplane flush origins to turning Dhoni into an innuendo, nothing and nobody are spared.
Water is a running theme in the third Fukrey movie, in which Bholi's real name becomes public knowledge.
Politicians use it as bait to woo voters.
Its potency when mixed with pee results in a puerile attempt to extract laughs.
The villain's lair is a water kingdom hosting a hungry crocodile in one of its pools.
In the same breath, Delhi's water woes are haphazardly tied into the narrative, superficially highlighting the city's tanker mafia and its repercussions on aam aadmi in an utterly random moment of documentary-ish poignancy.
Meaning and madness doesn't blend well in Fukrey's dedicatedly daft mood.
Over the course of its 150 overlong minutes, consciences awaken, romance blossoms, bonafide bums turn desh bhakts and chemistry is challenged like never before. The one between Fukrey's cast, thankfully, is still going strong.
All the actors, irrespective of the length and lines do well to create a collective sense of farce. but Varun Sharma and Pankaj Tripathi's dimwit energy is tailor-made for frivolous applause.
The mental age of Fukrey 3's humour is the same as the ones who titter at number one-number two jokes. And this one certainly has more loo than laughs on its mind.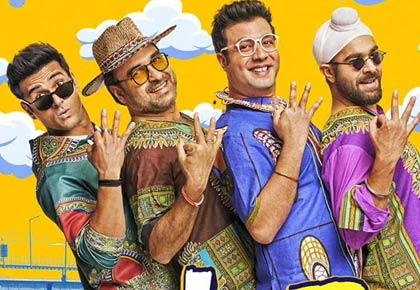 Source: Read Full Article