Leo is a good entertainer with interesting twists you wouldn't guess, applauds Divya Nair.
After Kaithi and the super-successful Vikram, Director Lokesh Kanagaraj has created a prototype of multi-starrer action cinema that the audience has come to love.
Many film-makers are now leaning toward celebrating violence, hoping to either transform or rewrite the lead hero image.
After Vikram, we saw Jailer, Jawan, and now Leo — all have one thing in common: A happy, family man with an adventurous past, who wants to lead a peaceful life. This peace-loving person can turn into a badass father if you harm his family.
We are introduced to the current world of Parthiban (Thalapathy Vijay), in which he runs a café in Theog, Himachal Pradesh, and lives with his wife Sathya (Trisha) and children.
We know Parthiban is also an animal rescuer when he tactfully helps tame a hyena and protects a bunch of school-going kids. The five-minute chase and attack sequence sets the pace of the action film which is filled with plenty of shock and awe moments offering an edge-of-the-seat immersive experience.
Parthiban's perfect world is disrupted when a group of gangsters enter his café and try to hurt his daughter.
Thus begins a cat-and-mouse chase which brings out Partiban's badass side.
Meanwhile, Anthony Das (Sanjay Dutt) and Harold (Arjun Sarja) aim to harm Partiban's family in order to prove that Parthiban is actually Anthony's son Leo Das, who was believed to be dead more than 20 years ago.
At this point, one should stop calculating Parthiban's current age because it simply wouldn't add up. Vijay's attempt at justifying the 20-year leap — by trying a new salt and pepper hairstyle — reminded me of Blast Mohan's character from Jailer.
If you can put aside these logistics and logic, you would be able to immerse yourself in this carnage drama where one man, our hero, rips apart an army of 100 or more burly men like he's chopping onions in a kitchen.
The high-octane action sequences are indeed the best bits of the film.
The staccato, slow-motion shots, and drone shots further elevate the experience, especially while you are watching it in a theatre.
Unlike in Jailer or Vikram where multiple stars united to fight off one villain, in Leo, Vijay prefers to dominate as he gets to fight not one but two anti-heroes — Sanjay Dutt and Arjun — thus, continuing his tradition of being the one-man army. This also works for his image and his followers.
Leo may not have a clever backstory or a healthy balance of talent where good actors get meaty sequences but it has all the ingredients required to be a blockbuster.
If you are going to be watching it with children, be warned of the violence. For example, the scene at the café where Partiban's character shoots five men is performed in the presence of a child. And the film does nothing to show how the parents will help the child deal with those terrifying memories.
It is frightening that the makers didn't even bother while normalising shootouts and violence in the presence of children and our stars simply agreed to it because everyone else is doing it.
If these details don't bother you, Leo is a good entertainer with interesting twists you wouldn't guess.
Special mention to Anirudh Ravichander's electrifying background music that spices up the introduction and action sequences.
Even if you are not a Thalapathy fan, you'd agree that Leo is among Vijay's career-best films in recent times.
Lokesh has cleverly used Vijay's angst and actions to create a picture of dual personality which works perfectly for Leo. The surprise addition in the climax sequence offers some hope and the possibility of a sequel.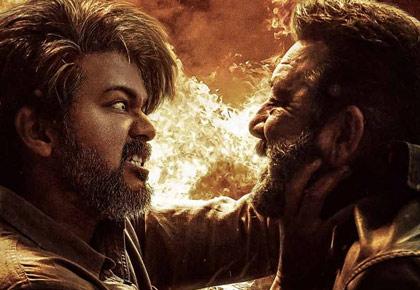 Source: Read Full Article