If these six stories in Rainbow Rishta are any indication, then urban Indian society is moving towards a welcome liberalism, even though reality cannot be so simple, notes Deepa Gahlot.
When there are still so many prejudices and misconceptions about the LGBTQIA+ community in India, not to mention all the legal dithering, it was brave of Amazon Prime Video to back a docu series like Rainbow Rishta.
It must also have taken some courage for the people who came out and shared their stories candidly. One of them, who has never told his parents the truth, will have them discover his gender identity through the show.
The series, directed by Jaydeep Sarkar along with story directors Hridaye A Nagpal and Shubhra Chatterji, features six stories of queer people, from different parts of the country. Some are in relationships, and some are looking for love.
There is much laughter, tears and one panic attack.
It is sometimes disturbing to hear about the experiences of these people, but also heartening to see how they try to overcome their difficulties.
It is a bit strange, that apart from brokers in Guwahati, who do not want to rent a flat to a lesbian couple, there is no overt bias seen.
They all have jobs and friends, and no sign of financial difficulties. Also, they are all from an urban milieu. It must obviously be much tougher for queer people — especially women — in conservative small towns and villages.
Trinetra Halder, a doctor, has transitioned and recently acted in the Web series Made In Heaven.
After the tumult of adolescence, she has made peace with her parents. But finding a man to accept her for what she is proves to be harder than she imagined.
A man, with whom she vibed well on the first date, messages to say he would like to 'hang out' with her but there is no 'romantic chemistry' and she finds it heart-breaking.
Daniella Mendonca is a sassy transgender with a very traumatic past but who nevertheless achieves what is considered impossible in the hijra community: a man who wants to marry her.
Daniella was sold to hijras by her father, who did not want to raise an abnormal child.
She endured abuse and rape before returning home, where her mother and aunts accept her.
She prepares for her wedding with joyous energy, and faces no opposition from her family or Joel's. In fact, the groom's mother says she has got a daughter-in-law after her own heart.
Daniella is extra loving and caring towards Joel and his family, as she lives her dream of being a bride, and never having to return to an empty home.
Even though the marriage has no legal sanction yet, she hopes to have a 'normal' life and raise a family.
Aneez Saikia and Sanam Choudhary have trouble finding a place to stay, but they are accepted by the latter's sister's family, where they live till they finally find a place of their own.
Sadam Hanjabam from Manipur has closed himself to love after a traumatic time in Mumbai. He runs an organisation for the LGBTQIA+ community, and with constant prodding by his colleagues reaches out to Abhishek online.
He visits Sanam and with his support, draws out the diffident man.
Soham Sengutpa and Suresh Ramdas from Bangalore are in a relationship, which hits rocky patches.
They are captured on a holiday in scenic Hampi with Suresh's teenage niece and younger nephew, who show a great degree of maturity in dealing with the uncles' choices; the boy is too young to understand but the girl does not judge them.
Ayushman, a human rights lawyer, looks like an ordinary man and would not elicit a second glance on the street but he transforms into a flamboyant drag queen in his other life as Lush Monsoon.
Because he has not had the courage to come out of the closet, he is afraid to seek a relationship but his friends push him to look for a partner. He does find a man who is willing to give him a chance at a relationship, after seeing him in and out of drag.
Maybe the stories are too optimistic, or maybe the show that has a tagline 'Love Out Loud' just wants to follow the format of a heterosexual fairy tale, where everybody is paired off and lives happily ever after.
If these six stories are any indication, then urban Indian society is moving towards a welcome liberalism, even though reality cannot be so simple.
Also, the law now needs to catch up.
If the show returns to these characters after a few years, it would be worth it to check how their lives progressed because, as the increase in hetero divorces shows, all love stories are not like movie romcoms.
Rainbow Rishta streams on Amazon Prime Video.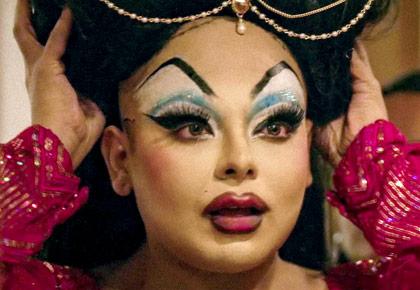 Source: Read Full Article