There are plenty of shootouts and a fair amount of sex over the nine brisk episodes though the dialogue is thankfully free of profanity, observes Deepa Gahlot.
The title might give the idea that the Web series is about royalty, but it's just the Bollywood tendency of giving grandiose titles to thugs and gangsters.
In this case, it may have to be overlooked, since the series is based on Arnab Ray's pulpy book, Sultan Of Delhi.
As far as the content goes, it's more of what has been streaming across channels, only set in Delhi for a change. So instead of visuals of seedy Mumbai ghettos or north Indian badlands, there are the wide roads and stately mansions, where the wheeling-dealing goes on.
The interiors border on tacky though but the vintage cars and retro phones are eye-catching.
Season One — and it does look like there will be a Season 2 — created by Milan Luthria and co-directed by him and Suparn S Verma, runs from the time of Partition to the mid-1960s.
Arjun Bhatia (Ricky Patel growing up into Tahir Raj Bhasin) survives the massacre of his family in Lahore and manages to get to Delhi with his father (Bijay Anand).
The refugee camp portion is dispensed with quickly, with Arjun becoming a kind of leader by thrashing the grain hoarder.
Of course, there is the female hanger on, who will go on to be the wife (Harleen Sethi). The male sidekick comes later.
As Arjun is learning the law of the jungle, rich guy Rajinder Pratap Singh aka RP is gathering all the odiousness of the aristocracy, including carrying on a flirtation with his father's live-in mistress, Shankari Devi (Anupriya Goenka), who almost has vamp glowing in neon behind her head.
This character needs a show to herself to demonstrate how women got by in a more male-dominated world than it is now. Here, she provides deviousness, sex appeal and tawdry glamour in outlandishly revealing outfits.
A show set in the 1950s and 1960s is quite different from a Bollywood potboiler of that period.
In reality, even the most trampy of vamps would not turn up for a funeral in noodle-strap blouse and kiss the man of the manor — the teen grown up into wicked princeling (Nishant Dahiya) — in full view.
Using a typical Bollywood stereotype, the vamp almost always has a cigarette in one hand and booze in the other, and is heralded with a manic laugh in the background.
While RP acquired an education and spiffy suits in London, Arjun learned to be an ace mechanic.
After a game of Russian Roulette with Nilendu aka Bangali (Anjum Sharma), the two get into a full bromance situation, vowing to be together forever.
Their derring-do gets them employed with gun-runner and trader in 'everything' Jagan Seth (Vinay Pathak, miscast), who also gets RP as a partner.
At the best of times, Delhi is controlled by fixers, and in that period, would be overrun with black marketers and crooks with connections in high places.
The plot, however, pauses to give Arjun time to woo rich girl Sanjana (Mehreen Pirzada), and then goes all over the place, including Bombay to retrieve a cache of stolen diamonds and to Calcutta, where the philandering Bangali falls for a nightclub dancer Nayantara (Mouni Roy) and the bros encounter a Communist film director, who wants to rob banks to fund the 'cause'. Hilarious!
Jagan has ambitions to become a politician, which is at least one detail the show gets right. After the post-Independence idealism ended, politics did become the refuge of scoundrels.
Characters pop in without explanation, like a mysterious white man, Daniel, who wears a pilot's uniform all the time (the costume budget must have run out with Shankari's outfits), and there are bizarre scenes, like Arjun stripping to impress a rival gangster.
At some point, a conglomeration of Delhi's mafia dons appoint Arjun the Sultan and there are the usual mess-ups and betrayals, with enough threads left loose to tie up in the next season.
There are plenty of shootouts and a fair amount of sex over the nine brisk episodes though Karan Vyas's dialogue is thankfully free of profanity.
But there is never much tension generated, and the viewer does not know whether to admire Arjun's gumption or be shocked at the evil he is capable of.
It does not help when the actor dimples enigmatically through the tough scenes, and lets the creepy and stylishly handsome RP steal the show.
Sultan Of Delhi streams on Disney+Hotstar.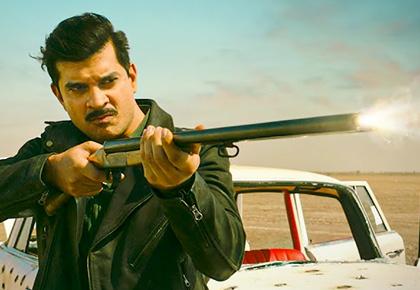 Source: Read Full Article