It's heart-warming to watch Shefali Shah, Jaideep Ahlawat and Swanand Kirkire bring out the optimism in Three of Us, applauds Sukanya Verma.
Waqt ke sitam kam haseen nahi. Aaj hain yahan kal kahin nahi. Waqt se pare agar mil gaye kabhi.
Gulzar's profound play on past, present and future comes to mind as ardently as the hope it culminates into — Gar yaad rahe while watching Avinash Arun's wistful, wonderful Three of Us.
Memory is a recurring motif in this soulful drama evoking a distinctly Gulzar mood and poetry. And not just because one of its characters is a poet and another bursts into Lekin's Surmayi Shaam Is Tarah Aaye.
Rather, a similar air of elegance and thairav envelopes its conversations like the ones between his protagonists in Kinara and Ijaazat where against a desire for yearnful reminiscing, words become wisdom and silence acquires soul.
Diagnosed with dementia, middle-aged Shailaja (Shefali Shah) voluntarily resigns from her role as divorce counsellor and revisits a piece of her childhood that is clearly important to her, for reasons we learn over the course of her retrospective adventure, along with her life-insurance peddling husband Dipankar (Swanand Kirkire) after he tags along to the scenic beach town of Vengurla.
Aware her ailment will steadily take hold of all three of her in the past, present and future, Shailaja seeks closure by choosing to return to a specific memory in her timeline.
On the forefront of her nostalgia is Shailaja's classmate Pradeep (Jaideep Ahlawat), a banker by profession, poet by thought and feminist by virtue.
Arun's tasteful, evolved understanding of adult relationships spares us the banality of awkward interactions involving old flames and insecure husbands. Yet, they are portrayed human enough and capable of feeling inadequate or regretful.
'Chaliye kuch toh hai jo mujhko pata hai aur aapko nahi,' Dipankar jokingly tells Pradeep in a manner that feels more vulnerable than petty.
Pradeep's plucky better half Sarika (Kadambari Kadam) feels the pangs of jealousy as well and cheerily lets on a sense of rivalry. Only Pradeep's adorable gesture to rest her doubts becomes one of the sweetest scenes in the Killa and School of Lies director's surprisingly romantic vision.
As they tread into a bygone era, the troika of Shailaja, Dipankar and Pradeep discover and rediscover various landmarks — the house she once called home, photographic treasures shared by old friends and favourite teachers, Bharata Natyam moves of an erstwhile school neither the heart nor body have forgotten, ruins amidst lush greens and guava tree inquires that no longer exist, old doodles etched on tired desks of crammed classrooms, tiny shops adorning purple doors and pink walls, endless sea overlooking a beach flanked by coconut trees, brightly painted deities residing in colourful temples offering prasad to believers, mithai for atheists.
Not all her memories are the way she left them.
Not all are pleasant either.
But Shailaja is determined to make her peace before she forgets.
Perhaps what a gentleman back home in Mumbai said — yaadon ke bojh se building hi na gir jaaye — in context of resistance over redevelopment is still playing on her mind. Whatever triggered her impulse, it's inspiring enough for Pradeep to pen, Kal toh tabhi aayega jab aaj khela jayega.
Equally poetic to behold, Arun's keen cinematographer eyes paints through pictures.
There's a tranquillity to the frames that's rich in visual metaphors and natural grace.
In Three of Us, he returns to his beloved Konkan and captures the idyllic beauty of a coastal town with all its down-to-earth charms and close-knit culture.
At the heart of this precious ode to the wonders of memory is a cast that lives and breathes its complexity and curiosity like they know it first-hand.
Shefali embodies the in-between space she's stuck in, oscillating between vacant, lost eyes and ones brimming in rapture and passion creating someone we want to root for from start to finish.
Swanand Kirkire's easy aura and real-world candour lend a likeability to a character that could have easily slipped into callous half space. When his wife in her absent state of mind walks past him, he calmly runs behind her until he catches up and is walking side by side.
Speaking of supportive spouses, how terrific is Kadambari in her few but fiery scenes?
And then there's the mighty Jaideep Ahlawat. The gruff guy transforms into a complete softie for Arun's sublime musings on then and now. Lending a quiet dignity and humility to his role, the precise tone of Pradeep's familiarity around Shailaja while keeping a respectful distance says volumes about his versatility.
It's simply heart-warming to watch these talents bring out the optimism in Three of Us. It's not about what you remember but how you will be remembered in the end.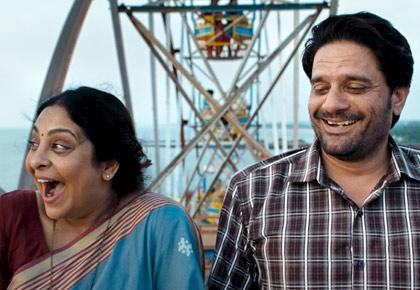 Source: Read Full Article