Mumbai's Museum of Living History is truly a delight.
Text, Photographs, Videos: Rajesh Karkera/Rediff.com
There is a spanking new museum in Mumbai and it's called The Museum of Living History. It is brought to the metropolis by the Mahindra Group.
By the sound of it, it seemed it would be just another boring corporate thing, like other corporate museums here in our city; some having opened more recently.
But curiosity got the better of me and I went to see it as a visitor and not a media person, after I saw a particular exhibit on social media posts by friends.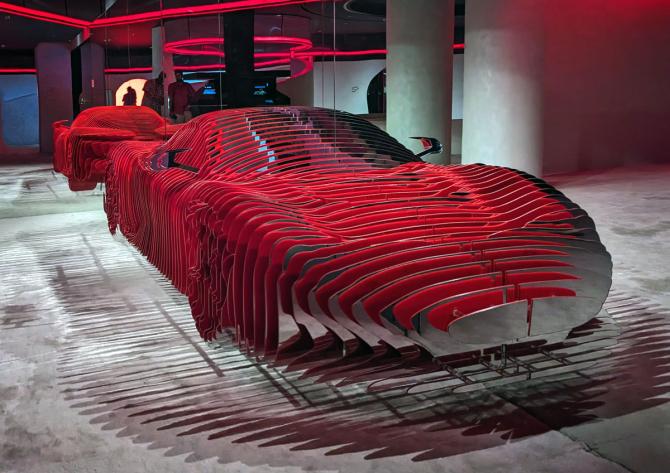 Nestled at the southern tip of Mumbai, at Worli, Mahindra Towers is itself a work of art. Not a towering tall structure as the name suggests, but a well-laid-out building with lots of open spaces, both outside as well as inside.
Clearing security, and reaching the reception, where visitor passes are made, is a smooth process and the 'scenery' around is a welcome sight.
On to the museum and let's give you, dear reader, a glimpse of what you can expect…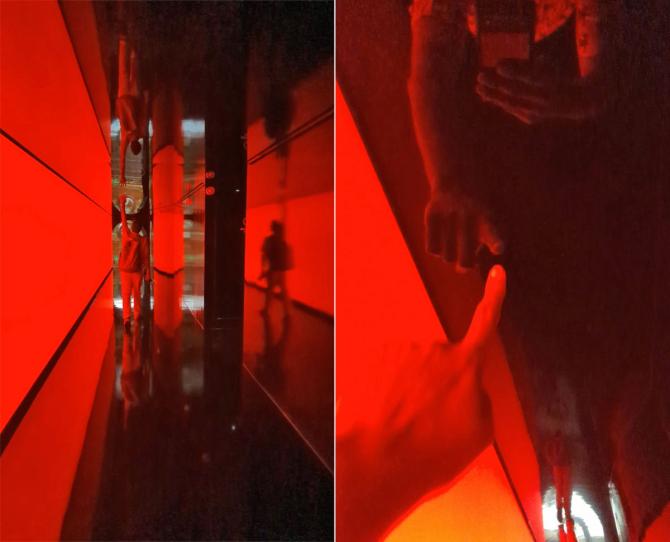 A visual treat of bright, warm red welcomes you, engulfing you into a different world.
Touch the roof (please see the picture above). It feels like ripples of water!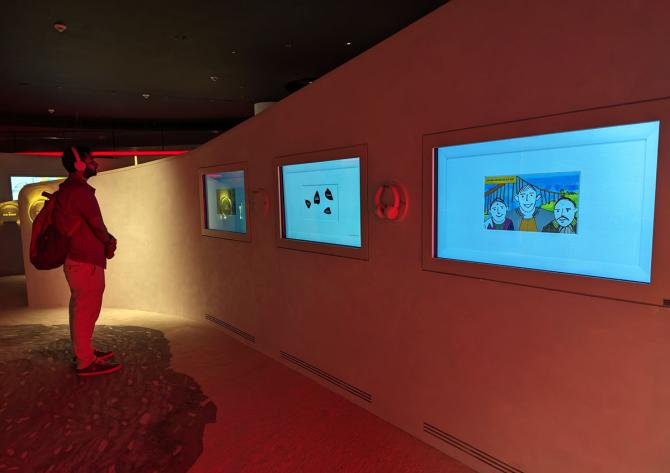 The museum is divided into several sections; each brings to the viewer a different story about the group's history and its impact on India.
One section features personal touch screens that recount the tales of individuals whose lives have been touched by the Mahindra Group.
Another section showcases the group's history. These videos are just about 60 seconds to 2 minutes long but are packed with so many details — Did you know that Mahindra and Mahindra was called Mahindra & Mohammed Ltd in 1945?
The stories are told so well and it is the narration style that made me spend a lot of time here.
Remember Flipbook animation? See the video below.
The first display took me back to my school days.
Many art installations, quite a few by talented young artists, are on view here, each quite different from the other. And there are barcodes next to every display. Just scan the codes with your phone and it will tell you what the pieces are.
Another exhibit I found astounding was titled The Sonic Boom…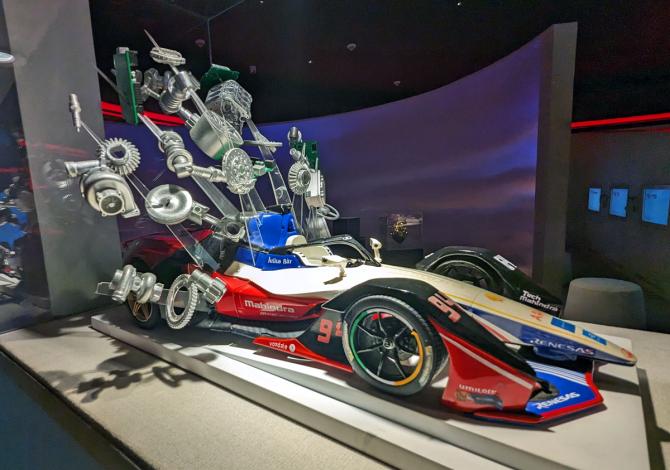 Yup, it's a Formula E (single-seater electric car) that breaks through the sonic boom! The front is the FE car and the back is of the Pininfarina Battista, a hyper electric car that arguably is one of the fastest in the world, signifying a breakthrough in technology.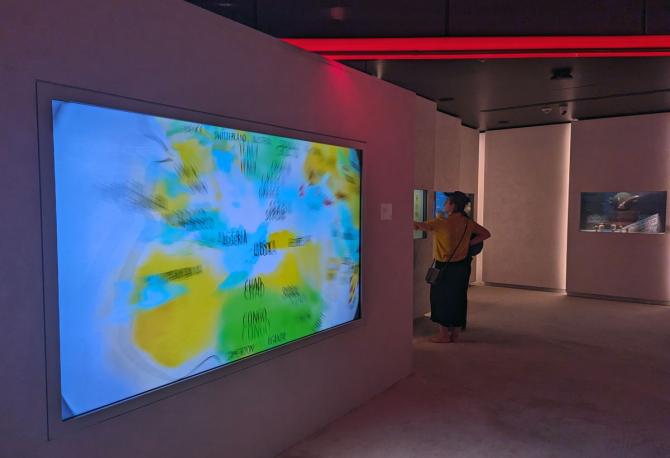 The glass touch screens with their amazing narratives offer a wonderful audio-visual-tactile experience. Design and creative consultant Elsie Nanji and Experience Designer Harsh Manrao are responsible for the creative values and experiential adventure at the museum.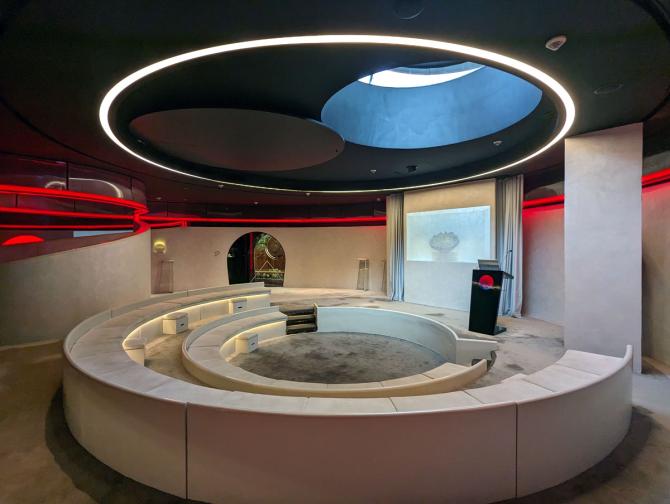 The amphitheatre, in the multiverse section, has a roof that opens up into a skylight, because even the sky is not the limit any more!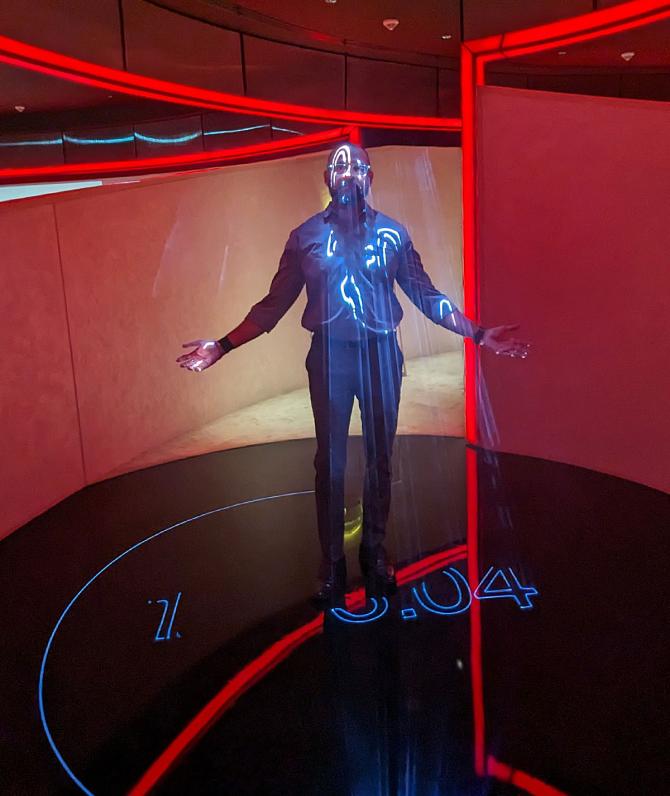 As you can see above, the entrance to the multiverse is a trip in itself.
Part of an actual Formula E car, which was being used by Mahindra Racing, is located in the multiverse. It was going to discarded, but is now a part of the simulator experience which allows visitors to awesomely experience driving a Formula E car. Unique. Thrilling. And yes, it's free. There is no charge for experiencing history at this museum.
Just as you exit the museum premises — last but not the least 🙂 because it's food — there is a cute eating place called the Rise Lounge serving delicious fare for both employees and visitors.
View this video for a wee recap or run-through of The Museum of Living History and don't miss footage of the simulated ride in a Formula E car.
Postscript: What about parking, which is always a major concern in Mumbai?
When I logged onto the Web site and booked my tickets for the museum visit, I e-mailed them requesting parking inside the premises. And voila, there is limited parking on the premises. But you do get it if you book in advance and there is no charge.
Did I mention it before? Entry to this museum is free!
Source: Read Full Article