The splendid Dwarka Expressway!
The Top Videos of the Week, listed by Shailajanand Mishra.

Also see: India's brave Garud commandos.
And Asia's highest-altitude land art exhibition in Ladakh.
Videos chosen by you through your likes on iShare.
Whoa! Is That A Train?
Location: Chennai
If you see a bright, orange-coloured blur whiz past you, what would you think?
Only that the latest Vande Bharat train is on its way 🙂
The Splendid Dwarka Expressway!
Location: New Delhi
What a marvel of engineering!
Take a look.
India's Largest Public Aquarium…
Location: Thrissur
…Is now open in Kerala.
Called Marine World, it is located on the shores of the Panchavadi Sea in Chavakkad, Thrissur.
It is spread across four acres of land and can welcome 2,000 visitors at a time.
Besides watching gorgeous water creatures here, you can feed them and try fish therapy as well.
Modi's Pakistani sister
Location: Ahmedabad
Qamar Mohsin Shaikh was born in Pakistan, but settled in Ahmedabad after her marriage.
She has been tying rakhi to her brother Narendra D Modi for the last few years.
"This time I have made the rakhi myself," she says. The PM apparently likes handmade rakhis.
"For the last few I was unable to go due to Covid, but this time I will meet him in person," she adds.
And she has a special gift for him as well.
India's Brave Garud Commandos
Location: Jorhat
They are a nightmare for India's enemies.
Be it search-and-rescue, the protection of critical IAF bases or counter-terrorism operations, the Indian Air Force's Garud commandos are ever ready.
The location does not matter — they are experts carrying out their duties on land, in the air and in water.
Here they are, showcasing how they can be airlifted to tackle any dangerous situation.
Heard About The Sa Ladakh Festival?
Location: Leh
It's an incredible opportunity for artists from diverse backgrounds to showcase their awe-inspiring creations.
This extraordinary high-altitude art exhibition has captivating site-specific art installations, cutting-edge video projections and sculptures are being projected against the scenic Disko valley near Leh.
Feature Presentation: Ashish Narsale/Rediff.com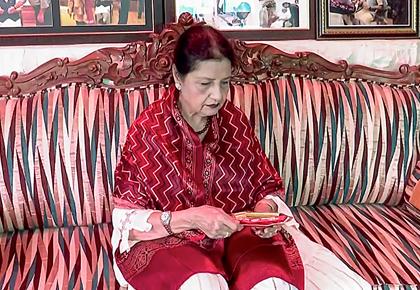 Source: Read Full Article